News
See How Cultures with High Staff Engagement Help Human Services Organizations Adapt Quickly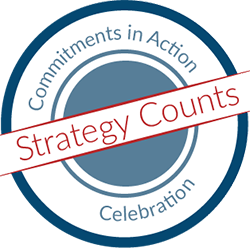 2020 presented a host of unforeseen challenges that required human services organizations to be agile and pivot to continue serving their communities. COVID-19 meant needing to rapidly put safety measures into place including accommodations for remote work, social distancing, and quarantining. In addition, increasing calls for equity, diversity, and inclusion within our workplaces, systems, and communities lead organizations to reaffirm their work to advance in their equity journeys.
While much of 2020 felt unprecedented, the need for human services organizations to continuously adapt in a rapidly shifting world is nothing new. Emerging technology and analytics, health care reform, advances in brain science, a pursuit for greater social justice, and a divisive political climate have already necessitated organizations to employ adaptive leadership strategies, engage staff, and innovate in new ways.
The Alliance for Strong Families and Communities and Council on Accreditation (COA)'s Commitments of High-Impact Nonprofit Organizations is a strategy framework that guides organizations in building key competencies that will help them to be nimble and proactive so they can capitalize on emerging disruptive forces rather than being paralyzed by them. Villa of Hope in Rochester, New York, and Great Circle in St. Louis are two organizations that have been able to adapt amid uncertainty and change.
Learn more about how these organizations leveraged the Commitments to further their missions by reading the case study or watching the video of their stories.
Villa of Hope Quickly Adapt to Keep Employees Safe During COVID-19
When COVID-19 cases began climbing in the U.S. in March 2020 and states started issuing stay at home orders, many businesses and nonprofits across industries were caught flat footed, rapidly trying to support remote work where possible and continue providing essential services. Needing to pivot on short notice put organizations' leadership to the test. Leading with Vision, one of the Commitments, urges organization to engage all staff in finding solutions to complex and nebulous challenges.
At Villa of Hope, leaders quickly mobilized around COVID-19 precautions to keep employees safe. One of its critical strategies was to ensure that all staff had the information they needed—from executives to those providing direct services.
"I sometimes think leaders don't give people enough credit for being able to handle information, but I think knowledge and information is power," said Christina Gullo, president and CEO of Villa of Hope, in this video case study.
Being able to quickly develop and implement a plan that included a transition to remote work, personal protective equipment, and other safety measures for their essential workers in a matter of hours is a credit to consistent practice and trust in leadership. It also was made easier by the organization's transformation from residential care to community-based and specialized residential services.
Great Circle Invests in Capacity with Robust Process Improvement Program
Leading with Vision is not only the job of an organization's executives. It means empowering leaders at all levels through communication and collaboration. It doesn't happen overnight, but it is possible with key investments in their development.
Another one of the Commitments is Investing in Capacity, which Great Circle practiced as it sought a new means for making an investment in its ability to sustain change throughout the organization. They partnered with The Joint Commission Center for Transforming Healthcare to implement an organization-wide initiative called Robust Process Improvement.
"We've always been good at implementing solutions and doing it quickly as well," said Jenna St. Cyr., chief quality officer at Great Circle, in this case study. "But, because we often deal with crisis, we can find ourselves easily diverted. And that's often led to being reactionary about the work in front of us instead of focusing on maintaining or sustaining long-term solutions."
The crux of the extensive four-year initiative included change management techniques and embedding the principles of Lean Six Sigma, which included training staff to become Green Belts and Black Belts. Throughout this process, staff have been meaningfully engaged every step of the way, reinforcing a culture where all employees are viewed as agents of change. Great Circle is seeing many positive results from this capacity investment. Key progress is being made on their internal scorecard and a class of Green Belt trainees is working to advance the organization's equity, diversity, and inclusion efforts. Rather than applying a top-down approach, this will help to embed values throughout the organization' culture and processes.
Learn more by reading this case study about Great Circle's commitment to Investing in Capacity. 
About the Commitments in Action Celebration
In celebration of the release of the Commitments framework more than five years ago, the Alliance and COA are showcasing 14 community-based human serving organizations, including Villa of Hope and Great Circle, that have embraced this proven strategy playbook for success and influence. The Commitments celebration recognizes and elevates the powerful stories of the organizations whose ingenuity, innovation, and vision, as part of the Alliance's Strategy Counts initiative, helped establish the Commitments framework.
Thank you to the Commitment in Action Celebration sponsors.