Strategic organizations are transformative organizations. They look beyond current experience to anticipate future trends and opportunities. They ask, "Why?" and evaluate answers within a future-oriented context. They expect to change.
Trendspotting and trend analysis can be powerful for strategic planning by creating credible illustrations of what the future might look like. Based on that, community-based organizations and their cross-sector partners can align community priorities and resources to help all people reach their full potential.
Incorporating a diversity of trends topics is particularly useful for creating a strategy where the end product is a long-term plan to be implemented over multiple years. Such plans aren't just about identifying broad goals to be realized, but also key strategies for how the organization will meet those goals.
Designing Useful Trend Inquiry
Core to trendspotting is research, and two types of research—primary and secondary—are best for identifying data that can inform activities like strategic planning, risk assessment, and opportunity mapping.
Primary research is firsthand research using methods like interviews with consumers and program participants, employees, community leaders and advocates, academic subject matter experts, regulators, policymakers, funders, and other stakeholders.
Secondary research uses available data and information found in reports and databases from diverse industries, which can be used as sources for trend determination. Examples can include demographics and other census tract information, local asset mapping, state and federal data (e.g., Adoption and Foster Care Analysis and Reporting System [AFCARS]), and more.
The essential process of trend investigation is about asking the right questions about the right things. These can roughly be divided into three areas, with examples of questions below:
Identification of trends. What are the trends we should follow? Are there any associated systems and disciplines we need to understand better before determining trend relevance?
Analysis of the effects and possible projections.In which directions can a trend lead? What impact can a trend have on our strengths and weaknesses? Can we expect more or less support from partners and collaborators?
Analysis of the implications.What do these trends mean for our community? How will child and family well-being change as a result? Do we have adequate organizational capacity in relation to this trend?
Getting the Most Out of Scenario Planning
Since no one can tell the future with 100% certainty all the time, developing robust scenarios can help bridge present circumstances with future requirements. The range and value of organizational opportunities based on trend analysis depend on scenarios that should include most of these criteria:
Plausible. Logical, consistent, and believable
Relevant. Highlighting key challenges and dynamics of the future
Divergent. Different from each other in strategically significant ways
Challenging. Questioning fundamental beliefs and assumptions
By evaluating relevant trends compiled through primary and secondary research and using the analysis to explore governance and operational scenarios, the ability to optimize programs and services and create achievable pathways to child and family well-being is strengthened.
Harnessing Trends
The Social Current Knowledge and Insights Center, available through our Engagement Package, helps professionals in human/social services to learn, improve, and innovate by providing timely, useful, and relevant information and resources. This is done by:
Employing an evidence-first approach to evaluate and scan the knowledge base of an area of inquiry, especially scope, relevance, and utility
Reviewing and evaluating information sources for credibility and thoroughness
Working closely with subject matter experts to define specific questions to be answered, problems to be solved, or opportunities to uncover
Systematizing the information in a way that users can quickly and easily understand
Professional librarians in the Knowledge and Insights Center routinely gather trends data on a variety of organizational topics, such as workforce resilience and service innovation, as well as meta trends that encompass demographics, systemic and environmental factors, technology, and more.
Hot Topics from 2022
Below are some of the key topics that have been monitored in 2022, with an insight summary, brief source examples, and related resources and offerings from Social Current:
Integration of Workforce Resilience as a Key Organizational Sustainability Strategy
Resilience is a buzzword and seen as necessary for workplaces. But can organizations improve employee resilience? Some think yes, others think no. "A resilience-oriented workforce spans many disciplines and training programs will need to reflect that. It requires a collaborative organizational model that promotes information sharing structures."
Sources:
See Also:
Providers Increasingly Incorporating Social Determinants of Health in Service Delivery
Social determinants of health (SDOH) and adverse childhood experiences (ACEs) profoundly impact lives of individuals. Both SDOH and ACEs are risk factors for childhood mental health disorders, health, and social outcomes. These factors include housing instability, food insecurity, poverty, community violence, and discrimination. There are ways to help address these risk factors, and this includes things like quality education, safe neighborhoods, and positive parent-child relationships.
Sources:
See Also:
Biggest Public Health Threats to Teens Are Mental Health Disorders
Teenage pregnancy, smoking, binge drinking, drunken driving and smoking are no longer the biggest public health threats to teens. It is now rising rates of mental health disorders. With up to one in five children having a mental, emotional, development, or behavioral disorder, and rising rates of mental health visits in emergency rooms and depression symptoms rising during the pandemic, it is critical to pay attention to the mental health crisis in young people today.
Sources:
See Also:
Post-Pandemic Mental Health Crises Driving Change to Suicide Prevention Strategies
With rising rates of depression and anxiety compared to prior to the pandemic, the new U.S. suicide hotline 988 comes at a critical time. Suicide is a leading cause of death for people ages 10-34 years old, and 90% of those who died by suicide had a "diagnosable mental health condition at the time of their death."
Sources:
See Also:
Successful Mental Health Interventions Are More Dependent on Cultural Responsiveness
Cultural competencies and cultural responsiveness for mental health providers is now seen as critical, even "a matter of life and death."
Source:
See Also:
Integrated Community and Systems Response Counteract School-to-Prison Pipeline
The school-to-prison pipeline is a "disturbing national trend wherein youth are funneled out of public schools and into the juvenile and criminal legal systems. Many of these youth are Black or Brown, have disabilities, or histories of poverty, abuse, or neglect, and would benefit from additional supports and resources. Instead, they are isolated, punished, and pushed out."
Source:
See Also:
Other top trends recently updated by the Knowledge and Insights Center:
Children in Poverty
Adoption and Foster Care
Substance Abuse
LGBTQ Youth and Mental Health/Suicide
How to Access Our Specialized Researchers & Tools
As you plan for 2023 and beyond, make sure you're utilizing all the tools in your toolbox. Join our Dec. 7 webinar for an in-depth overview of the Knowledge and Insights Center. For more information on the resources portal, including the Ask-a-Librarian reference request service, visit the Social Current Hub or contact the Knowledge and Insights Center.
About the Knowledge and Insights Center
The Knowledge and Insights Center offers a robust resources portal through the Social Current Hub, which includes a digital library with over 22,000 records; aggregated research and business databases; diverse topic collections and library guides; original content summarizing complex information; and coaching that helps users maximize these resources. Our team includes professional librarians with wide-ranging skillsets and extensive experience in collection development specific to the nonprofit social services sector.
It's hard to believe it has been one year since the World Health Organization officially declared COVID-19 a pandemic and our world, as we knew it, changed.
There have been many heroes of this pandemic–the health care workers who persevere through long hours, personal protective equipment shortages, and unimaginable tragedy; the teachers who transitioned to virtual learning and continue to inspire their students; and the many essential workers who went about their daily jobs delivering packages, serving meals, and fighting fires despite the pandemic raging around them.
There is also another category of unsung essential workers that deserve our recognition and our accolades–our nation's social workers. March is designated as National Social Work Month and this year's theme from the National Association of Social Workers is Social Workers Are Essential.

Social workers are social heroes. They play a vital role in our communities–ensuring food availability, securing adoptions and forever homes, providing medical and behavioral health services, and helping ensure that all individuals and families have the opportunity to feel happy, healthy, and a sense of belonging.
Social workers connect communities to vital resources and in many cases, sit in roles where they address ongoing systemic and policy needs. They have had to adapt throughout this pandemic to continue to provide these services both virtually and in-person. And, with the spread of the pandemic, the need for social workers has grown even greater.
Across our nation, social workers have met these challenges in unique, creative, and heart-warming ways. At times putting aside their own needs and those of their families, social workers have offered essential care to people in need, whether dropping off food donations to families on fixed incomes, securing laptops and tablets to allow communications between seniors and their families, or advocating for state and federal policy to ensure people were cared for during this most critical time.
The demand for social services has dramatically increased while initially resources available to provide their services plummeted. Thankfully, with passage of the Biden administration's American Rescue Plan Act where social workers were active advocates, many of these challenges will be met. Midsize and larger social sector organizations who had been shut out of earlier relief funding will have access to critical support. The $350 billion in state and local funding will enable social sector organizations to continue critical partnerships with government to respond to the changing needs of communities. The child care sector, which has experienced tremendous disruption, enrollment drops, and extra costs, will see $40 billion in childcare stabilization funding. A new Child Tax Credit Expansion that economists predict will cut childhood poverty in half is included that will provide for the basic needs that enable all families to thrive.
These measures will have a tremendous impact on shoring up support for social workers who have done so much for our communities over the past year. These measures were also advanced by social workers, amidst all else required of them this past year.
This March, let's all celebrate the essential work of social workers who support individuals and families and answer their needs, not just in times of crisis, but every day.
Bridging Micro and Macro Social Work
Families and communities are stronger when they have access to the vital building blocks of health and well-being. Social work as a discipline and a methodology has been essential to the development and delivery of those building blocks and is most effective when grounded in the intersectionality of research, practice, and policy at individual, community, and systems levels. This bridging of micro and macro is what actualizes whole-person, whole-community aspirations into genuine and measurable impact.
Learn more about these approaches in Families in Society, the Alliance and Council on Accreditation (COA) social work research journal. The articles featured below for this month's observance demonstrate the essentialness of micro and macro social work. Alliance and COA network partners can access all 100+ years of journal content in the online library as part of their network benefits, while others can select access options on the journal website.
Too often great ideas are kept in-house without recognizing their potential to create change beyond the communities where they are born. COA's Innovative Practices Award (IPA) identifies, documents, and celebrates examples of successful approaches to management and service delivery practices adopted by our accredited organizations.
In 2020, a committee made up of COA volunteers and staff selected 4 finalists to move forward with a full case study. Alternative Family Services (AFS) came out the winner. Read on to find out how the AFS Enhanced Visitation Model kept families in touch during the crisis of COVID-19.
Helping families stabilize, heal, and reunify is an essential part of the work at Alternative Family Services. In-person visitation between kids in foster care and their biological family members is an integral part of the therapeutic process. The frequency of visits between parents and their kids are one of the strongest predictors of the family reuniting. The COVID-19 pandemic exacerbated the challenges kids and families must overcome on their journey towards reunification.
As the magnitude of the COVID-19 pandemic became more apparent, AFS staff and clients were suddenly faced with the reality that in-person visitation between kids and their family may be halted, or at the very least severely restricted. The ever-changing state and county guidelines added uncertainty and stress to the situation. Since many of our AFS staff, biological families, and foster families are considered a "higher-risk" demographic to have serious consequences from COVID-19, there was palpable fear in conducting in-person visits. AFS staff knew it was critical for families to continue to stay connected, especially during such uncertain times. So, a taskforce was formed that included representation from key AFS stakeholders. The group was asked to create a safe and equitable plan that would allow in-person visitation to resume. After much input and deliberation, the Enhanced Visitation Model was approved.
Exploring the AFS Enhanced Visitation Model
Health Risk Assessment
It was important for AFS staff to evaluate and address client's COVID-19 concerns and mitigate the risk of individual exposure to the virus. The taskforce sought input from its constituents, researched professional resources, and ultimately developed the "Wellness Questionnaire." Staff can rapidly administer this assessment tool to determine COVID-19 risk factors each visitor had been exposed to within the 14 days prior to an in-person visit.
Visitation Service Plan
A "Visitation Service Plan" is a simple, flexible, and predominately check-box/circle-based tool that seamlessly incorporates the risk factors identified in the "Wellness Questionnaire," assigning families to one of three visitation service levels according to COVID risk level:
Community-based (Low Risk): local government, community mandated precautions only (masks, handwashing, appropriate hygiene precautions)
Social Distance Enhanced (Moderate Risk): physical distanced "Enhanced Visitation Venues" required
Virtual Visitation (High Risk): virtual visitation only
AFS staff wanted to provide therapeutic strategies in a fun, genuine, and safe environment regardless of their Visitation Service Plan. Once the assessment and planning tools were established, staff needed to create pandemic-safe stations for families to interact.
Enhanced Visitation Venues
When families have a positive, stress-free visit, they are more likely to retain and practice the therapeutic skills they learn. So, AFS staff developed a variety of indoor and outdoor "Visitation Venues" that are fun, affordable, replicable, and portable. The visitation venues meet COVID-19 safety protocols so parents and their children can safely interact. Here are some examples of our indoor and outdoor venues:
Indoor Visitation Venues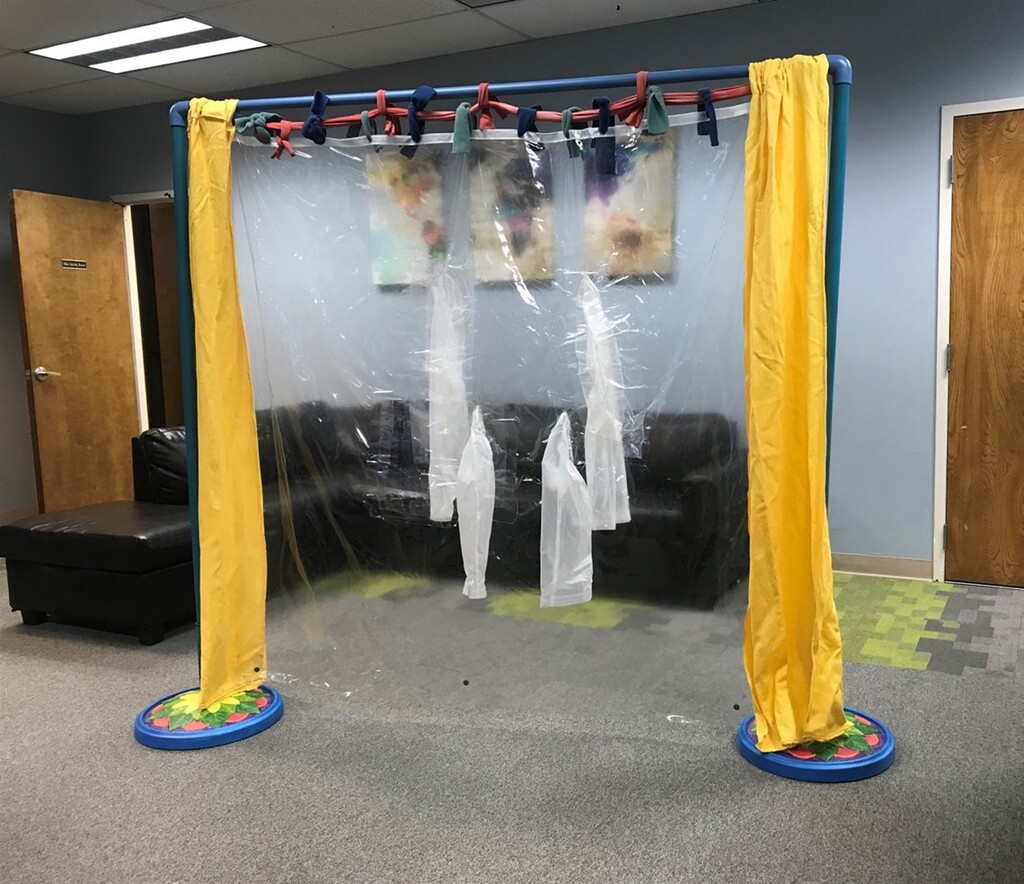 The Hugging Station provides families with the opportunity to physically embrace, parents and children put on arm-length disposable gloves before reaching through sleeves attached to a transparent plastic curtain so they can safely hug during the pandemic. The Hugging Station can be easily decontaminated after each use.
Activity Tables feature a Plexiglas divider, which sits on a table with parents on one side and child(ren) on the other. Participants can paint outlines of each other, play Tic-Tac-Toe or jointly create drawings with dry-erase markers, among other options.
The Interactive Puppet Theater is where kids and parents make easy-to-construct sock puppets to safely "perform" in the puppet theater. It was designed with a table, clamps and Plexiglas with precut holes modified with rubber shields. AFS organized one-hour sock puppet workshops for staff so they can teach clients how to construct their own puppets for this playful encounter.
Gaming Stations featuring video game consoles and large television screens allow families to play video games together while sitting at least six feet apart from one another, to ensure proper social distancing.
Curious to see what these options look like? Check out  this video that highlights our indoor visitation venues.
Outdoor Visitation Venues
Since research has shown COVID-19 is less likely to spread between individuals while outdoors, AFS staff has developed a variety of safe outdoor venues that can easily be setup and disinfected after each use. When visits occur in the parking lots of one of our offices, artificial turf and gymnastic mats provide ground cover for families to play outdoor games. Pop-up tents provide shade when necessary, and bikes and tricycles are provided for families to ride together (staff uses a Clorox Total 360® Disinfectant Cleaner between uses).
AFS Visitation in 2021
The AFS Enhanced Visitation Model, funded with the assistance of the Walter S. Johnson Foundation, was the winner of COA's 2020 Innovative Practices Award. While we were humbled to be selected, we are always striving to be innovative when it comes to providing the highest level of care to our children and families. At the end of every Enhanced Visitation Session, staff collects feedback from families to see what they like and what they feel has room for improvement.
While we are thankful that the COVID-19 vaccine is being distributed, AFS will continue to adhere to our Enhanced Visitation Model for the foreseeable future to ensure that staff, families and resource parents remain safe.
The views, information and opinions expressed herein are those of the author; they do not necessarily reflect those of the Council on Accreditation (COA). COA invites guest authors to contribute to the COA blog due to COA's confidence in their knowledge on the subject matter and their expertise in their chosen field.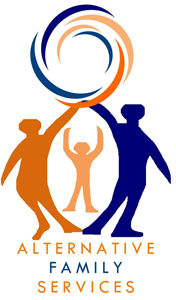 Alternative Family Services
Founded in 1978, Alternative Family Services (AFS) provides thoughtful, informed care, adoption and mental health services to foster children and youth throughout Northern California. The mission of Alternative Family Services is to support vulnerable children and families in need of stability, safety and wellbeing in their communities.
AFS, a COA-certified foster family agency, currently serves the diverse and varied needs of 1,500 foster youth, plus their biological and foster families, in the San Francisco Bay Area and Greater Sacramento Regions. Services provided by AFS include therapeutic foster care, Intensive Services Foster Care, support for foster children with developmental disabilities, therapeutic visitation, community-based mental health services, transitional housing support, independent life skills training, and much more.
In 2016, COA began our 2020 strategic planning process. We talked with and surveyed our network on their reasons for seeking COA accreditation and how we could provide even more value to their experience. One recurring theme was the need for data. Our organizations employ sophisticated quality improvement systems to manage their success, but respondents noted a lack of quality external benchmark data to complement their internal data.
History
COA's pilot benchmarking program launched in the summer of 2016 as part of COA's Maintenance of Accreditation (MOA) process. It was based on two years of research and replaced our old, narrative-driven MOA process. In the old process, organizations would write an extensive overview of their PQI activities in the past 12 months, and COA would review these narratives and provide feedback. It was a time- and resource-intensive process, and at the end of the day provided little value to COA or our accredited organizations.
We wanted to create a system which had 360-degree value for our network, and this idea was the genesis of the pilot benchmarking program. By collecting, aggregating, and sharing data, we created a system which provided value to all parties:
COA can better understand our network
Organizations are monitoring basic key performance indicators to understand their performance; and
Our network, as a whole, is enriched with comparative benchmark data.
We started with five measures of organizational health and sustainability: days cash on hand, staff retention rate, management retention rate, average staff tenure, and rate of substantiated grievances. Organizations resoundingly preferred this system and, based on feedback from our network, it surfaced again and again as a priority for us during our strategic planning process for 2020. Based on feedback from our network, we're enhancing this system to collect and share back even more benchmark performance data.
Goals
We had three primary goals for refining our benchmarking program:
Universal measures: COA accredits over 60 services and works with a plethora of organizations within the human and social services space. When selecting new measures for this program, we stuck with measures of organization health and sustainability because these are applicable to human and social service organizations of any size or purpose.
Unlike any other benchmarking services available to our network: we knew we needed a unique benchmarking program which provided:

Segmentation logic. Much of the benchmark data available to our sector is not specific to human and social service organizations. Many times, data is collected from all tax-exempt entities. But, it's just not valuable for our network to be compared to animal welfare organizations, arts nonprofits, and similar entities. Our program is focused solely on human and social service organizations. In addition, we're using all of our data to create very narrow segments or clusters of organization for even more valuable comparisons. In future iterations, we hope to roll out custom segmentation for our end-users.

Improved data collection methodology: as a part of the new MOA process, we're collecting benchmark data from our network annually and associating it with a discrete fiscal year. This ensures we have a consistent and reliable flow of data to share back with our network.
New Benchmarking Program
Starting in 2020, all organizations accredited under COA's Private and Canadian organization accreditation will provide data via an Annual Report. This report is due 60 days after the start of your fiscal year and collects data on your prior fiscal year. It is part of our Maintenance of Accreditation process, and organizations must complete this report to maintain their accredited status. Here's how the process will work:
COA will notify your organization's primary contact 60 days before the Annual Report is due. This should land around the first day of your new fiscal year.

Once this notification is received, organizations can access their Annual Report cycle via their MyCOA Portal.
The MyCOA Portal has step-by-step instructions for gathering and inputting the requested data.
Step-by-step guide to completing the Annual Report
Around the start of your fiscal year, your organization's primary contact will receive an email inviting you to complete your Annual Report. It will list the due date and steps for completing the report.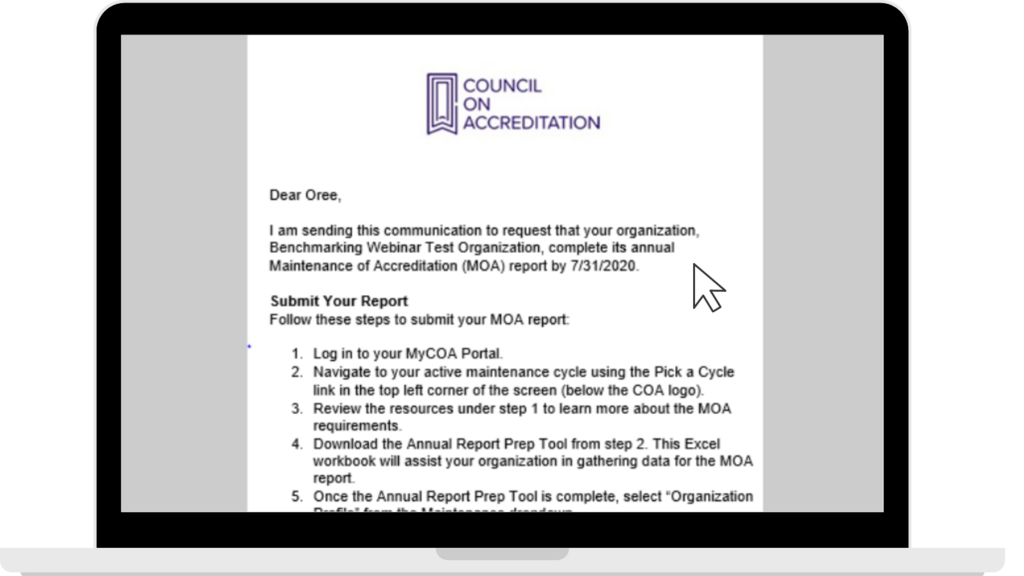 Next, log in to your MyCOA Portal. Use the Pick a Cycle link to navigate to the correct cycle. In this example, the organization's Annual Report is currently due. In addition, the organization has 2 Maintenance Fee cycles in 2020 and 2021; for these cycles, only the Maintenance Fee is due. To complete the Annual Report, select "2020 Annual Report."
On this page, the timeline will show when the Annual Report is due – in this case, on 12/31/2020. Select "Continue."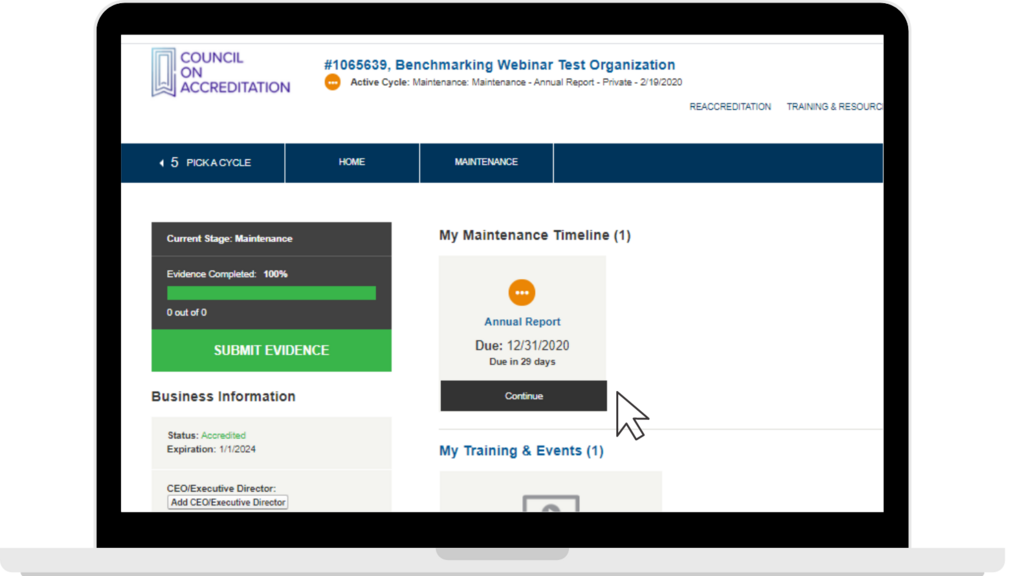 This page gives a step-by-step overview of how to complete the Annual Report.
Step 1
If you'd like, you can review the Annual Report requirements and FAQs using the links in Step 1.
Step 2
COA understands that, oftentimes, only one or two staff have access to the MyCOA Portal. So, we created the Annual Report Prep Tool to help you gather your data before inputting it into the MyCOA Portal. Click the DOWNLOAD button in step 2; COA will merge any data we may already have into this document so you're not doing duplicative work. Share the Prep Tool with relevant staff to gather your data. Please note the completion of the Prep Tool is optional. The Prep Tool is for internal records only and does not need to be submitted to COA.
Step 3
In order to complete the Annual Report, all data must be submitted electronically in your MyCOA portal. Hover over the MAINTENANCE tab in the top toolbar, and select "Annual Report from the dropdown menu.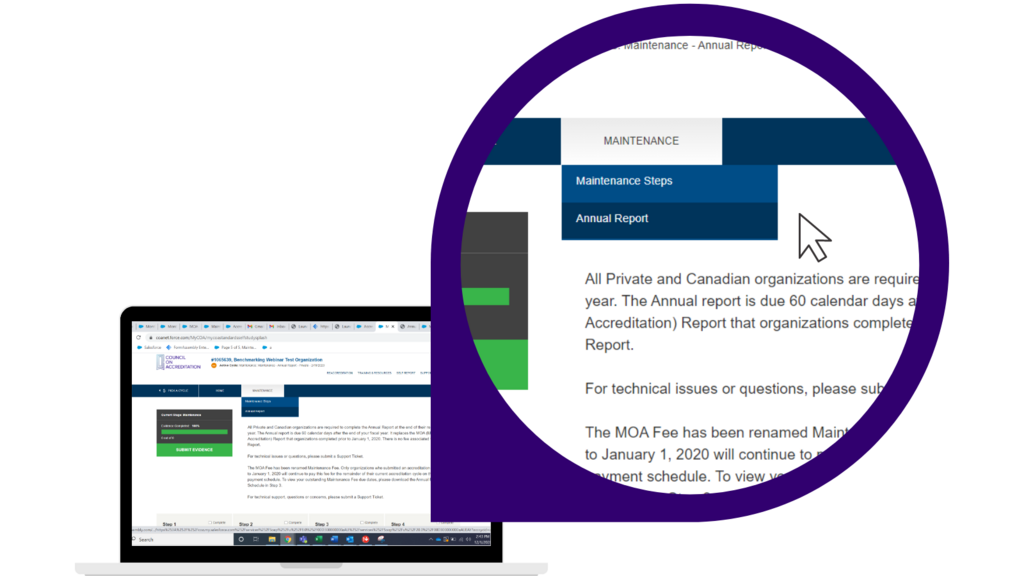 This will open the Annual Report electronic submission form.
If you used the Prep Tool, copy the information from the Prep Tool into this form. You'll notice that the questions are in the exact same order as in the Prep Tool. You can save at any time by click the "Save my progress and resume later" checkbox in the top right corner and then the Save button.
Once all information is entered, click the Submit button at the bottom of the form.
On the following page, confirm the accuracy of your data. Then, click Confirm to fully submit your data. At this point, you can also select "Print this page" to print a copy of your report for your records.
Once the data is submitted, the card on your Milestone Timeline will indicate the completion date and you are done with your submission! Please note: If you would like to make any changes to your submission, please submit a Support Ticket in the MyCOA portal.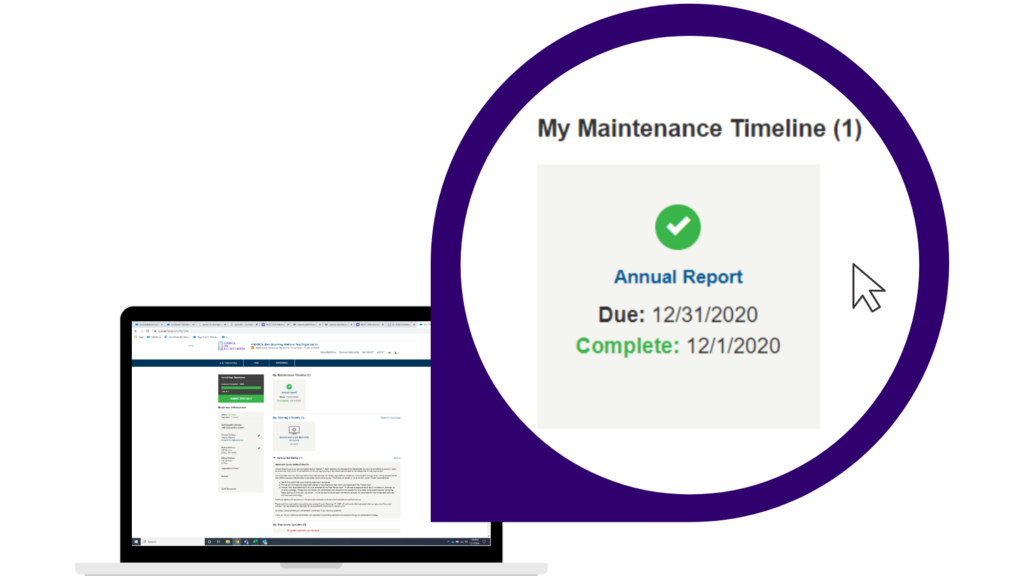 The Benchmark Report – available Q1 2021
Once COA receives all data from accredited organizations for a particular fiscal year, we'll unlock the benchmark report and allow you to access it from within your MyCOA Portal. Download a sample benchmark report here.
Segmentation Logic
The benchmark report uses segmentation logic to create a comparison group of organizations like yours; we then use this group to calculate your benchmark figures. We use data on your business type (nonprofit or forprofit), services provided, revenue, and geographic location to construct this group and ensure an apples-to-apples comparison. We want to provide you with data which has the utmost "comparison integrity" so you can be confident the benchmarks are meaningful to you.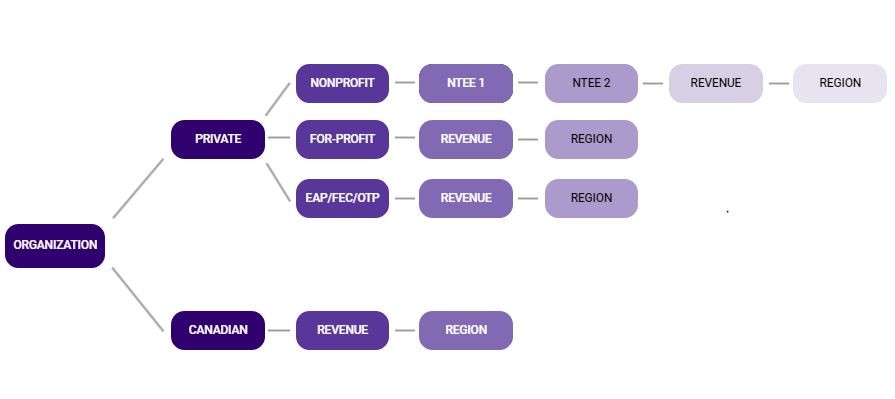 The cover page indicates the fiscal year to which the report pertains, describes the group of organizations against which your organization is compared, and lists the publication date – the date on which the report was generated.
The characteristics of your organization are used to generate the comparison group. The sample organization receiving this report is a nonprofit organization accredited under COA's Private Organization Accreditation program and provides foster care services with a revenue between $5-10M. When generating your benchmark data, then, we pulled data only from organizations which fit these characteristics. This ensures the comparisons made in this document are valuable to the sample organization.
The following pages organize all benchmark metrics into their domains. First, we have the FINANCIAL HEALTH BENCHMARKS: each metric is given a title, a description of what it is and why it is important, and a chart comparing the sample organization's data to the average value of its comparison group. In this top metric, Months of Liquid Unrestricted Net Assets or LUNA, the sample organization and its comparison group had 6 months of LUNA, so the sample organization can be confident that its liquidity – as measured by LUNA – is within normal range for their type of organization.
Each subsequent page lists measures belonging to a particular performance domain, and follows the same structure: title, description, and a chart comparing your data against your comparison group.
Scrolling down, the ADDITIONAL DATA page shows all of the sample organization's data and the comparison figures in one view. We also provide the Percent Rank for each metric. The Percent Rank locates your organization within the comparison dataset. For example, the sample organization's Months of Liquid Unrestricted Net Assets has a percent rank of 33.3%. This means that the organization's Months of LUNA was higher than a third of organizations but lower than two-thirds of organizations in the comparison dataset. Percent rank is just another way of showing you how you compare to similar organizations.
The final page lists some FAQs. As your questions come in, we'll update this page with more information for reading and understanding your benchmark report.
Additional information
We have created a custom website with further information about COA's benchmarking program at www.coameasures.org.
If you missed our benchmarking webinars, please feel free to view the recording here.
If you have any further questions about changes to the maintenance of accreditation process, please feel free to contact Ingrid Zamudio, Data Science Manager. For questions specific to your organization, please submit a support ticket in your MyCOA portal.
Note: This post was originally published in 2017. Now that it's 2020, we decided to give it an update. The core information remains the same.
Social service agencies across the world have voluntarily risen to the challenge of achieving accreditation. Whether their original goal was to focus on administrative functions or service delivery quality, the accreditation process (particularly with a whole-organization accreditation approach) provides these agencies with a blueprint to refine practices simultaneously across every area of the organization. The performance of these agencies has caught the eye of oversight entities and consumers alike, prompting accreditation to be used has a regulatory tool through mandates.  
The word 'mandate', particularly in a government context, is notorious for creating concern across service providing agencies, often because of the cost associated with those requirements. COA believes all mandates function best when paired with the funding required to meet those mandates. We encourage all regulatory entities to consider the financial impact of any imposed mandate, as it can make or break the success of these initiatives.
Though the financial concerns of these agencies are absolutely valid, we can't ignore the positives that can come with an accreditation requirement. Through accreditation, agencies are given a path to meet a base-level of quality across administrative and service delivery functions. Accreditation sets clear service expectations for service recipients and the taxpayers that fund these programs alike. It also fosters a culture of continuous improvement that can ensure the sustainability of an agency's services. We cannot ignore the importance of these tenets in growing and maintaining a strong social service system that meets the needs of our communities.
To hopefully make this all a little easier on your organization, we've creating this guide to support your agency in navigating a mandate. Our goal is to help you gather important details, understand what is required, determine milestones, and know how to compare and contrast accreditors. 
Note: Our best advice is don't delay! Expect that it will take up to six months to determine an accreditor and then 12-18 months to pursue and achieve accreditation. 
Questions for the entity that mandated your accreditation
What accrediting bodies are accepted?
Usually a mandate will include a list of accepted accreditors.  If this isn't included, reach out to the payer to find out what accreditors are accepted. If your preferred accrediting body isn't recognized, we encourage you to reach out to that accrediting body and let them know. We can only speak for COA, but we are always willing to work with you and regulating entities to have COA accreditation be accepted under a mandate. 
What service(s) is/are mandated?
Does the mandate apply to one service? Many services? The entire organization?  Is there a document that crosswalks which services are mandated and what standards need to be applied by the accreditors? COA Accreditation Coordinators often know which service standard assignments are required for a mandate, but we always think it's best for you yourself reach out to your regulatory entity to determine what is exactly required for your agency and the services you are providing.  
What is due and when?
Mandates often come with specific timelines and may even have multiple milestone requirements. In these instances, regulating entities will designate a deadline for achievement of accreditation. To ensure organizations are on track to meet a deadline, regulating entities will designate milestone deadlines on the way to an accreditation award – a date by which organizations must engage with an accreditor, a date by which organizations must have their Site Visit, and then a date by which an award must be received. 
What type of accreditation award is needed?
It's important to clarify what type of accreditation award is due and when.  Some accreditors offer provisional or temporary accreditation. Accreditors and regulatory entities will work with your organization to determine the type of accreditation award that is required under your mandate. 
Evaluating accreditors — features to consider 
Once you know which of your programs needs to be accredited, by when, and by whom, reach out to all the approved accreditors and get an understanding the features of each. Regulatory entities and some membership groups will often facilitate panels with all recognized accreditors to help providers select the accreditor that is best for their agency. Here are some questions you'll want to ask:   
How much does your accreditation process cost?  
Ask about application fees, accreditation fees, Site Visit fees (scheduled and unscheduled), and maintenance fees.  Is there a fee to purchase the standards?  If so, how many copies will you need and how often will updates be published in the future?  Make sure to ask about required fees and optional fees.  For example, trainings might be required and have associated fees.  
What is awarded and how long is it valid?
Each accrediting body will have a different length of accreditation award. This is referred to as an 'accreditation cycle', which will let you know how long your award is valid and how often you can expect to go through the accreditation process. Some mandates require a specific award length, in these cases the approved accreditors have worked with your oversight entity to meet this regulatory requirement. It's important to keep all of this in mind when evaluating cost – how many accreditation cycles will your organization undergo over time (including provisional cycles)? 
What is included in the accreditation review?
Will the accreditor require all programs to pursue accreditation, or can you isolate individual programs? Will the administration and management areas of the organization be reviewed? Will every site be visited in the review (important to keep in mind when considering cost!)? Does the approach of the accreditor fit your organizational culture? Does the accreditation cover all of the desired service areas (current and future growth plans)?
We encourage all agencies to look toward future mandates as well. We have often seen additional services mandated, and agencies that utilized an accreditor with a whole-organization approach are most prepared for any mandate that comes their way.
How long does it take?
Most accreditation processes take 12-18 months from deciding to pursue to decision. However, the right time to sign up might vary with each accreditor.  For example, some accreditors want to hear from you when you're ready for your Site Visit within 4-6 months. Other accreditors want you to apply before your self-assessment period so that they can work alongside your organization in preparation for the Site Visit. 
How is my organization supported throughout the process?  
Are you assigned a point person to work with from the accrediting body? Does the accreditor offer trainings? How and when can you ask questions?  Does the accreditor provide templates and other tools to support you? Is there an online management system to assist with managing the process? Though every accreditor provides different tools to support agencies in meeting their mandate, it's important to assess how much guidance and assistance will help your agency thrive in this process. 
What is required to maintain our accreditation status?
Once accredited, what is your responsibility for self-reporting changes at your organization? What is the process when your organization adds a new program or a new site? Are there annual reporting requirements and fees? What is your responsibility when it comes to implementation when standards change? 
Seek recommendations 
Ask peer organizations
Contact a few peer agencies that are already accredited. Think about the characteristics you should consider when identifying a peer – is it population they serve? Their size?  Location? Mission? Ask your peers about their satisfaction with the accreditation process, how they managed the work, and when appropriate, if they'd be willing to be a resource while you pursue accreditation.  

Ask internally – staff, board members, and volunteers
Start a discussion about their accreditation experiences and what they liked or disliked about the process. This is also an opportunity to gauge interest to see who would be willing to be part of the accreditation team or even lead the accreditation effort within your organization.
Ask your membership associations
If you belong to an association, ask if they support accreditation. Some associations have relationships with accreditors which might make your organization eligible for a discount when pursuing the process. Some offer technical assistance, and many are willing to facilitate dialogue around accreditation. 
---
Hopefully, this information will assist your organization with mapping out your journey towards seeking accreditation.
Here are some related resources we have available.
Please feel free to share other resources you've found helpful while navigating this topic in the comments below!
A big thank you to Whitney Claire Thomey from the Nonprofit Risk Management Center for this guest post!
Certain aspects of the risk management discipline are more compelling than others. It's easy to see how Enterprise Risk Management harnesses the power of your organization's strategic initiatives and bolsters the opportunity for your mission to grow and succeed. Having candid conversations about daily risks can become a simple standard practice that helps keep preventable risks in check. And annual reviews of insurance policies are necessary and routine to protect the mission from liabilities.
However, business continuity planning (BCP) often feels like a burden and is an uncomfortable, time-consuming topic to discuss thoroughly. Therefore, it rarely receives the attention that it deserves. Instead of focusing on the negative implications that disruptions cause to your organization and your mission—which often leaves BCP stuck on the backburner—realize how having a clear plan to deal with business interruptions empowers and protects the vital work that your organization does to serve your community and constituents.
Why is BCP important?
The first step in moving your organization's business continuity plan to the front and center is establishing its value to the organization. So, why is business continuity planning so vital to a mission-driven organization?
Know in advance the critical operations
From a power outage to a pandemic, disruptions never occur on a predictable schedule. Business continuity planning shifts your organization from a defensive state to an offensive one, making sure that nonprofit leaders won't have to scramble to respond rapidly and improvise when unexpected outages pop up. Being able to pivot quickly can make or break stakeholder trust. A primary function of your business continuity plan is to establish which operations are mission-critical, which services and processes you can do without for a finite period, and which activities can be wound down or halted indefinitely.
When a disruption does occur, response time is crucial to ensure that indispensable services are available, allowing your mission to continue with minimal downside impact. Ideally, business continuity plans are created far in advance, under low-stress conditions, making it possible for cool heads to prevail during the disruption.
One-stop-shop for contingency information
Your business continuity plan collects all kinds of essential, necessary information that make it possible for vital operations to continue in the face of any type of disruption. And it's likely that your organization already has many of the answers! However, it's the potency of collation that makes a BCP so powerful. By taking the time to collect and catalog procedures, processes, and points-of-contact, you remove the stress associated with being able to quickly access required resources while also dealing with a crisis in real-time.
The hidden benefit
We have established that contingency planning helps identify in advance the operations and services that are mission-critical to your organization. You've seen that it can be leveraged as a one-stop-shop for essential resources and points of contact for your vendors and services. But did you know that there's an inherent hidden benefit to contingency planning?
You might be surprised to learn that the true benefit of contingency planning lies not in quickly selecting Plan B or Plan C when a disruption occurs. The actual advantage lies in the process. When teams come together to execute planning exercises to brainstorm what disruptions might happen, how they will affect the organization, and what can be done to mitigate the damages they build resilience. Essentially, it flexes the muscles needed to make thinking on your feet a salient and normalized practice. Therefore, it's not just the final plan but also the time spent discussing and preparing a business continuity plan that helps prepare your nonprofit.
Driven by diversity
If you've begun drafting a business continuity plan for your organization and watched it die on the vine or get back-burnered for a more pressing project, the temptation to go it alone is enticing. However alluring it might seem to sit down and hammer out all the details without the organizational drag of a committee, this is a suboptimal approach.
A practical business continuity plan examines the organization with a holistic view. No one department or managerial level has all the answers. BCP cannot be solely focused on information technology any more than it can only consider boots on the ground operations. As organizations move through business impact analysis exercises and begin identifying the crucial areas of service that must not be interrupted, diverse perspectives make all the difference. Establishing a team of individuals representing a variety of functional groups and with differing levels of responsibility will ensure that no stone is left unturned.
Getting buy-in
It might seem like an insurmountable task to find team members who will want to hunker down and run the marathon of creating a business continuity plan. However, don't assume that your colleagues won't be interested! Start by asking for volunteers. It's human nature to worry, and uncertainty causes stress and anxiety. Being involved in an effort to establish plans for combatting risk has the potential to ease anxiety and make people feel better.
People decide whether to buy-in to things when they have a stake in the investment. Consider how accomplished you feel after completing a big DIY project! This is the concept of the "IKEA Effect." Even if you only assemble something, you immediately have a sense of ownership and accomplishment. Asking staff members to help shape the plan allows their voices and concerns to be heard and safeguards responsibilities, programs, and services that are important to them.
Break the glass! Don't keep your BCP a secret. There is a tendency to think of continuity planning, crisis management, and succession planning as organizational secrets. Nothing in your BCP should be embarrassing or contain information staff shouldn't know. Making the plans public among your internal stakeholders will give them comfort and empowerment to be part of the process.
Get the word out
Knowing that the organization is prepared to weather difficult times can be comforting to staff, stakeholders (your board and funders), and the community you serve. An important piece of the business continuity planning process is sharing your plans with a broad audience. With that in mind, your communications should be targeted accordingly; the message that you send to staff about the plan and decisions for enacting it won't be the same as what you share with your community funders.
When preparing messaging about your BCP, consider creating some criteria to help you group stakeholders to ensure that the right information gets to each person. You might ask questions such as:
Does this person play an active role in our contingency plans?
Will this person be directly, indirectly, or not at all impacted by a disruption to our organization?
Is this person someone we would call on for temporary support during a disruption?
Insiders – Board, Management, Staff
Some staff and management may already be somewhat aware of your organization's business continuity plan since they likely participated in the process on some level. However, everyone inside your organization should know that the plan exists, where it exists (whether there's a hard copy or where the digital files can be found), and the steps for activating it when an event occurs. The final step is critical, as not every incident may warrant a deviation from "business as usual." As we mentioned before, the plan shouldn't be a secret; it's an invaluable asset!
External – Community, Public
The people you serve and those who support your mission will take comfort knowing that the organization has a plan to sustain and continue mission-critical activities when the going gets tough. However, there's no need to mire them down in the nitty-gritty details of how you will shift to Plan B when the need arises. A simple one-page document with clear contact information is what the public needs to know about your response. Start with messaging you have developed for any recent disruption and tweak it to be easily customized for other situations.
If a mid to wide-spread impact occurs that causes the nonprofit to radically alter services to your community or necessitates a fundraising campaign to help support during the time of need, you'll need to communicate requirements and changes to this stakeholder group clearly. Consider distributing your message through a variety of sources, making it easily accessible to many people.  Consider these possibilities:
Official press releases
Banners or tickers on your homepage with important updates
A dedicated page or collection of pages on your website to aggregate information related to your organization's response to the disruption and any relevant outside resources
Special editions of your email newsletter
Social media posts
Vendors
Maintaining an open flow of communication with your essential vendors will ensure that expectations and obligations are met even when you can't do business like you usually would. Involving your vendors in your BCP plans will make sure that services you rely on them for will be available and operating without impact during the disruption. Points of contact may change, or the types of services that your partners can provide could be altered. Therefore, an essential step in a good vendor relationship is to have clear, open communication!
Test the waters
Having a plan isn't enough. BCPs should be rigorously and regularly tested. As with many risk management tactics, business continuity planning isn't a linear "one time" event. It's a cycle that should be refined and revisited repeatedly.
The best-laid plans…
Testing is a powerful step in the BCP cycle. It is during this phase that you breathe life into the pages of your contingency plans. Executing simulations strengthens the plans that you captured by verifying that they are functional and appropriate. Your tests allow you to calmly and systematically identify any weaknesses or gaps, confirm that the objectives are met, and improve upon the drafted systems and processes. Each time your BCP is put through rigors is an opportunity to update and improve as your organization evolves and adapts. Each time trials are conducted, team members can evaluate the response and develop proficiency for the contingency. The real beauty of testing comes in being able to deliver the developed response under ideal, no-stress situations.
You say tomato, I say tomahto
Options for testing your plans are as varied as there are missions and organizations. The variety of testing options and methods means that it's easy to find a right-sized approach for your organization, team members, and plan. Finding the best fit makes testing a reality for all organizations and eliminates excuses.
You may choose one testing method or several so long as the approach ensures that objectives mentioned above—identifying weaknesses and strengthening processes, to name a few—are met. At a minimum, consider a plan review with team members outside of the initial drafting committee. Receiving feedback from staff who weren't a part of the planning process will shed light on any areas that were omitted or misunderstood.
Executing more complete simulations through tabletop exercises, walkthrough drills, and full functional recovery tests will provide an added layer of credibility to the plans you've drafted. Tabletop exercises could be completed during team meetings for your organization's functional groups, and simulation testing can a specially scheduled all-hands meeting. The amount of time needed for each of these different methods varies greatly, and therefore gives staff and volunteers an opportunity to thoroughly vet the processes and procedures in your organization's BCP.
Lather, rinse, repeat
Analysis, evaluation, planning, and testing must occur on a regular schedule to be genuinely useful. Making testing and training routine will ensure that when a disruption occurs, your organization will be prepared to respond as seamlessly as possible.
Testing timelines, just like your plans, must be built to suit. Some factors that will impact how often testing should occur are the size of your organization, availability of personnel (paid staff and volunteers), resources at your disposal, and the maturity level of the business continuity plan itself. What's right for an organization in your sector might not be right for your organization! Build a testing program that makes sense for you and you increase the likelihood of its success.
Consider various employment milestones as touchpoints for your testing process. Employee and volunteer onboarding are excellent times to communicate and train new stakeholders on the plan. Their unique perspectives may offer a fresh look at methods, so incorporating this feedback will help strengthen organizational resilience. Some organizations find it helpful to set aside time quarterly, annually, and bi-annually to conduct larger-scale run-throughs. Putting these on an organizational calendar will allow departments and staff to plan and secure needed time for these intense practice sessions.
Another way to test and review your plan is to examine the contingency operations any time a significant change is made to a process or system. The plan can be reviewed and tested in smaller, digestible chunks by examining points-of-contact, lists, and procedures when changes are made. If your organization goes through an annual vendor review, take that time to ensure all contact information in your plan is current and correct.
If you have outside vendors that provide mission-critical services, consider including them in your testing protocols. For example, if your nonprofit is a human services agency that contracts with a bus company to transport clients, this outside partner provides a critical service that should be part of your exercises. At a minimum, make sure you know they have a BCP and who your points of contact will be if there's a disruption.
Don't let this valuable organizational resource simmer forgotten on the stove. Bring the discussion to a full boil with staff, management, and your board. The powerful resource that results will ensure the protection and safety of your organization's mission.
What a deeper dive into BCP? Download The Business Continuity Planning issue of Risk Management Essentials, here.
The views, information and opinions expressed herein are those of the author; they do not necessarily reflect those of the Council on Accreditation (COA). COA invites guest authors to contribute to the COA blog due to COA's confidence in their knowledge on the subject matter and their expertise in their chosen field.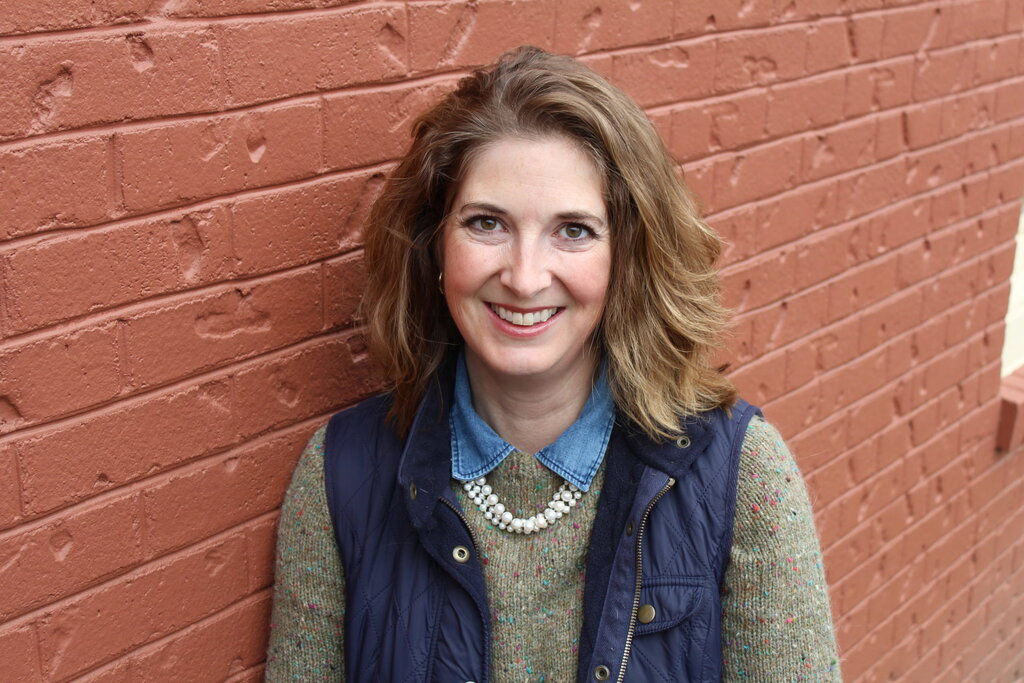 Whitney Claire Thomey
Whitney Thomey serves as Project Manager at the Nonprofit Risk Management Center (NRMC). Whitney's diverse professional experience includes project management duties in local government, legal services, web & content development, human resources, and bicycle mechanics and tour operations. Her background in Anthropology and Ethnology brings a refreshing perspective to examining internal operations and processes. Whitney earned a Bachelor of Arts degree from the College of William and Mary.
The most vulnerable members of society have also been the hardest hit by the ramifications of the COVID-19 pandemic. The work of nonprofit organizations serving those populations continued largely uninterrupted over the past several months—despite sparse protective gear for staff, thinly-stretched funds, and minimal to no national guidance about how to safely proceed.
Behavioral health centers, foster care services, homeless and women's shelters, and many other human and social services organizations have not shut down. They have been navigating urgent and rapidly changing issues on the fly to keep their essential staff safe as they deliver critical services.
The Council on Accreditation (COA) discussed the changes and challenges of recent months with eight of our Sponsoring Organizations, which are nonprofit membership bodies comprised of organizations that provide human and social services (many of whom are accredited by COA). Sponsoring Organizations serve as critical advisors to the COA, helping us understand the accreditation needs of provider agencies, industry trends, and environmental challenges within the human and social service landscape. Since the start of the COVID-19 pandemic, they have played a central role in helping their member agencies figure out how to safely continue operating in unfamiliar terrain.
We wanted to take a moment to recognize their work and highlight the innovation and creativity that emerged during this difficult time. Their stories illustrate best practices in "continuous evolution" and "resilience" that help organizations push through difficult times.
Shifting priorities
High levels of uncertainty have been a constant since March. Every organization has had to re-evaluate priorities and re-direct resources accordingly.
"One of the biggest lessons we've learned from the past few months is the concept of truly listening to members. Never has that been more critical," said Mohini Venkatesh, Vice President of Business Strategy at the National Council for Behavioral Health (National Council). "We had to figure out how to represent the full continuum of experience of our members —from those serving wealthy communities to the underserved—in an environment where everyone's experience was highly variant and changing fast."
High-frequency membership surveys and town hall meetings facilitated by the CEO of National Council helped them keep the biggest challenges facing members front and center. Members' inability to access to personal protective equipment (PPE) surfaced as a high priority early on. A survey of its members found that nearly 83% of behavioral health organizations did not have enough PPE for two months of operations.
When National Council put out a mass call to its members about PPE, it received requests for roughly 2 million masks within 48 hours. Although completely outside of its normal focus, National Council moved quickly to find a manufacturer and contractor that could fulfill and distribute its' members PPE order.
The Network of Jewish Human Service Agencies (NJHSA) also went into action to provide PPE for its members after hearing safety concerns from agencies that interact with high-risk senior populations and hospice patients. It collaborated with several other organizations to do a group bulk purchase of PPE.
Catholic Charities USA (CCUSA)who serves millions of people per year, has distributed $6.1 million to agencies for COVID-19-related disaster grants and helped providing PPE, delivering almost 2 million face masks, 650 gallons of hand sanitizer, and gloves, masks, shields, and gowns. Across their network of facilities, they have seen a 50%-70% increase in clients seeking assistance including a broader demographic than low-income and poor households that traditionally walk through their doors including an increase in middle-class families who lost their jobs as the pandemic surged.
Rapid coalition-building
Collaboration was also central to the work of the National Foundation for Credit Counseling (NFCC), a nonprofit financial counseling organization, as states started to lockdown. With many Americans facing sudden unemployment or a dramatic reduction in work hours, financial stresses were running high – people needed short-term relief from paying credit card bills, mortgages, and other debts.
NFCC recognized that consumers needed an immediate short-term solution, regardless of where they sought counseling. They took a lead role in collaborating with other nonprofit credit counseling agencies, credit card issuers, lenders, and regulators to develop a national emergency payment relief program. The program allowed consumers to skip payments without penalties or damage to their credit rating.
"We experienced five years-worth of progress in a period of five weeks," said Bruce McClary, Vice President of Marketing for NFCC. "It would have been an impossible goal to achieve if we had not already built strong relationships with key industry stakeholders and developed a solid communication framework."
Facilitating communication and problem-solving
One of the top priorities for nearly every organization we interviewed was facilitating communications between its members to problem-solve.
The Alliance for Strong Families and Communities (Alliance), which is comprised of a variety of nonprofit human services organizations and state associations, initiated regular pulse surveys to assess members' most immediate needs. The lack of guidance about how to deal with rapidly changing COVID-19 developments was a major stress point.
"Being nimble and taking risks with our communication strategies was crucial," said Lenore Schell, Senior Vice President of Strategic Business Innovation at the Alliance. "Our guiding principal was to act as the facilitators, not the experts. We launched webinars in the early stages of the pandemic knowing we had few answers to provide, but it created an environment of trust for dialogue with and between members."
The Association of Children's Residential Centers (ACRC) also positioned itself as a communications hub for its members, which are residential centers for children. They couldn't close down services and had to quickly figure out how to keep residents and staff safe in a setting where it is nearly impossible to social distance.
"Meeting the needs of behaviorally challenged young people is already tough work. And the COVID-19 pandemic created additional complexity at every level," said Kari Sisson, Executive Director of the ACRC. "We quickly realized that the field needed a way to safely exchange information to develop policies, procedures, and best practices – and learn from others' experiences."
Affinity groups that were created before the pandemic served as a critical information-exchange for members. An affinity group that served kids with autism and severe brain injuries was able to learn a great deal from an agency in Massachusetts that was hit hard by COVID-19 – it helped peers think through how to plan for adjustments to family visit polices, establishing isolation units, and other safety issues.
Providing opportunities for peer collaboration became an immediate focal point for the Child Welfare League of America as well; it is comprised of agencies that serve vulnerable children and families. In the early stages of the pandemic, they gathered a small group of agencies from the hardest-hit states including New York and Washington to discuss challenges and lessons learned. CWLA also initiated "open mic" weekly conversations to let all member agencies voice their struggles and exchange information about what was working.
"We became a funnel for information for the industry, helping members navigate how to put new policies and protocols into place," said Julie Collins, Vice President of Practice Excellence for CWLA. "We are still receiving daily inquiries from agencies about how others are dealing with specific issues."
CWLA shared the intelligence from its various forums with its entire network of members via webinars and best practice newsletters. Topics spanned a wide range of issues from helping foster parents manage e-learning to guidance on recruiting and training staff virtually to establishing protocols for an employee that tests positive for COVID-19. They also arranged for Congressional representatives to hear directly from small agencies about their concerns.
Advocating change 
As the COVID-19 lockdown hit different parts of the U.S., health and human service agencies had to abruptly transition as much as possible to virtual mode, often with little warning. Telehealth services suddenly became the norm instead of the exception.
"Initially, the government and insurance providers were only allowing telehealth services that used both video and audio capabilities. We had to help our agencies fight for allowing telephone-only services," said Reuben Rotman, CEO and President of Network of Jewish Human Service Agencies (NJHSA). "There are big segments of the population that don't have access to a computer or the internet, or they simply don't know how to use it."
For example, one of the agencies under NJHSA was working with a patient suffering from agoraphobia who had not left her house for nearly a year. Her therapist was able to counsel her via Zoom sessions – a more relaxing environment for the patient – and actively workshop steps that reduced her anxiety about getting into her car.
Although shifting to telehealth so quickly presented numerous challenges, it is also brought to light the effectiveness of alternative approaches.
"Telehealth is helping agencies live the true value of person-centered care – delivering treatment remotely to those who prefer that option," said Venkatesh of National Council. "While many questions linger, the rapid deregulation of telehealth opened the flood gates. It's clear that virtual services have great value, and we'll need to help regulators understand the need for a hybrid model moving forward."
Nancy Ronquillo, CEO of Children's Home Society of America, the oldest network of child-welfare agencies in the U.S., said that their members expressed similar sentiments about shifting to virtual visits and counseling with families. "For some families, doing a 15-minute phone call a few times per week instead of a one-hour home visit with an agency worked much better," said Ronquillo. "When agencies were freed from their traditional boundaries, it helped them test and realize how alternative strategies can work better for some kids and families."
Acting quickly
Health and human service agencies were overwhelmed with the logistics of managing day-to-day operations, leaving little room for them to process new developments. Many of the organizations we interviewed took on this "processing" role, serving as a source of clarity on fast-moving critical issues.
When the U.S. Small Business Administration announced details about the Paycheck Protection Program (PPP) loans, Children's Home Society of America provided immediate guidance to its members so they could quickly plug into the application process. They also facilitated one-on-one calls between CEOs of its member agencies to troubleshoot the nuts and bolts of working with banks on the loans.
At (CCUSA), they have continued to push throughout the pandemic for the availability of stimulus funds and increased funding for programs like the Emergency Food and Shelter Program to support the most vulnerable of populations.
The Alliance sent communications about PPP almost daily, highlighting key details about eligibility, deadlines, and how the process worked. Many of the Alliance's members said that without those communications, they would have missed out on the PPP loans.
Looking ahead
Uncertainty continues to linger for the foreseeable future. Short-term changes are putting long-running challenges into sharp focus, giving nonprofit organizations a chance to think more creatively about how they deliver value to those they serve. We are inspired by the spirit of collaboration and resilience within the nonprofit world to continue to serve while tackling unforeseen challenges.
COA's President and CEO, Jody Levison-Johnson recognizes that COVID-19 has been and will continue to be a game changing experience. "COA is continuing to evolve to ensure that our standards and processes provide the greatest impact on the people and communities served by human and social service organizations. We thank the entire COA community for all of the work being done during these challenging times to ensure the continuity and quality of service delivery to the most vulnerable of populations."
If we can be of any assistance, please let us know how we can help.
A big thank you to Ruben Mina, LMSW for this guest post!
Can you tell me the history of your community?
Can you tell me some histories of your community?
Yes, histories.
Do you ever ask these questions of adolescents with whom you work? There is a distinction between the two questions. The first question focuses on one story: the prevailing story of how a community came to be what it is. It feels like asking adolescents to pull something in from the past, make sense of it and connect to it.
The second question asks adolescents to tell histories of their community. It invites them to share the who, what, how, and why about the people, institutions, political forces, cultures, and much more that make their community dynamic. Like adults, adolescents have a range of experiences in the communities to which they belong that are rooted in traditions they observe, inequities or injustices they endure or witness, and forms of oppression about which they are aware. They deserve the space to tell their stories. Each individual experiences and interprets life in their community in ways that cannot, and should not, be captured by a single history. By creating space for adolescents to share their varied perspectives and experiences, we are supporting their social and emotional development.
This is not about adolescents being unable to make sense of standard accounts of history. Nor is it about making up stories. It is about engaging adolescents in critical thinking and critical dialogue so that the histories they see, feel, and live each day are amplified. This deepens their connectedness to their respective communities, cultivates empathy, and provides a foundation for them to work collectively to transform their communities.
Mapping histories
While both questions at the beginning of this blog post could create opportunities for shared learning, focusing on multiple histories of a community does more. It invites adolescents to further develop self-efficacy by telling and showing one another the ways they view the world around them. Youth-serving programs want to build adolescents' sense of self-efficacy, while letting them know that their voices matter. We let them know their voices matter when the learning that happens in human service organizations honors their perspectives.
Earlier in my career, I developed a group activity called "Community Stories" as a way to center adolescents' experiences, while facilitating their exploration of ways they could transform their communities. This activity has helped adolescents in the Bronx in grade levels ranging from upper elementary school to high school identify and raise awareness about issues such as domestic violence and a lack of neighborhood parks that were impacting their daily lives.
Community Stories take the form of maps that reflect adolescents' insights about experiences they have in a community to which they belong. It integrates numerous concepts and approaches, including: popular education concepts (participatory, group-oriented), photovoice, and community asset mapping, as well as literacy-building activities. The maps require basic art supplies and no art skills; they are animated by the dialogue adolescents engage in about the ways a group 1) experiences a shared community and 2) envisions its transformation. 
This activity allows adolescents to explore a community they identify with in creative, empowering ways, and is intended to engage them in a communal exercise. Constructing maps to tell community stories allows adolescents to reimagine their communities and envision their transformation. By trusting and engaging the expert wisdom of adolescents' lived experiences, you are letting them know that you value their agency.
Before creating maps, the group must identify a community to which they feel connected and would like to represent on a map. Since communities are not strictly defined by physical borders, it is vital to encourage consideration of non-geographic communities (i.e. community of teen activists). This is crucial for two reasons. First, adolescents are in the developmental stage of exploring membership in groups based on interest, values, and identity, not solely geography. Secondly, this allows for greater inclusivity, particularly for adolescents who experience oppression or marginalization as a result of others' targeting them based on identity or perceived identity.
These maps are populated by what I have termed "characters" (feel free to use different terminology). "Characters" are representations of those elements that impact adolescents the most (i.e. institutions, places, events, policies). As a facilitator, I have found it helpful at this stage to engage adolescents in naming the dynamic relationships between people and other elements of a community and the meanings of such relationships.
Below is a description of the activity, with facilitator instructions.
Creating the maps
Benefits of the activity:
Build community around shared experiences of oppression and/or shared visions of transformation
Promote critical thinking and critical dialogue
Identify dynamics that impact adolescents' lives, while encouraging their self-advocacy
Framing questions to ask at the beginning, and revisit throughout to encourage dialogue:
What comes to mind when you think of the word 'community'?
What do communities consist of?
How can we understand a community?
Are people the only entities that have stories to tell about the communities we belong to?
Step #1 – Map design
Ask participants to name a community they belong to and want to transform and/or take action in response to an inequity and/or oppression that has been individually or collectively experienced. Instruct the group to create a map that features "characters" (i.e. places, buildings, institutions, policies, rules) that comprise their community (geographical or non-geographical). Pay attention to group dynamics to ensure an equity of voices in the decisions of what gets placed on the map. For non-geographical communities, participants could use systems, policies, and/or institutions as "characters" that impact the community. Relationships and power dynamics can be shown by giving "characters" different sizes (i.e. the bank is the biggest thing on the map because of its impact on the community's economic state).
Step #2 – Mapping the story
Introduce the word balloon for dialogue between "characters" on the map and thought bubble to see the inner thoughts of a given "character", and explain their purposes.  
Present the reflection questions below and instruct participants to use word balloons and thought bubbles to represent dialogue between the "characters" about the transformation or oppression that was identified in step #1. Reflective questions may include:
What would each "character" say about its experience with, or observations about, the oppression or vision of transformation that was identified?
What observations has each "character" made about the oppression or vision of transformation?
If we could read the thoughts of each "character," what would we learn?
Participants should then discuss the questions or other questions that may resonate with the group and write responses on the word balloons and thought bubbles. Participants can then place the shapes on the corresponding "characters" on the map.
Step #3 – Expanding the story
Introduce two tools (adapted versions of "flashback, flash-forward" and "hot-seat the character") that the group will use to engage in critical dialogue. Prompt the group to think about what the "characters" would say if they could flashback or flash-forward in time. For example, if a park is represented on the map, a flashback question could be: what would this park have said was its experience with gentrification 10 years ago?  
Next, invite a group member to "hot-seat" another "character". Group members then get to pose questions to the "character" that are discussed as a group. The focus can be on expanding upon what was written in the word balloons/thoughts bubbles, or what was shared in the flashback and flash forward discussions. For example, a group member might "hot-seat" a group mate's school "character" and ask: why do you want school administrators to do more to make families feel welcome in the school? Such a question, and others, could engage the group in deeper discussions about school-community relationships.
Step #4 – Processing, closing, action steps
This final step provides a way for the group to reflect on their experiences going through the activity. The group may also draw connections to potential future actions they could take related to the issues represented on their maps. I have found sitting or standing in a circle with the map inside of the circle as the most engaging way to facilitate this step.
The questions below are recommended, but are not the only ones that you could ask.
What common themes or differences emerged during the process?
What can we do to learn more about the community? Is there someone with whom we can talk? Is there someplace we can visit?
Is there any action around shared visions of transformation, or shared experiences of oppression that we would like to explore?
These steps are about adolescents' ability to make meaning of their community, and treats them as the subjects of their own learning. My experiences facilitating Community Stories have shown me that adolescents grow more comfortable discussing issues that resonate with their individual and collective identities when given the space to do so. While that can take various forms, hopefully, Community Stories will serve as another approach that you can use with adolescents who are looking to change their communities.
The views, information and opinions expressed herein are those of the author; they do not necessarily reflect those of the Council on Accreditation (COA). COA invites guest authors to contribute to the COA blog due to COA's confidence in their knowledge on the subject matter and their expertise in their chosen field.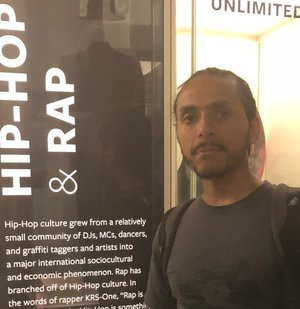 Ruben Mina, LMSW
Ruben Mina, LMSW, is a social work community practitioner with close to 15 years of experience in youth development and education. He currently works for the New York City Department of Education alongside an amazing group of folks who are dedicated to achieving equity for students in all schools and districts throughout New York City. His work involves leading workshops for educators on topics like implicit bias awareness, racial equity, and anti-oppression. He also works with educators at the school- and district-levels on creating equitable policies and practices. He serves on the Masters Exam Committee for the Association of Social Work Boards. As a born and bred Brooklyn native, he loves music from any and everywhere, and classic Twilight Zone episodes. He is excited to begin pursuing a doctoral degree this fall.
A big thank you to Shondelle Wills-Bryce, MSW of Sisters Keeping InTouch, inspires, LLC for this guest post!
The peace and serenity of a spring morning is undeniable. Take a moment wherever you are and observe the synergy of nature surrounding you. During my moment, I heard birds chirping, I felt the cool breeze on my arms, and I saw greenery all around. I smiled in amazement, thinking about how nature seemingly effortlessly comes together to bring us beautiful days. I then found myself perplexed about how we as people and we as professionals make "coming together" –aka partnership–so complicated.
Whether you choose to use science, religious beliefs, observation, or a combination of all three, you cannot deny that Mother Nature is the queen of partnership. According to the Oxford dictionary, nature is "the phenomena of the physical world collectively, including plants, animals, the landscape, and other features and products of the earth, as opposed to humans or human creations" (emphasis mine). Each part of nature's collective does its job without hesitation, and as a result, the system operates successfully.
The system of nature is so effective that even when humans disrupt its natural order, the system automatically adjusts. You may call one such adjustment global warming. However, if Mother Nature could say anything about her adjustment, she might simply say, "I am getting back on track because I am clear about my job and purpose for life on earth."
In my opinion, the words of Henry Ford describe partnership best:
So, I challenge you to ask yourself, am I clear about my job and my purpose in my partnerships?
Successful partnerships at work
In my various personal and professional roles, I have witnessed the transformational power of partnerships. Some successful partnerships are used for positive impact; others, not so much. Let's agree to spend our time focusing on the impact and qualities of successful partnerships in order to improve our own.
The annual journal Partnership Matters examines the current thinking and practice in cross-sector partnerships. This journal was developed as a result of the growing recognition that partnerships between business, government, and civic organizations can effectively tackle the social, economic, and environmental challenges of the world. However, based on my experience "aging out" of NYC's child welfare system, working for the New Jersey Department of Children and Families, and coaching millennial women, I would challenge the journal to include individuals, families, and communities in its examination.
NYC's Child Welfare System
I was a timid and terrified 15-year-old when the Bureau of Child Welfare (BCW) (today known as New York City's Administration for Children's Services (ACS)) placed me in a Bronx group home with 21 other girls. The back story of how and why I was placed in the care of the state isn't relevant at this time. What is relevant is how the partnerships within the child welfare system helped me become a valuable addition to society.
To wit: The hospital that admitted me did not solely care for my fractured arm.
The hospital used a collaborative tool to ask me questions about my injury.
The collaborative tool then triggered the hospital's need to contact BCW for a closer look at my situation.
BCW did not solely decide to remove me from the care of my family. BCW spoke to countless community partners (hospital, my school, my family, my neighbors, and me) to make that decision.
The evidence of this successful partnership—and all the communication that it took — was me. Although I was a terrified 15-year-old with limited exposure to the realities of the world, I did not feel lost, and I did not feel alone. After spending six years in the care of BCW, I emerged an educated, responsible, and psychologically sound member of society. That was in large part thanks to this teamwork.
NJ Department of Children and Families (DCF)
15 years after leaving the care of New York City, I began working for New Jersey's child welfare system (the Department of Children and Families, or DCF) as its Assistant Director of School Linked Services. During my nine years with DCF, my office monitored the distribution and service delivery of $38M in state and federal funds to support school-based prevention and intervention programming. Partnership was key to DCF's ability to serve children and families effectively, and critical to that was DCF's strong partnership with the U.S. Department of Health and Human Services, Administration for Children and Families (ACF).
During my last five years with DCF, my office was awarded an additional $6.5M in competitive federal funding. In addition to putting forth and strong comprehensive grant application, I am confident the historical strength and integrity of DCF's partnership with ACF played a role in the award decision. As a result, the funds expanded services to support NJ's expectant and parenting youth (including young fathers) with evidence based services. My office had to partner within the department, across state departments, and with the local communities throughout New Jersey:
Partnerships within DCF included the Division of Children's Systems of Care, the Office of Adolescent Services, the Division of Child Protection and Permanency, the Division on Women and the Division of Family and Community Partnerships.
Formal and informal state level partnerships included NJ Department of Human Services (child support and mental health services), the NJ Department of Education, the NJ Department of Labor (employment trainings) and the NJ Department of Health.
Local partners included community based organizations, local board of educations, universities, hospitals, and representatives of the children, youth, families, and communities targeted for these services.
I will be honest: The time to coordinate, the patience to listen, and the willingness to compromise with these partners was not always easy. However, what made it a little easier was agreed upon goals, clearly documented working agreements (MOUs/contracts), and some good old fashioned open and honest dialog.
As a result of our collaboration, DCF more than doubled its support of expectant and parenting teens from 208 (female students) to 500+ (male and female students). One of the program goals was to prevent subsequent pregnancies while students were in school. I am proud to say that the outcome data reported less than 1% subsequent in-school pregnancies.
Coaching millennial women
At the age of 21, I was no longer allowed to be dependent on NYC's child welfare system. The system prepared me to be on my own to the best of its ability; however, there was so much I had to learn on my own. I knew if I stayed focused and made all the "right" decisions, I could make it on my own. It worked. I did it–I learned how to survive by getting my college degree and a job to pay for my basic living expenses.
I may have been 28 years old when I felt like I could pause and take a breath. The breath allowed me to no longer worry about failing and worry about what "people" would say. That breath allowed me to truly look at life for its beauty and possibilities. That breath allowed me the luxury of connecting with myself to understand my goals and purpose to thrive in life.
It was about that age that I felt that maybe, just maybe, I was thriving in life. At the same time, I knew then and I know now that there is still so much thriving for me to do. At that age, I didn't know who in my "real" life to ask for guidance. I'm not sure I even knew to ask. I wonder if my school or the system partnered with me more, I would have known how to really thrive.
What worked for me was finding incredible virtual mentors like Maya Angelou, Oprah Winfrey, Iyanla Vanzant and Suze Orman. The character of each of these women were attractive to me because they were authentic and partnered with the world to make it a better place. Today, I look around and see my former self in young women who have amazing potential but are struggling and doubting themselves.
According Pew Research Center, millennial women (women born between 1981-1996) are better educated and hold a bachelor's degree at a higher rate their male counterparts. I strongly believe that when the millennial woman takes leadership in her life, she will positively impact her partner, family, and community.
Therefore, approximately two years before I left DCF, I began my own personal development firm, Sisters Keeping In Touch, Inspires (SKIT). In this work, I am committed to partnering with millennial women and those who want to help them not just survive but thrive. This purpose-driven work is accomplished in partnership with millennial women through public speaking, blogging, and facilitated experiences.
In these partnership with millennial women, we work to uplift and strengthen them, so that each can build the personal and professional life of her dreams. When a woman does her building, she will avoid and/or minimize unhealthy relationships with her partner(s), children, finances, friends, and career. We work through an ART process, where she is the artist in her life:
In my work with millennial women, they have felt heard, encouraged, and connected with people and resources needed to thrive. Visit our site to see some stories of success.
These are just three examples from my world of successful partnerships. I am quite sure you have examples of successful partnerships surrounding you as well.
Closing thoughts: Recipes for success
There is an abundance of articles, journals, and opinions about what ingredients go into a successful partnership. My personal favorite is the guidance provided in Don Miguel Ruiz's book, The Four Agreements:
These four agreements have served me well as a recipe for my success in cultivating and managing partnerships. I challenge you incorporate these agreements in your partnership relationships and experience the transformation. When you do, you may be able to replicate the clear and effective partnership synergy mother nature has shown us in all her splendor.
The views, information and opinions expressed herein are those of the author; they do not necessarily reflect those of the Council on Accreditation (COA). COA invites guest authors to contribute to the COA blog due to COA's confidence in their knowledge on the subject matter and their expertise in their chosen field.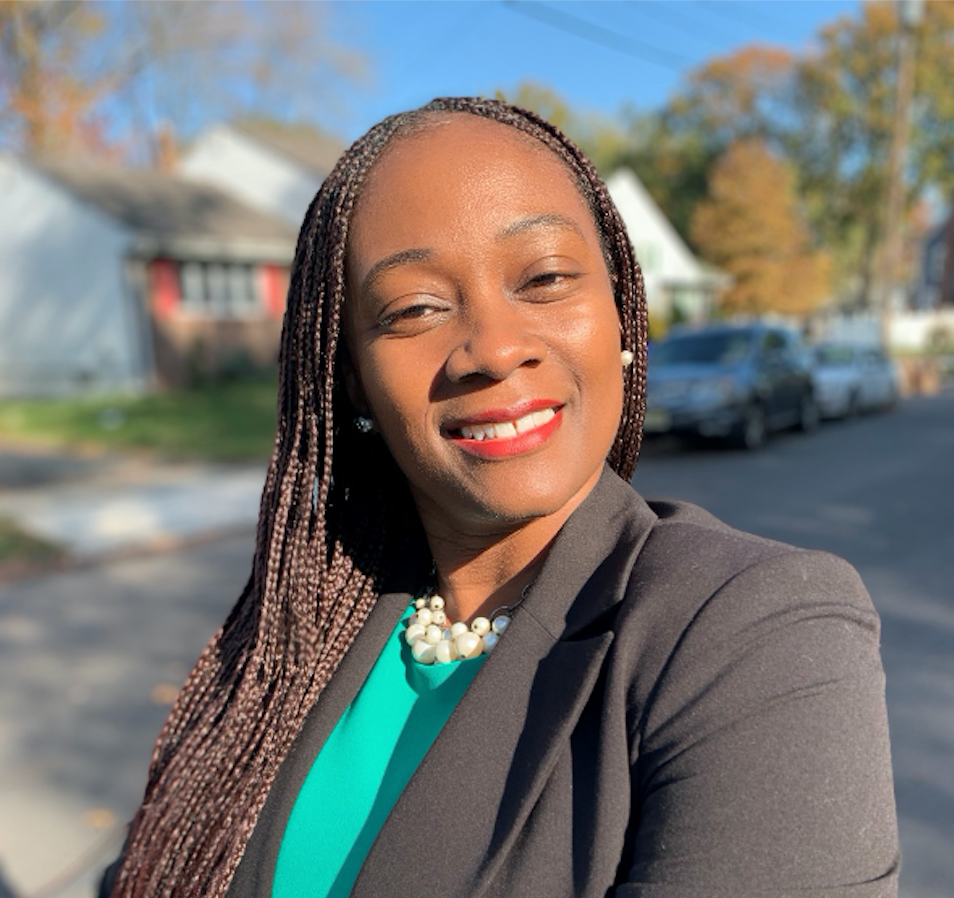 Shondelle C. Wills-Bryce, MSW
Shondelle C. Wills-Bryce, a master's level administrative social worker, public speaker and conversation facilitator founded Sisters Keeping In Touch, inspires to help millennial women thrive and not just survive. Shondelle has developed personal resilience having lost her mother to Breast Cancer at 18 months and aging out of New York's foster care system. Shondelle is the mother of two amazing young women and she is married to her husband and best friend who motivate her each day.
A big thank you to Catholic Charities of Buffalo, New York for this guest post!
We at Catholic Charities Special Supplemental Nutrition Program for Women, Infants, and Children (WIC) Program believe that empathy can create positive change, giving WIC participants the most resources and best experiences possible to live healthier lifestyles with their families and community. Our term for this is called "Participant-Centered Nutrition Services." With the family and their needs at the center of each interaction at WIC, we can better focus on the nutrition education and resources appropriate to suit them. With this in mind, we created the Shopping Experience Simulation.
The goals of the Shopping Experience Simulation initiative were to:
Address the barriers encountered by WIC participants during the grocery store experience that prohibit them from using WIC checks to buy nutritious foods;
Encourage empathy among the staff of nutritionists and nutrition assistants for our WIC families and the issues that they face when using WIC benefits;
Increase attendance of WIC families at appointments so they may receive nutrition and health information and get referrals to other resources that are available for families in the community ; and
Identify educational opportunities for WIC staff to improve the WIC shopping experience by providing better nutrition counseling before WIC participants go shopping.
The Shopping Experience Simulation (the Simulation) included three steps: planning, simulation, and debriefing. A team of three staff planned and coordinated all activities in the Simulation. This team met with grocery store management to plan the Simulation, created simulated WIC checks to represent all different kinds of WIC participants, and coordinated which staff would work together. In the Simulation, all WIC participant types were represented: pregnant women, breastfeeding postpartum women with infant, postpartum women formula feeding her infant, and families with toddlers and preschoolers. In the Simulation, staff in teams of two were assigned a WIC participant role, and had 30 minutes to shop with the simulated WIC checks. Immediately after the shopping experience WIC staff attended a debriefing session that included a survey, a group discussion, and a brainstorming session for takeaways.
Planning
In the planning phase, we contacted TOPS Supermarkets as the vendor partner for the Simulation. After phone conversations, we selected the local store and held a meeting with the company executive, store manager, and store management team to review the Simulation plan and establish expectations for all parties. TOPS Supermarket would supply two training checkouts and cashiers to simulate real physical check out of food items, enforcing all WIC policies concerning separating food items, signing and dating checks, and purchasing of approved items. Afterwards, store personnel would replace all simulation food items to proper place in store.
The Simulation was piloted by 13 staff from the Kenmore and North Buffalo WIC locations. Staff would be provided one month of WIC checks. Checks would represent a variety of WIC food packages, including breast feeding mother and baby, infant on specialized formula, participant-requested soy products, and a standard package for child and pregnant woman. Participating staff would have 30 minutes to purchase WIC approved foods as listed on checks, following WIC policies. Staff members were given WIC check folders and food sheets to follow and guide the experience. The staff members were not given the WIC pictorial food guide as an aid. The Store Manager was available for any questions or assistance.
Simulation
Even with all of this structure in place, reality set in. Shelves were bare where baby food should be. Aisles were crowded, and labels were difficult to find to make sure the item was correct. It took over 18 minutes for the pharmacist to unlock the baby formula case. The wait in the cashier's line was embarrassingly long, as each item had to be checked to make sure it was as written on the check. Staff became frustrated, losing their checks in abandoned shopping carts. If children would have been added to the mix, as they are in reality, it would have been a truer simulation, and almost certainly more frustrating. To ensure an accurate reflection of the shopping experience, the WIC staff immediately completed a written debriefing questionnaire on feelings and experiences associated with the Simulation. Staff then had an opportunity to verbally share experiences and brainstorm ideas for making the shopping experience better, including how to counsel WIC participants to better prepare them for shopping and using WIC benefits.
Debriefing
The debriefing results were tallied and shared with the entire WIC Leadership Team, WIC staff, and the New York State WIC Learning Community. As a result of the Shopping Experience Simulation results, educational action steps were designed to administer this Simulation training to all 107 employees at all 21 sites across the 3 counties that we serve (the Erie, Niagara, and Chautauqua Counties in Western New York). A report with the debriefing data was then e-mailed to executives at TOPS Supermarket to share the impact the Shopping Experience Simulation would have on WIC activities. This partnership and feedback with TOPS Supermarket also generated ideas on how to make the general shopping experience better.
We took challenges in stride, and made adjustments for future Simulations. We noted that too many WIC staff participated at one time, which overwhelmed the small store and training cashiers. To lessen the impact on the store, fewer staff will be trained at one time in the future. Too many checks were given out , and it became too much to handle. In the future, one week of WIC checks will be given to each staff member.
What was learned was more valuable than the resources that went into the execution of the Simulation. This Simulation effectively used resources, as it cost virtually nothing to train the staff. The only cost associated with the Simulation was staff time. Feeling overwhelmed themselves allowed WIC staff to connect with WIC participants. Staff learned to be less judgmental, more supportive, and more open to the needs of WIC families. The WIC Shopping Experience Simulation illustrated how small but effective educational changes can provide better participant-centered nutrition services and make the work of WIC participants, WIC staff, and vendors easier through a more successful shopping experience. Empathy resulting from the experience will give WIC staff an increased capacity to respond to concerns of WIC participants and validate WIC participants' experience and feelings while shopping with WIC checks.
Embedding lessons learned 
As a result of the simulation, several changes have been made to all Catholic Charities WIC office procedures:
All WIC staff will participate in the Shopping Experience Simulation within the next year and ongoing as more WIC staff are hired;
All WIC support staff are providing follow-up calls to all new WIC participants, offering support and assistance in any aspect of the WIC process, including successfully using WIC benefits to purchase nutritious WIC foods;
WIC Nutritionists will spend additional time reviewing the WIC Acceptable Food Cards, including highlighting foods preferred by WIC participants to better prepare them for their selections available when they go to the store;
All staff will emphasize the importance of WIC check safety and importance of organization and planning in order to have a successful and stress-free shopping experience;
The WIC Program will collaborate with Vendor Management Agency to act as liaison between the WIC Program and stores to organize simulations. This will help the planning team to accomplish a seamless process for orienting staff on the Shopping Experience Simulation; and
To make the Simulation more realistic and to develop empathy for WIC participants with transportation issues, the Simulation in the future will include riding the bus or walking a short distance with food purchases.
The Shopping Experience Simulation accomplishes much with little investment. Catholic Charities WIC Program has shared the Shopping Experience Simulation with all other WIC Programs in New York State as an innovative practice. The original team that developed the Shopping Experience Simulation has presented the project on the state level in the WIC Learning Community and for a WIC Conference in Albany, New York. The Shopping Experience Simulation demonstrates a new way of thinking about WIC participants. Walking in their shoes through their experience creates empathy and enriched practices. This has been warmly received in the New York State WIC community. I encourage readers to ask yourself what experiences you can provide your staff to augment their understanding of your clients. Concentrate on your services. Simulating customer service experiences while following our steps of planning, simulation, and debriefing will help your staff gain client perspective. Gathering data from simulation experience will help frame action steps to make your business and services more client-friendly.
The views, information and opinions expressed herein are those of the author; they do not necessarily reflect those of the Council on Accreditation (COA). COA invites guest authors to contribute to the COA blog due to COA's confidence in their knowledge on the subject matter and their expertise in their chosen field.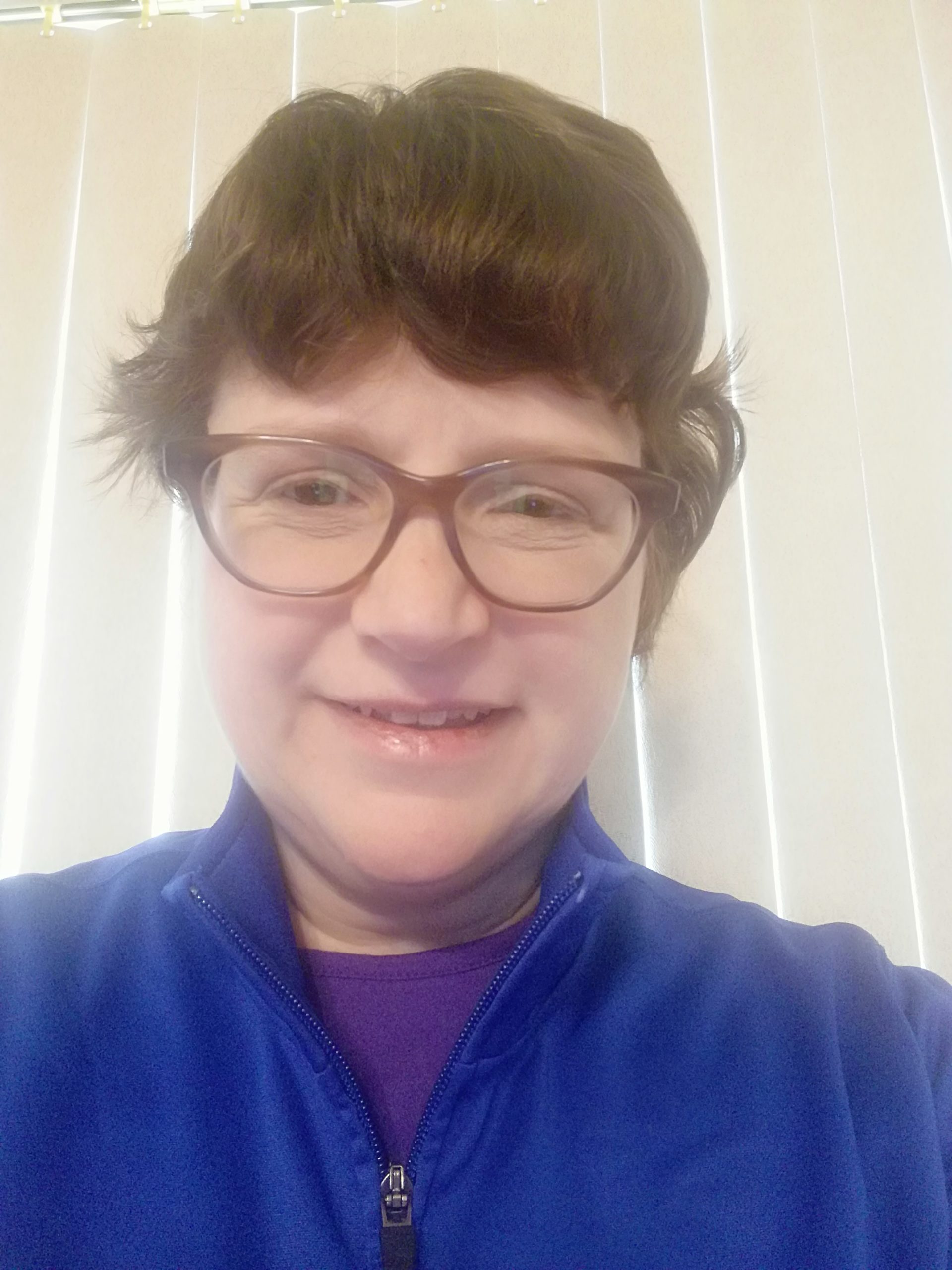 Grace McKenzie
Grace McKenzie holds a Master's Degree in Education from Buffalo State College. For the past fifteen years, she has worked in Community Relations and Outreach for various nonprofit organizations. Currently, she works at Catholic Charities of Buffalo as the Outreach Supervisor for WIC. As a mom, she enjoys family time with her two girls, including exploring nature, tending the garden, visiting museums and family time at home.