At COA, volunteerism is the thread that binds us together and allows us to carry out our mission. Whether volunteers are helping our accredited organizations or running our site visits, COA would not function without them.
This is why we like to pause every April to celebrate National Volunteer Month. Established in 1974 by Presidential Proclamation, National Volunteer Month aims to both celebrate volunteers and unite the nation in increased volunteerism throughout the month. According to the Bureau of Labor Statistics, over 62 million Americans volunteer at least one hour each year, with the average amount of time equaling to approximately 50 hours per person (that comes out to about 3.1 billion hours of donated time!). Previously we have acknowledged Volunteer Month by writing about starting a workplace volunteer initiative and had a guest post from one of our many wonderful volunteers. This year, we decided we wanted to get a bit more personal. How does COA staff connect with our own volunteer initiatives? What impact does it have on the communities we serve as well as our own? What can others learn from our story?
In 2012, COA staffers spent a day on Staten Island, cleaning out a home affected by Hurricane Sandy. The devastation was sobering. It helped us to realize that we were eager to give back outside of our day-to-day work. This led to the formation of an interdepartmental group to spearhead employee volunteer opportunities, now known as the COA Volunteer Committee. Since its creation, the committee has coordinated drives, off-site activities, and in-house events.
How we've volunteered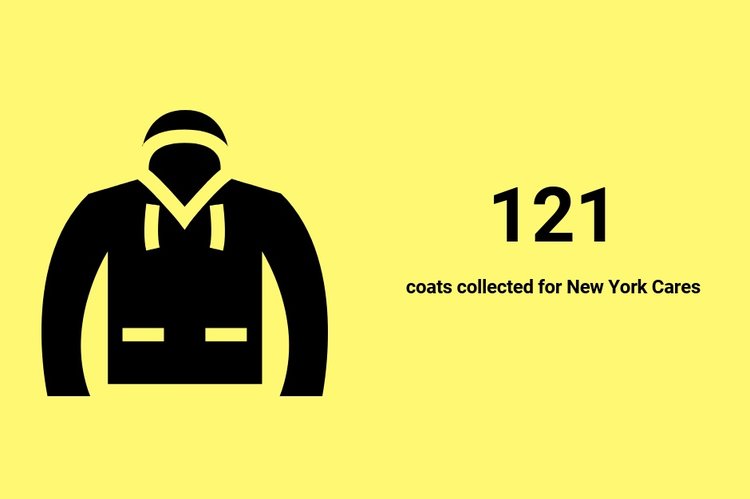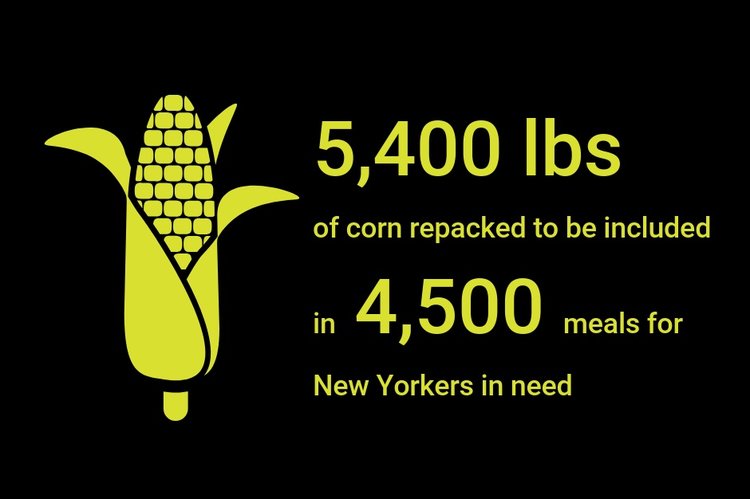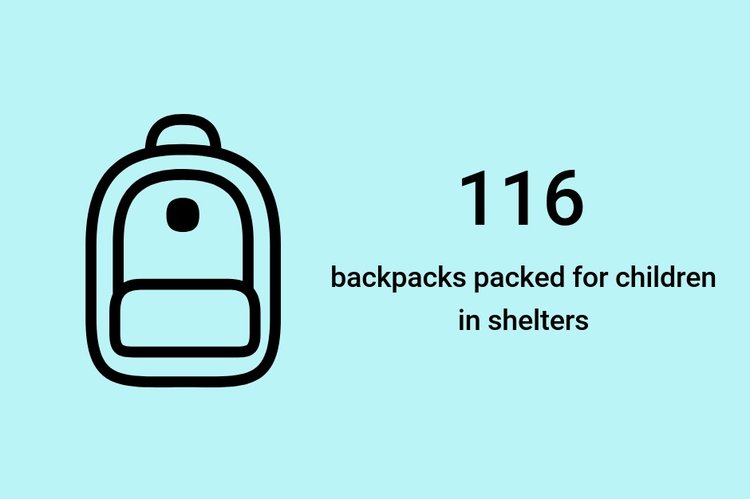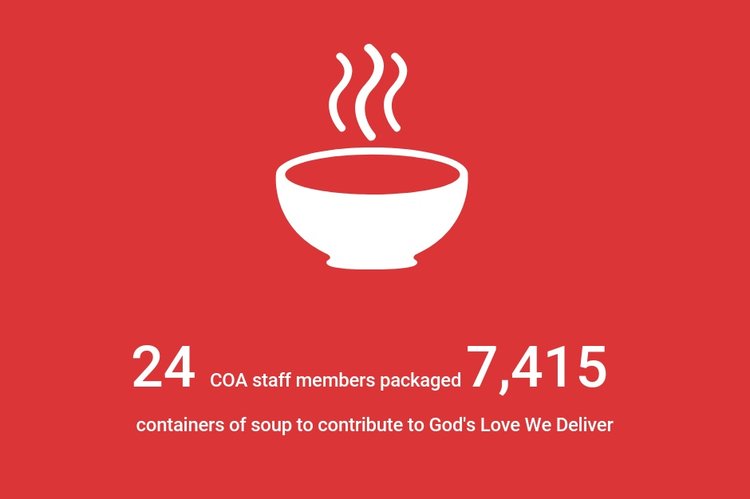 Activities
The committee kicked off its efforts in 2013 by participating in "Repack in Hunts Point" with Food Bank for New York City during National Hunger and Homelessness Awareness Week. We traveled to the Food Bank's Food Distribution Warehouse in the Bronx and were tasked with sorting, weighing, and packing corn to be distributed to food pantries and community kitchens throughout the five boroughs.
Another one of our favorite activities was volunteering with the Pajama Program in 2015. The program provides new pajamas and books to children in need nationwide, many of whom live in group homes, shelters and temporary housing facilities. Volunteers had the opportunity to read to children from Pre-K and second grade classes, share snacks, and hand out pajamas and a book for each child.
We loved working with kids so much that later that year we volunteered with Association to Benefit Children (ABC). We took a field trip to Battery Urban Farm and volunteers worked with two classrooms of three- and four-year-olds. We ate pizza. We rode the subway. We gardened… After we were done, we all needed a nap!
In 2017, we volunteered with Coalition for the Homeless, helping wrap presents for children living in their network of shelters. The gifts were distributed to 140 kids at their annual Kids Holiday Party and to other children experiencing homelessness throughout the city. This one definitely put us in the holiday spirit!
We did a second event in Spring 2017 working with God's Love We Deliver, helping to prepare meals for individuals and families living with serious illnesses. We learned about their mission, put our hair nets on, and packed soup to be distributed across their network. This partnership has continued with a few additional volunteer opportunities in 2018, as well as planned events for this year.
Another organization we've worked repeatedly with is The Friends of Governors Island. We've enjoyed helping them weed, rake, and maintain landscapes for this beautiful island we are lucky enough to work near. This work allowed us to give back in a way that is outside the scope of our day to day responsibilities and is vital to sustaining the public green space.
Drives
In addition to off-site opportunities, the COA Volunteer Committee has also organized in different types of drives to support the work of various human service organizations. These have included:
Collecting coats from staff and others in our building to support one of the largest coat drives in the New York City area, hosted by New York Cares
Collecting essential winter items (such as scarves, gloves, and hats) for youth in the Safe Haven for Children program as part of Lutheran Social Services of New York, Inc.
Collecting toys for children at the Dr. Katharine Dodge Brownell School (operated by Rising Ground, Inc.)
Participating in a canned food drive for City Harvest
Participating in a gift card drive hosted by Sanctuary for Families, a community-based organization for survivors of intimate partner violence, sex trafficking, and related forms of gender violence
Participating in Project Back to School with the Coalition for the Homeless, collecting grade-specific backpacks and school supplies for youth.
In addition, we have an evergreen drive: With so many COA staff traveling across the nation representing COA at various conferences and events, we've made an ongoing effort to collect hotel-size toiletries to drop off at a shelter for survivors of intimate partner violence.
Our impact
Since 2013, COA staff have volunteered over 400 hours through the COA Volunteer Committee alone! We've seen the impact both internally and in our community.
Volunteering as an organization can give staff a forum to team build and bond, engage with the community, and increase morale.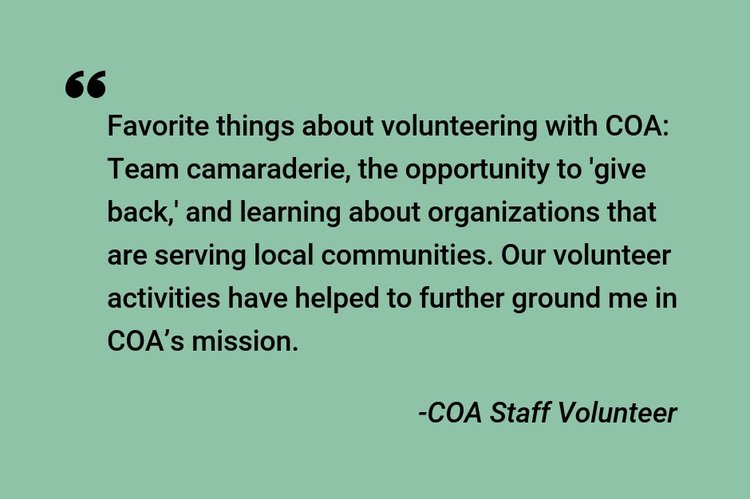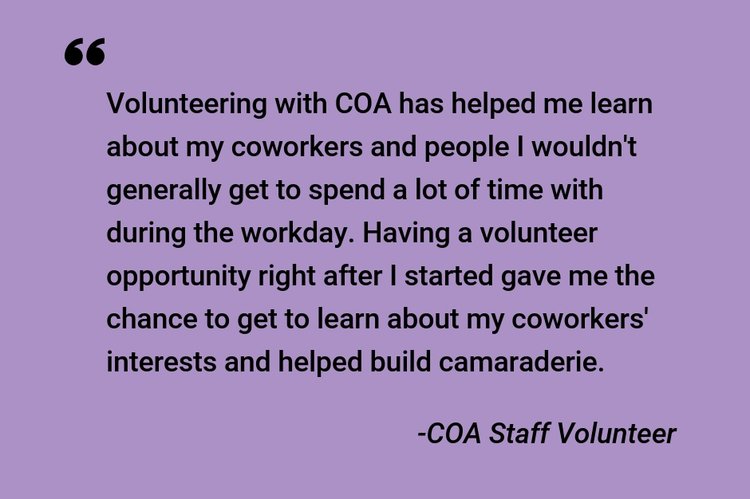 When we polled staff about what they like best about COA volunteer opportunities, promoting team-building and building camaraderie came out on top. Staff also appreciate that the activities connect back to our mission and provide a space for us to get to know one another outside of the office. Another thing that we enjoy about our volunteer efforts? They give us the warm fuzzies!
At COA, volunteering has offered everyone a chance to give back, reconnect with our mission, and to "step away from our screens for a day to do good and spend time together while doing so."
What we've learned
What are the barriers to getting a volunteer effort off the ground? Our staff report conflicting appointments and time away from the office as the biggest hurdles. Finding the time to volunteer can be a challenge when you have a full plate. The activities themselves, the environment, or the level of physical activity required can be other factors that change the response from "Count me in!" to "Maybe next time…".
In the effort to keep our mission as a committee going and overcome these barriers, we've picked up a few tips and tricks to make our events more successful and have the greatest impact.
Schedule smart
Consider the nature of the event, time of year and weather in you planning – i.e. don't plan an outdoor event if it's commonly snowy that time of year. Keep in mind whether staff are typically on vacation or stacked with meetings on certain days. By making these considerations early, you'll be able to maximize the number of staff that are able to volunteer for your event.
Find the right fit
When choosing a volunteer event for your organization it's important to assess if there is an activity or event that is a particularly good fit for your organization. For example, our toiletry drive fit well with our frequent staff travels. You may also want to consider current events and needs in your area, like we did in our response to Hurricane Sandy.
Engage leadership
A key component of planning a successful volunteer event is getting buy-in from leadership to get the necessary permissions and gain their support and involvement. Engaging leadership at COA has enabled to us receive donations on behalf of the organization. Depending on the event and how your organization wants to contribute (time, items, $$$, etc.), there are a few approaches you can use to utilize that donation to its fullest. For our last backpack and school supplies drive, we recognized that backpacks were the most expensive item we were asking staff to donate, so we used COA's donation to purchase backpacks.
Promote convenience
If you're planning a volunteer event that will require staff to make donations, it's important to make it as convenient as possible for them. If the expectation is that staff will bring things in from home, highlight the convenience of being able to clean out and drop off at their workplace. If staff will most likely need to purchase items for donation, we highly recommended setting up a registry. It provides specific guidance and easy purchasing options for staff and allows the organizer the ability to manage the items donated.
Offer incentives
Though the joy of donating and contributing to a cause is often enough to get people involved, incentives can be a great way to engage folks and reward their participation. When soliciting staff to participate in an off-site volunteer event we highlight the opportunity for out-of-office time, an option to dress down, and even snacks or lunch. We've also conducted raffles alongside events, entering all participants in a chance to win a gift card. Be creative and know what will incentivize your audience.
Send out reminders
People forget. Particularly if it's 7AM and you're trying to get to work. Make sure to send frequent reminders!
BONUS Tip: Even with reminders, we highly recommend allowing for some buffer time for sign up and donation deadlines (i.e. tell people the deadline is a few days before you absolutely need the commitment or donation).
Encourage volunteerism
If your organization doesn't have the capacity to plan a specific event, create an avenue for staff to learn about volunteer opportunities. We place information on a white board in our communal kitchen and have a Slack channel solely dedicated to volunteer information. This way staff can get the information and choose to participate on their own time if they wish.
---
Whether you're planning an event for your organization or doing something on your own, we hope you will get out there and volunteer this National Volunteer Month!
A big thank you to Stan Capela of Heartshare Human Services of New York for this guest post!
My name is Stan Capela and I have been a COA Peer Reviewer and Team Leader since 1996. By the end of April, I will have completed 112 Site Visits. At the glorious age of 65 after devoting 40 years to the field of social services, I'm beginning to reflect back on my journey. I want to share my experiences with you in honor of Volunteer Month.
Before I share my story let me give you a snapshot of a Volunteers numerous responsibilities. First you are assigned a Site Visit. I started as a Peer Reviewer, working with a team of colleagues to review an organization. Ten years ago, I became a Team Leader and gained more responsibilities such as; making contact with the organization, setting up travel for the Peer Review team, developing the Site Visit schedule, assigning standards sections to the Peer Reviewers, and leading the entrance and exit meetings where the team interacts with the organization. The latter gives the Peer Review team a chance to introduce themselves to the organization and provide information about how the review will take place.
Wait! I'm getting ahead of myself. The entire review process begins with a Self-Study submitted by the organization and reviewed prior to their Site Visit. When the review team arrives on-site most of their time is spent reviewing case records, policies and conducting interviews. By the time the exit meeting occurs, the Team Leader and review team are ready to provide an overview of the organization's strengths and challenges. If you want to learn more about the Site Visit process then I recommend reading Recipe for Conducting Quality Accreditation Site Visits which I co-authored with Joe Frisino, a member of the COA Standards Development team, in New Directions for Evaluation.
The decision to become a COA Volunteer starts with the simple question, why? And traveling through my many memories leads me to that answer.
I remember on my first Site Visit I was eating dinner and mistakenly bit into an olive and broke my tooth. The executive director of the organization we were reviewing offered to have one of her board members who was also a dentist patch me up. I declined since I felt it would be a conflict of interest. After all it was just a cracked tooth.
Another significant memory is when I interviewed two girls, one 8 years old and the other 12 years old. They both had been abused and while talking with them they expressed how much they appreciated the staff helping them get through their pain.
There was also a memorable exit meeting where I remember commenting on the risk management minutes and asking who was responsible for creating them. A woman stood up and I complimented her on her work. That moment made the executive director stand up in that same meeting and say, "it goes to show you, we are all a part of a team dedicated to helping people in their time of need." At the conclusion of that exit meeting the employee I engaged with beamed with pride as leadership walked over to say that they didn't realize they were in the presence of such a star.
Once I was making the rounds and asked an employee to tell me a story that would make me remember the organization. He told me about Johnny and the mailbox. Basically, it was an individual with developmental disabilities who lived in a group home. One of his goals was to get the mail and distribute it. One day he went outside to the mailbox and found a baby inside. Johnny being trained properly brought the baby inside and gave it to the site manager. Many years later there was a knock on the door. The site manager opened the door and saw a very professional looking woman who asked for Johnny. The site manager said Johnny passed away a few years ago. The woman said I was the baby and wanted to thank him.
I remember another time that I was scheduled to meet with a client during a Site Visit. The client was transgender. During the interview the client expressed appreciation for how the staff treated her while she was transitioning. It felt good to hear how well the staff supported her and addressed her needs.
I have many more stories but these are just a few. So again, why? It's about interacting with people and observing inspiring team work. When I conduct an entrance meeting as a Team Leader, I start by saying I know this is a lot of work, but we'll get through it together. You should look at this Site Visit as an opportunity to invite people into your home and share your world with them. I try to get the point across that we are a family of helpers who have dedicated our lives to helping people in need and going through the accreditation process provides an opportunity to affirm what we do.
It's very easy for me to answer the question why become a COA Volunteer after all these experience in these roles. My time as a Volunteer has made me feel like the richest person on the face of this earth. Again, why? Simple, I have decided to help people in my work at HeartShare Human Services of New York and in these roles at COA. In all my roles I'm able to make sure we all strive to meet the highest standards to reaffirm that the work we do meets the needs of the people we serve.
The views, information and opinions expressed herein are those of the author; they do not necessarily reflect those of the Council on Accreditation (COA). COA invites guest authors to contribute to the COA blog due to COA's confidence in their knowledge on the subject matter and their expertise in their chosen field.
Stan Capela
Stan Capela spent 40 years in the field of program evaluation working the first ten at Catholic Charities for the Diocese of Brooklyn and Queens and the last 30 at HeartShare Human Services of New York formally known as Catholic Guardian Society of Brooklyn and Queens. During his time there he has had the opportunity to do a wide range of program evaluation, staff development workshops and presentations at various conferences such as American Evaluation Association, Canadian Evaluation Society, American Sociological Association, and Society for Applied Sociology to name a few. In addition, he participated on a variety of committees that played a role in developing a competency based child welfare training program known as the New York City Training Consortium. The program is overseen by the Council of Family and Child Caring Agencies. Finally, Stan participated on an internal committee at his current organization that developed a management training program that was the recipient of the COA Innovative Practice Award in 2012.