News
See How Community-Based Organizations Collaborate with Schools to Support the Whole Student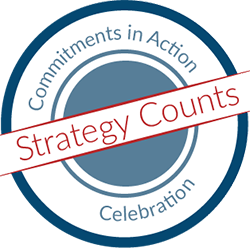 High quality education is a critical building block that enables all children to achieve their full potential, but many face barriers that can hinder their ability to focus and learn. Because of their expertise in mental health, building resilience, and more, human services community-based organizations are uniquely positioned to support students in the classroom.
Through comprehensive strategic planning and cross-sector partnerships, high-impact organizations can position themselves to deliver something greater than the individual services they provide and the singular interactions they have with children and families.
The Alliance for Strong Families and Communities and Council on Accreditation (COA)'s Commitments of High-Impact Nonprofit Organizations is a strategy framework that guides organizations in building key competencies that will help them to focus on their core competencies, build expertise, and partner to address the complexity of barriers faced by families and communities. Hathaway-Sycamores Child and Family Services in Pasadena, California, and Starr Commonwealth in Albion, Michigan, are two organizations that have been able to partner to support educational success.
Learn more about how these organizations leveraged the Commitments to further their missions by reading the case study or watching the video of their story.
Hathaway Sycamores Incorporates School-Based Mental Health Services to Better Execute on Mission
According to the Commitments framework, organizations and their communities are best served when they focus on key strengths to deliver on a clear mission rather than diluting resources across disparate programs. The organizations that focus on Executing on Mission are those whose impact is truly felt and lasting.
With a 120-year legacy, Hathaway-Sycamores has extensive experience in mental health, and realized it could reach more children in a less-stigmatized setting by offering these services in schools. In 1997, the organization launched its first school-based mental health program, and it now impacts more than 1,100 students on more than 40 school campuses each year. In addition, it is now reaching younger children through Early Head Start and Health Start, special education students by creating therapeutic classrooms, and juvenile offenders through a grant to break the school to prison pipeline.
"Schools already have a vested interest in the well-being of their students," said Shefali D'Sa, assistant vice president of school-based services and early education for Hathaway-Sycamores. "We already had the same purpose, so it didn't make sense for there to be two separate systems. By coming together to support students with both their mental health and their academic success, we're able to have a much larger impact."
Learn more by reading this case study about Hathaway-Sycamores' commitment to Executing on Mission.
Starr Commonwealth Partners with Schools to Train Teachers on Building Students Resilience
While it's critical for human services community-based organizations to focus on their core competencies, partnerships within and across sectors can be used to account for the complexity of challenges and the everyday realities of families' lives. Because teachers interact with families on such a frequent basis, it makes sense to equip them with the tools to address students' social and emotional well-being.
With more than a century of experience, Starr Commonwealth maximizes its expertise in behavioral health by training teachers and other child caring professionals in school settings to support students who have experienced trauma and help them build resilience.
"What we try to do is improve school culture, certainly through the training and coaching of educators and professionals in the school building but also through the development of curriculum and online education," Caelan Soma, chief clinical officer at Starr Commonwealth.
In partnering with districts, Starr Commonwealth looks to evaluate the schools' individual supports and resources so that they can complement them with their expertise in behavioral health.
Learn more by watching this case study about Starr Commonwealth's commitment to Partnering with Purpose.
For a look at how Starr Commonwealth used its expertise in trauma-informed care and racial healing to support the merging of two racially different high schools, watch this video case study.
About the Commitments in Action Celebration
In celebration of the release of the Commitments framework more than five years ago, the Alliance and COA are showcasing 14 community-based human serving organizations, including Hathaway-Sycamores and Starr Commonwealth, that have embraced this proven strategy playbook for success and influence. The Commitments celebration recognizes and elevates the powerful stories of the organizations whose ingenuity, innovation, and vision, as part of the Alliance's Strategy Counts initiative, helped establish the Commitments framework.
Thank you to the Commitment in Action Celebration sponsors.