The 2022 edition of updates to the standards for COA Accreditation, a service of Social Current, have recently been released. These targeted enhancements to the standards are the result of our annual process and include changes based on ongoing collection and analysis of feedback received from our network, collaboration with diverse groups of subject matter experts, and a review of research and professional literature on identified trends and evolving practices.
Our collaborative update process is designed to ensure the standards remain up-to-date and field-informed, promoting improved outcomes for individuals, families, and communities.
Who's Affected
These changes impact private, public, and Canadian accredited organizations. The 2022 edition of updates will not impact organizations that are currently pursuing accreditation or re-accreditation and have already been assigned standards in the MyCOA portal.
When It's Happening
Standards will officially be released on the Social Current website on March 30.
Standards assignments for COA Accreditation begin April 4.
What's Changing in Our Standards
New Standards for Office-Based Opioid Treatment (DTX)
We have revised our standards for Day Treatment Services (DTX) to accommodate providers offering medication-assisted treatment under the Drug Addiction Treatment Act of 2000. The American Society of Addiction Medicine identifies ongoing maintenance medication with appropriate psychosocial treatment as the gold standard of care for opioid use disorder. Within the context of the opioid epidemic, this work supports improved access to quality programs offering this evidence-based treatment. The 2022 updates to DTX include:
Two new personnel standards for programs providing office-based opioid treatment
New personnel standards for peer support providers working in DTX programs
Expanded training requirements for clinical personnel providing treatment for alcohol and drug use disorders
A new Core Concept Standard, DTX 9: Office-Based Opioid Treatment
Interpretations and Examples throughout DTX to support standard implementation within the context of office-based opioid treatment programs
Additional Revisions
In response to feedback from our network, we are also releasing many minor revisions throughout the COA Accreditation standards to provide clarity and/or remain current with trends in the field. Some of the highlights include:
Clarifying the applicability of various standards through updated NAs (Not Applicable) and Notes
Updating the glossary with new and updated definitions, including a new definition for therapeutic interventions
Updated standards on several key practices including maintaining Naloxone on site (ASE 6.03) and the annual Board review of overall risk (GOV 5.05)
A full list of standards impacted by the 2022 updates can be found online.
Our Process
The 2022 COA Accreditation standards updates reflect changes made based on evolving practices, ongoing review of relevant literature, and the continuous feedback we receive from our network, including volunteer reviewers and accredited organizations. More specifically, updating the 2022 Standards involved:
Collection, in-depth review, and synthesis of prominent published research and professional literature in targeted areas
Review of standards drafts and discussion of trends in the field with Standards Advisory Panels comprised of subject matter experts, agency leaders, and service providers
Collection and review of feedback solicited from Social Current's network, including through the "Provide Feedback" button found in the MyCOA and VIP portals
Sharing drafts online for a period of field comment to solicit feedback from Social Current's network and the broader social service sector
Questions?
If you are an in-process or accredited organization, reach out to your accreditation coordinator.
If you are seeking accreditation for the first time, contact Joe Perrow.
For additional information about COA Accreditation standards, contact Melissa Dury.
Note: This post was originally published in 2017. Now that it's 2020, we decided to give it an update. The core information remains the same.
Social service agencies across the world have voluntarily risen to the challenge of achieving accreditation. Whether their original goal was to focus on administrative functions or service delivery quality, the accreditation process (particularly with a whole-organization accreditation approach) provides these agencies with a blueprint to refine practices simultaneously across every area of the organization. The performance of these agencies has caught the eye of oversight entities and consumers alike, prompting accreditation to be used has a regulatory tool through mandates.  
The word 'mandate', particularly in a government context, is notorious for creating concern across service providing agencies, often because of the cost associated with those requirements. COA believes all mandates function best when paired with the funding required to meet those mandates. We encourage all regulatory entities to consider the financial impact of any imposed mandate, as it can make or break the success of these initiatives.
Though the financial concerns of these agencies are absolutely valid, we can't ignore the positives that can come with an accreditation requirement. Through accreditation, agencies are given a path to meet a base-level of quality across administrative and service delivery functions. Accreditation sets clear service expectations for service recipients and the taxpayers that fund these programs alike. It also fosters a culture of continuous improvement that can ensure the sustainability of an agency's services. We cannot ignore the importance of these tenets in growing and maintaining a strong social service system that meets the needs of our communities.
To hopefully make this all a little easier on your organization, we've creating this guide to support your agency in navigating a mandate. Our goal is to help you gather important details, understand what is required, determine milestones, and know how to compare and contrast accreditors. 
Note: Our best advice is don't delay! Expect that it will take up to six months to determine an accreditor and then 12-18 months to pursue and achieve accreditation. 
Questions for the entity that mandated your accreditation
What accrediting bodies are accepted?
Usually a mandate will include a list of accepted accreditors.  If this isn't included, reach out to the payer to find out what accreditors are accepted. If your preferred accrediting body isn't recognized, we encourage you to reach out to that accrediting body and let them know. We can only speak for COA, but we are always willing to work with you and regulating entities to have COA accreditation be accepted under a mandate. 
What service(s) is/are mandated?
Does the mandate apply to one service? Many services? The entire organization?  Is there a document that crosswalks which services are mandated and what standards need to be applied by the accreditors? COA Accreditation Coordinators often know which service standard assignments are required for a mandate, but we always think it's best for you yourself reach out to your regulatory entity to determine what is exactly required for your agency and the services you are providing.  
What is due and when?
Mandates often come with specific timelines and may even have multiple milestone requirements. In these instances, regulating entities will designate a deadline for achievement of accreditation. To ensure organizations are on track to meet a deadline, regulating entities will designate milestone deadlines on the way to an accreditation award – a date by which organizations must engage with an accreditor, a date by which organizations must have their Site Visit, and then a date by which an award must be received. 
What type of accreditation award is needed?
It's important to clarify what type of accreditation award is due and when.  Some accreditors offer provisional or temporary accreditation. Accreditors and regulatory entities will work with your organization to determine the type of accreditation award that is required under your mandate. 
Evaluating accreditors — features to consider 
Once you know which of your programs needs to be accredited, by when, and by whom, reach out to all the approved accreditors and get an understanding the features of each. Regulatory entities and some membership groups will often facilitate panels with all recognized accreditors to help providers select the accreditor that is best for their agency. Here are some questions you'll want to ask:   
How much does your accreditation process cost?  
Ask about application fees, accreditation fees, Site Visit fees (scheduled and unscheduled), and maintenance fees.  Is there a fee to purchase the standards?  If so, how many copies will you need and how often will updates be published in the future?  Make sure to ask about required fees and optional fees.  For example, trainings might be required and have associated fees.  
What is awarded and how long is it valid?
Each accrediting body will have a different length of accreditation award. This is referred to as an 'accreditation cycle', which will let you know how long your award is valid and how often you can expect to go through the accreditation process. Some mandates require a specific award length, in these cases the approved accreditors have worked with your oversight entity to meet this regulatory requirement. It's important to keep all of this in mind when evaluating cost – how many accreditation cycles will your organization undergo over time (including provisional cycles)? 
What is included in the accreditation review?
Will the accreditor require all programs to pursue accreditation, or can you isolate individual programs? Will the administration and management areas of the organization be reviewed? Will every site be visited in the review (important to keep in mind when considering cost!)? Does the approach of the accreditor fit your organizational culture? Does the accreditation cover all of the desired service areas (current and future growth plans)?
We encourage all agencies to look toward future mandates as well. We have often seen additional services mandated, and agencies that utilized an accreditor with a whole-organization approach are most prepared for any mandate that comes their way.
How long does it take?
Most accreditation processes take 12-18 months from deciding to pursue to decision. However, the right time to sign up might vary with each accreditor.  For example, some accreditors want to hear from you when you're ready for your Site Visit within 4-6 months. Other accreditors want you to apply before your self-assessment period so that they can work alongside your organization in preparation for the Site Visit. 
How is my organization supported throughout the process?  
Are you assigned a point person to work with from the accrediting body? Does the accreditor offer trainings? How and when can you ask questions?  Does the accreditor provide templates and other tools to support you? Is there an online management system to assist with managing the process? Though every accreditor provides different tools to support agencies in meeting their mandate, it's important to assess how much guidance and assistance will help your agency thrive in this process. 
What is required to maintain our accreditation status?
Once accredited, what is your responsibility for self-reporting changes at your organization? What is the process when your organization adds a new program or a new site? Are there annual reporting requirements and fees? What is your responsibility when it comes to implementation when standards change? 
Seek recommendations 
Ask peer organizations
Contact a few peer agencies that are already accredited. Think about the characteristics you should consider when identifying a peer – is it population they serve? Their size?  Location? Mission? Ask your peers about their satisfaction with the accreditation process, how they managed the work, and when appropriate, if they'd be willing to be a resource while you pursue accreditation.  

Ask internally – staff, board members, and volunteers
Start a discussion about their accreditation experiences and what they liked or disliked about the process. This is also an opportunity to gauge interest to see who would be willing to be part of the accreditation team or even lead the accreditation effort within your organization.
Ask your membership associations
If you belong to an association, ask if they support accreditation. Some associations have relationships with accreditors which might make your organization eligible for a discount when pursuing the process. Some offer technical assistance, and many are willing to facilitate dialogue around accreditation. 
---
Hopefully, this information will assist your organization with mapping out your journey towards seeking accreditation.
Here are some related resources we have available.
Please feel free to share other resources you've found helpful while navigating this topic in the comments below!
The Council on Accreditation (COA) realizes that the current COVID-19 environment has presented organizations with a myriad of operational challenges as they continue to operate and provide services in this new environment. This is even more pronounced for those organizations seeking accreditation to meet the Family First Prevention Services Act (FFPSA) mandate deadlines.
To help alleviate some of the burden that organizations are currently facing, COA is providing a new Phased Accreditation option for new organizations seeking accreditation under the FFPSA mandate. This new option will allow organizations to first achieve QRTP accreditation in advance of achieving full-organizational accreditation.
What is Phased Accreditation?
COA's Phased Accreditation provides an organization the opportunity to accredit the mandated QRTP service area first, based on a mutually agreed upon timetable and focused standards. The organization will then immediately proceed to its pursuit of full-organizational accreditation, in keeping with COA's philosophy on accreditation.
Who is eligible?
New Private organizations seeking accreditation under the FFPSA mandate.
How do organizations benefit?
The Phased Accreditation option allows organizations to expedite the timeline to accredit the mandated service area while allowing the organization additional time to complete full-organizational accreditation. This approach allows organizations to achieve QRTP Accreditation in approximately 6-8 months.
Upon successful completion of the QRTP accreditation, the organization's program will be accredited for four years. If the organization's remaining services are accredited within a year of the QRTP accreditation, the organization will be accredited for four years from the decision date of the organization-wide accreditation (up to 5 years).
What are the Accreditation and Site Visit fees?
Our standard Private Accreditation and Site Visit fees apply. Members of our Sponsoring Organizations still receive the 25% discount on their Accreditation fee. There will be an additional Site Visit and fee of $2,200 per reviewer for the QRTP portion of the Phased Accreditation. The initial Phased Accreditation Site Visit will most likely be comprised of a single Peer Reviewer.
To learn more about our Phased Accreditation approach, please reach out to Joe Perrow.
The Interpretation blog is meant, first and foremost, to be a resource for the COA community. We had several 2019 posts that our editorial team was proud of, but wanted to take a moment to highlight those that we feel are most helpful to organizations thinking about accreditation or going through the accreditation process.
The Benefits of Organizational Accreditation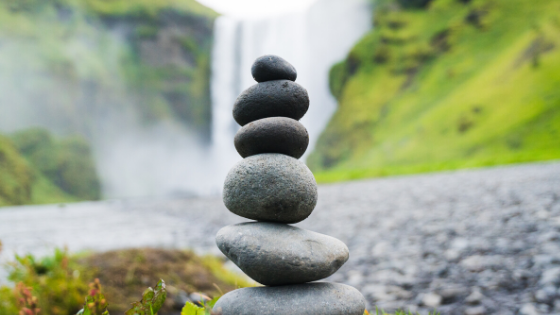 When it comes to accreditation, we at COA believe strongly in a whole-organization approach. This post explores why we do things that way and how an organization stands to benefit from looking at themselves with a holistic lens. Find the post here.
Roadmap to Preparing for the Accreditation Process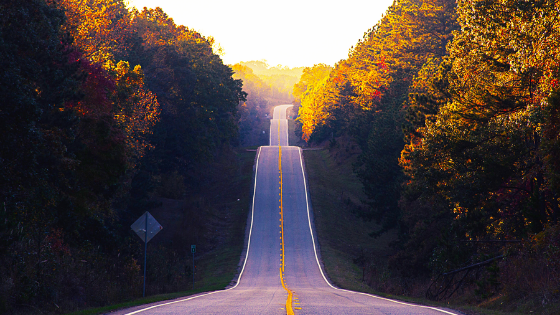 Once an organization decides to pursue (re)accreditation, it can be difficult to know what step to take first! This post does a great job of walking through the considerations of preparing your team for the process and making sure that your workflow sets you up for success. Find the post here.
PQI: A Whiteboard Video
Some of the most common questions we get at COA revolve around what "Performance and Quality Improvement" means, why we emphasize it so much, and why organizations should care about it, too. This post (and its whiteboard video!) offers a nice, succinct introduction to what PQI is and why it matters. Find the post here.
The How and Why of Strategic and Annual Planning
Developing formalized plans can seem overwhelming, so some organizations might be tempted to put it off. But planning is an important part of the accreditation process, and essential to making sure that you carry out your mission! As its title suggests, this post explores both the why and how of strategic and annual planning. Find the post here.
Top 5 Tips and Tricks for Primary Contacts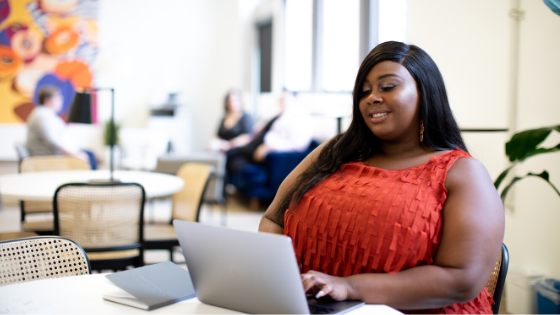 The Primary Contact (an organization contact that communicates with COA throughout the accreditation process) is key to making sure that accreditation goes smoothly. If it's your first time through, the job can seem intimidating. Fortunately, this post (sourced from real COA Accreditation Coordinators) has plenty of tips to help! Find the post here.
Bonus: Profiles in Accreditation
If this is your first time through the accreditation process (or you just want to hear tips from other COA-accredited organizations about making the best of it!), check out our Profiles in Accreditation post series. Launched in 2019, it contains interviews from a variety of organizations who describe first-hand what they got from accreditation, how they handled the workload, and more. Checkout the series below!
And there you have it! What were your top posts for 2019? Share your thoughts in the comments below.
So, you've been designated by your organization as the Primary Contact—the point person for communicating with the Council on Accreditation (COA) and spearheading the accreditation process. Maybe you're feeling a little overwhelmed; you might not be sure about the best way to get the job done. Fear not! We're here to help with tips on how to make the process as smooth as possible, whether this is your first time managing the accreditation process or your fifth.
1) Get organized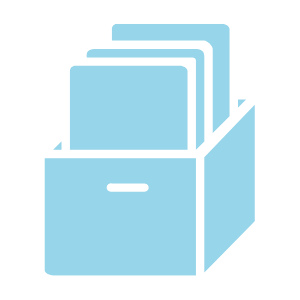 If we were to create a job description for the Primary Contact role, strong organizational skills would be first on the list of required traits. You need to be able to organize, prioritize, and project manage. This includes assessing the scope of the work, identifying available/necessary resources, and planning for the completion of tasks while working towards deadlines.
There are a lot of moving parts during the accreditation process, so it is critical to stay on top of due dates and important notifications from COA. You also need to make sure that these are communicated within your organization, and that you clearly outline expectations regarding the workload and workplan for other staff to maintain efficiency.
Sound like a lot? Don't worry! We have some resources that can help those efforts. Here are a few to get you started:
2) Communicate clearly and often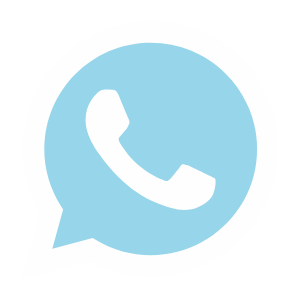 The accreditation process centers around good internal and external communication.
From an external standpoint, as the Primary Contact you are responsible for overseeing all communications between your organization and COA. Whether it is over the phone or email, it is essential to keep your Accreditation Coordinator in the loop about any significant program updates or organizational changes.
From an internal standpoint, it is important to have staff, management, and your governing body appropriately informed of the process. This will not only help everyone work together to get things done, but also ensure that accreditation's benefits are felt organization-wide.
Pro tip: Maximize your relationship with your Accreditation Coordinator
COA partners with organizations throughout the accreditation process. A key component of that partnership is the relationship between the Accreditation Coordinator and you, the Primary Contact. Here are a few suggestions on how to capitalize on this unique benefit.
Schedule – and really use to your advantage! – a monthly call, especially if it's your first time going through the process. Having the time carved out on your calendar ensures that you have time specifically dedicated to accreditation each month. (Ex: "I have my call with my Coordinator next week and I haven't looked at the FPS standards yet – let me get on that now!") We understand that everyone has a million things going on in addition to accreditation, so blocking off time for checking in and asking questions is one way to stay on top of things.
Check out our extensive accreditation resources first before bringing any additional/clarifying questions onto your call. This will make sure that you're using your time with your Accreditation Coordinator as productively as possible.
Involve other staff members in the monthly calls. Not only can this be a more efficient way to get everyone on the same page, but it also makes the process more team-driven and rewarding. This allows other staff members to "get to know" the COA voice on the other end of the phone to experience the partnership firsthand.
Whether for scheduled calls or when staying in contact in general, it is helpful for Accreditation Coordinators when Primary Contacts gather and send questions all at once, especially very specific standards questions. This is particularly beneficial when it comes to monthly check-in calls. If questions are sent over (in one email) a few days before the call, it gives the Accreditation Coordinator time to prepare and touch base with their team/the Standards Development Department as needed, which maximizes your time and makes for a productive conversation.
3) Be transparent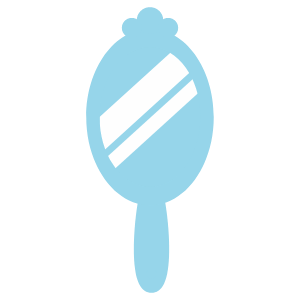 Transparency is another critical factor to your success as a Primary Contact. This goes hand in hand with being a good communicator.
We often say that the Self-Study process is like holding a mirror up to your organization. This works best for everyone when the mirror is a clear one! Your Accreditation Coordinator is there to provide technical assistance and targeted support, but they can only do so if you communicate honestly about your struggles so that they can help you navigate your pain points. Identify your organization's needs and be eager to ask questions.
This advice applies when communicating within your organization as well. Often, we find that one staff member doesn't always hold all the knowledge/documents that are necessary to complete the accreditation process; therefore, it is important that you approach other staff and pull them in as a resource when needed.
4) Get involved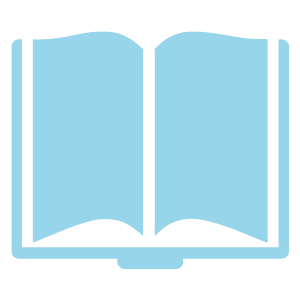 We've already highlighted the importance of working with your Accreditation Coordinator – they are there to answer questions, interpret the standards, and guide you through the process. But don't forget about all our other resources that are there for you to tap into!
If it's feasible time- and budget-wise, attending our live Intensive Accreditation and Performance and Quality Improvement trainings can be very impactful, particularly if you or your organization are new to the accreditation process. We hold these trainings a few times a year. They are a great resource not only for taking a deeper dive into managing accreditation and learning strategies to enhance your PQI system, but also for networking with (and learning from!) colleagues that are in the same boat as you. Attending these is not a prerequisite for being a stellar Primary Contact, of course, but they are helpful if you can make it to them.
COA also has a plethora of self-paced trainings, tip sheets, tool kits, and more. Your MyCOA Portal will offer suggestions of which of these will work best for you at different points in the accreditation process. Be sure to use it! You will find everything that you need there to successfully navigate the process. The portal is secure, customized and will always include the specific information that is relevant to your organization.
Digging into these resources will provide you with a good overview of 1) how COA is going to review your organization, and 2) all the major milestones you need to hit along the way. This will help you to grasp the amount of work needed and the different deadlines that your organization is going to approach. Knowing these will help you guide others in your organization toward success.
Pro tip: Find your tribe
COA lists all our accredited organizations on our public website. Use the Who is Accredited Search to find peer organizations by location or service area. This practice can help you create a network and empower you and other Primary Contacts to access resources, share information, and ultimately make the most out of the accreditation process.
5) Be an accreditation cheerleader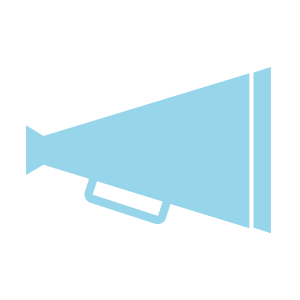 Getting through the accreditation process is all about creating and maintaining momentum with your team. COA's review is very comprehensive, and so it includes many potential ways for different staff to participate. Establishing and championing those opportunities can contribute to making accreditation more fun, rewarding, and successful.
We encourage Primary Contacts to tap into their creative side. Try developing a game that incorporates COA's accreditation standards or creating a fun visual that tracks your progress. Your job is all about being a good motivator, so celebrate the victories both big and small. With as hard as you're working, you all deserve it!
---
Though being a Primary Contact can feel like a lot of responsibility, rest assured that accreditation is by no means a one-person job. The process–from pulling together Self-Study evidence to preparing for the Site Visit–should be a team effort. Your role, then, is of a team captain. With these tips, we hope you can get out there and lead your crew to success!
Further reading
If you want to do a deeper dive, we've pulled together some additional resources below. Don't forget to also check out those linked directly in your MyCOA portal.
Your organization has decided to embark on the journey of pursuing accreditation! This commitment can invoke many sentiments—happiness, anticipation, fear, anxiety, and maybe even a splash of frustration. These are all normal feelings. The accreditation process is a major project with a myriad of components. One way to be successful in your accreditation work is to use a project management approach, as it is critical to divide the required work into smaller, manageable steps. Here is a handy, step-by-step guide you can use to conceptualize the tasks that are on the horizon.
Work styles & organizational culture
COA has an organization-wide accreditation model. This means that not only are programs being reviewed, but also the administrative divisions as well. Getting many colleagues involved in the accreditation process will help the organization manage the workload and focus on developing, updating, or sustaining practices that are ultimately in the best interest of the consumers served.
People have different personalities, which includes varied preferences and approaches to their work responsibilities. There are those who are process-oriented people that do a really great job poking holes in plans and asking questions that may not have been considered. Then there are staff who can reflect and acknowledge the progress that has been made within the organization through that point in time. Knowing some of these characteristics and preferences will be helpful in thinking about who should handle different aspects of the work.
How and why the organization is choosing to pursue accreditation is essential to framing the work that lies ahead. Even if the organization is mandated to achieve accreditation, what the organization hopes to accomplish through this process is valuable for all to hear. Ask yourself: What is the message we will convey to our board, advisory group, staff, consumers, and other relevant stakeholders about what accreditation means for the organization and its future? People want something they can believe in, something that resonates with them, so taking time to reflect and think about the "why" behind this journey is an opportunity to capitalize on building momentum.
Accreditation workload – forming the structure
COA accreditation includes all aspects of the organization's administration and service delivery operations. There are three types of standards: administration and management, service delivery administration, and service. Most organizations will have at least ten standard sections to review based on the three categories. It is essential to have multiple staff managing different standard sections, because no one staff member will have all the answers (and that is a good thing)!
A question we often hear from organizations is "How will we manage the accreditation work?" You must consider whether your organizational structure serves as a sufficient framework to review the standards. This means that those individuals responsible for particular divisions would delegate tasks to staff within their department. For example, the director of human resources would review the human resources management standard section and assign tasks as needed to his/her staff. Similarly, program directors would follow the same process to review service standard areas.
Another option for managing the work includes the creation of functional work groups, which includes assembling teams with individuals from different departments and/or programs to review one or more standard sections. For example, an administrative work group can be formed to review multiple standard areas including risk management, administrative service environment, ethical practice, etc. This type of work group would include an interdisciplinary team of quality improvement, program, information technology, and other staff as needed.
Decision-making authority and flow of communication
Once a decision is made on whether to use the structural work groups, functional work groups, or a hybrid of the two, the organization must consider the decision-making authority. As teams begin to work on reviewing the standards against current practices, you may find that policies, procedures, and protocols may need to be developed or modified. The organization must be clear on who has the authority to implement new procedures and practices.
Typically, if hierarchical work groups are used, the head of the department or program would be responsible for managing the approval process. Larger organizations may have a chief operations officer or director, and that person may be responsible for final approval. In smaller organizations, decision-making authority may be the sole responsibility of the executive director. In functional work groups, the decision-making authority may be less transparent, so the organization should establish the process for preliminary and final approval of procedures and new protocols. This will be particularly important once staff begin doing the actual work that is part of the Self-Study and Site Visit phases of the accreditation process.
Regardless of the structure chosen to manage the work, the individual responsible for overseeing the accreditation process needs to ensure that work groups and teams routinely provide information and updates to them. Sharing information and progress with the leadership team is a must, especially if the accreditation lead is not a part of said team.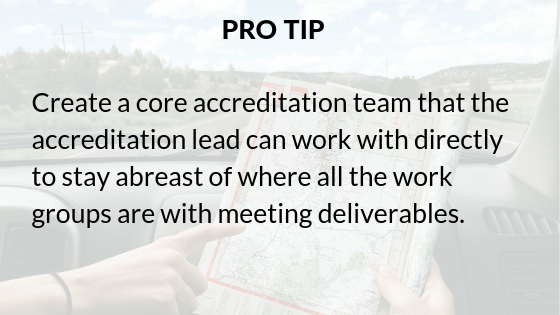 Responsibilities associated with stages of accreditation process
There are six stages in the accreditation process, each with different responsibilities. Below are some salient tasks for which the organization is responsible.
Application & agreement
The application and agreement phase of the process is an opportunity for the organization to assess the cost of accreditation and explore the service standard sections that may be relevant to the programs provided. Once the organization has decided to pursue COA accreditation, the accreditation agreement is signed and the work begins.
Intake
Think of the intake stage as COA's opportunity to acquire information from the organization on all your programs and locations in which they operate. When highlighting the scope of services at each program, be concise. COA uses this information to determine the appropriate service standard for each program. Do not spend many months in this stage of the process – it will prolong the assignment of service standards. The organization's Site Visit will not be scheduled until all program documentation has been submitted to COA.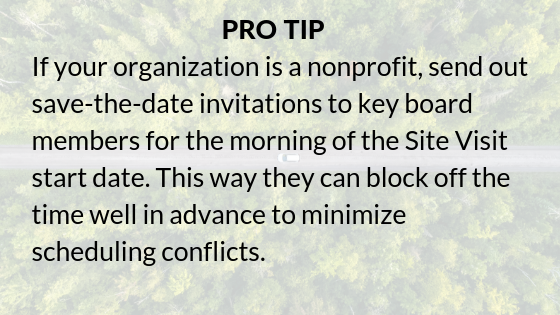 Self-Study
When the organization enters the self-study stage of the accreditation process, all standard sections have been assigned and the due dates for the Preliminary Self-Study and Self-Study have been scheduled, along with the start date for the Site Visit.
During this phase of the accreditation process, the organization should implement the structure for managing the standards review. Work groups should conduct an assessment of its current practices, policies and procedures against the COA standards. A self-assessment helps the organization to know where it needs to prioritize its time and resources.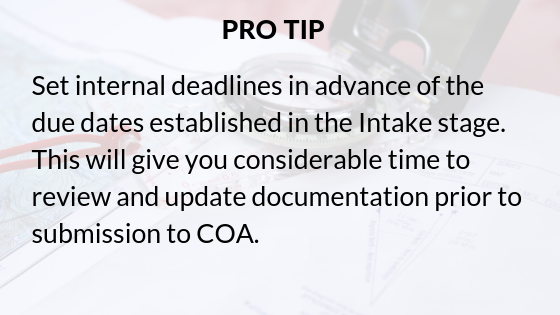 Site Visit
Once the Self-Study has been submitted, the accreditation work groups should begin compiling documentation to have available during the Site Visit. Reserve a meeting room for the Peer Review team to use while they are onsite for the duration of the Site Visit. All documentation should be clearly labelled by standard section, including the relevant core concept standard. The information the Peer Review team will evaluate can be available in paper or electronic format.
Building and sustaining momentum
If you are following the steps as listed, by now the "why" behind accreditation has already been established. An inventory of the strengths of staff has been conducted, and the process for managing the accreditation work is in place. Now the organization needs to formally roll out this significant initiative and keep staff engaged throughout the entire process.
Set a kick-off date
A kick-off event, such as an all-staff meeting, is a great way to launch the accreditation work. Use this time as an opportunity for the executive director to explain to staff why the organization is pursuing accreditation and why it is valuable. It is an opportunity to inform staff that pursuing accreditation can provide professional development and team building.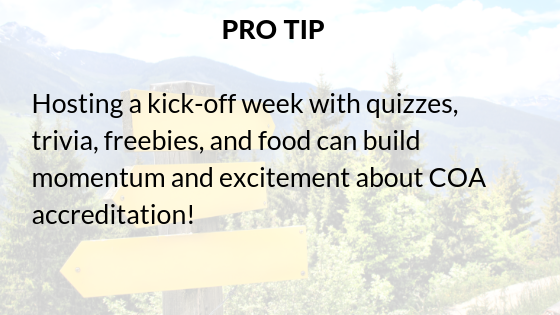 Themes and activities
Knowing the "why" behind the organization's pursuit of accreditation may not be enough for some. For those who are charged with managing the accreditation process, consider ways to make different aspects of the work fun and exciting. Television shows, sports, movies, are all options that may be suitable to connect accreditation work groups. Visual display boards serve as a reminder and can foster healthy competition within the organization.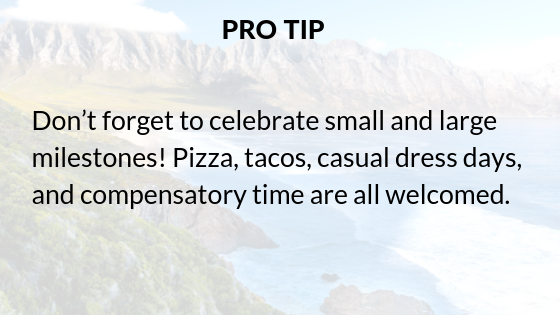 Final thoughts
The accreditation process can be overwhelming —there are many aspects that need to be managed. Hopefully, your creative juices are flowing with ways to make this organization-wide initiative manageable and fun. Remember, to get others involved, align the work with the strengths of staff and challenge the organization to always strive to be better.
---
Been through the accreditation process before? Share your thoughts on some things you wish you had known before you started the accreditation process. Recently completed the accreditation process? Let us know some of your pro tips that helped your organization through!
It is no secret that the Council on Accreditation (COA) believes in what we do. We promote best practices and help our organizations to implement them with the aim that clients across the social services field will get the best possible quality of care. By accrediting the entire organization, we ensure that everyone—from human resources to finances to support staff—is working together to carry out that mission.
This is the "why" of organizational accreditation for COA and our accreditees alike. We are all here to do good; following best practices helps us do good in the most effective way possible.
Improving service quality is the most important benefit of organizational accreditation. But from our experience, it is not the only benefit! Every time an organization completes the accreditation process, COA asks about its impact. Several themes have come out of our survey responses.
---
Organizational accreditation improves operations.
Whole-organization accreditation provides a framework for staff to look at how they fulfill their mission now and discover how they can do so better. The benefits along the way are multifold: more open communication, sound strategic plans, streamlined work systems, better risk management…the list goes on. When an organization looks at itself holistically, it can find the root of any problems and be better equipped to solve them.
94% of COA-accredited organizations agree that accreditation improves organizational learning and knowledge. 82% agree that it improves organizational capacity. COA accreditation has helped some organizations bring themselves back from the brink of bankruptcy; others have used it as a tool to position themselves to become leaders in the field.
Many have expressed that reaccreditation is not an end of itself, but a tool to help them achieve new heights of living their mission. COA is proud to help them do that.
Organizational accreditation boosts marketability.
Organizational accreditation is a professional, 3rd-party recognition that an organization meets the highest standard for both quality service delivery and administrative practices. The effort that an organization goes through to achieve accreditation proves just how much its staff cares about what they do.
This hard work helps organizations stand out among competitors and builds goodwill. 85% of our organizations agree that COA accreditation improves their organization's marketability. 90% agree that it improves their relationship with external stakeholders. Clients and community alike are looking for signs of quality—accreditation gives them a big one.
Organizational accreditation helps secure funding.
Organizational accreditation verifies that an organization not only does quality work, but also has sound financial, administrative, operational, and oversight practices. This third-party verification can inspire the confidence funders need to support an organization as it continues to grow.
This can help in terms of government funding, as well. COA is recognized in over 300 instances in 50 U.S. states, the District of Columbia, Canada, and China. Our list of recognitions continues to grow, and with it the financial benefit to our accredited organizations. As of December 2018, 70% of our organizations agree that COA accreditation ensures funding.
Organizational accreditation can give staff a sense of fulfillment.
Accreditation encourages organizations to look at themselves frankly and work toward continuous quality improvement. This can allow staff to take a break from their daily grind and appreciate the big picture of their impact. Organizational accreditation also facilitates transparency and open communication, which can increase trust and the feeling that everyone is working as part of one team. Finally, the quest for quality improvement provides staff with new professional opportunities, allowing them to lead the charge toward a brighter future for those they serve.
Almost three quarters of COA-accredited organizations agree that accreditation improves workforce engagement, and over half agree that it improves staff retention. Many of our organizations describe how empowering it is to see the change in mindset that accreditation can bring.
Organizational accreditation holds the team to its goals.
As anyone with a broken New Year's resolution knows, it is easy to put great plans in place and never carry them out. Accreditation (and reaccreditation!) forces organizations to follow through with those great plans, holding them accountable to be the best they can be.
94% of COA-accredited organizations agree that our whole-organization accreditation improves transparency and accountability. Through it, staff become not only accountable to their clients and stakeholders, but to themselves.
---
Time and time again, accreditation has proved transformative for our organizations, supporting their mission and allowing them to provide clients with the quality service they deserve. COA is grateful and humbled to be a part of this important process.
Have you experienced other accreditation benefits not listed here? Share them with us in the comments!
SOURCE: All statistics are pulled from 2018 survey data from organizations accredited by the Council on Accreditation (COA).
We are all impacted by government spending and regulations beyond our day-to-day work in human services. Regulations empower us as consumers to make informed decisions about our health and safety. They give us peace of mind as employees, that our employer's practices will be fair and that public spaces will be clean and meet the necessary standards.
We put faith in our political representatives to advance regulation in order to improve the overall welfare of our society. Over time we observe reactive regulation created to address urgent events, gradual regulation to help move the needle on key issues across a country, and preemptive regulation intended to aid the success of future generations.
Let's explore the role of government regulations and learn more about their value to human services:
Need drives change
First, let's discuss a historic example of the need for regulation. In September 1982, 12 year-old Mary Kellerman of Elk Grove Village, Illinois, died after consuming a capsule of extra-strength Tylenol. Within a month six more people in the vicinity would be dead and over 100 million dollars' worth of Tylenol would be recalled from shelves across the United States. These instances amounted to what would be known as the Chicago Tylenol Murders.
The still unidentified perpetrator was purchasing Tylenol in the Chicago area, adding cyanide to the capsules, and returning them to the store. In turn the store was restocking shelves with the returned product and those that purchased and ingested the Tylenol died within an hour of consumption. Johnson & Johnson, maker of Tylenol, distributed warnings to hospitals and distributors and halted Tylenol production and advertising. Police drove through the streets of Chicago using megaphones to warn residents about the use of Tylenol.
In 1983, in response to the incident, Congress passed the Federal Anti-Tampering Bill, also known as the "Tylenol Bill". The bill made it a federal offense to maliciously cause or attempt to cause injury or death to any person, or injury to any business' reputation, by adulterating a food, drug, cosmetic, hazardous substance or other product. It also created a FDA requirement that all medications be sold in packaging with tamper-resistant technology.
In the face of a terrifying public safety situation, urgent government regulation was able to ease fears and create a foundation for the way medication is regulated in the U.S. today.
Regulation and our families
An example of regulatory oversight within the human services field is the passage of the Family First Prevention Services Act (FFPSA) by the U.S. Congress in 2018. It marks the largest reform of child welfare financing that has occurred in the past decade. The goal of the child welfare system is to keep all children and youth safe. The regulatory and spending path to deliver that safety has forever been changed because of this legislation.
Today it would be rare to find a human services professional that does not feel the primary initial goal for child placement is reunification with a parent or family member. Acknowledging that to keep kids safe in the long-term we must support families and alleviate issues that may lead to unsafe conditions/removal is widely accepted as best practice. The passage of FFPSA codifies this practice into law and allows funds to be used for family strengthening/preventative practices in child welfare agencies. This is a shift from exclusively funding out-of-home placement, which somewhat incentivized and eased this type of placement.
Though the enactment of FFPSA is a giant leap forward for the field, requiring some states and agencies to change decades of practices and redefining the way we regulate and implement a government program, the overall goal remains the same: to keep all children and youth safe.
Accreditation, a piece of the regulatory puzzle
Accreditation standards serve as a vehicle to implement and verify best practices. COA accreditation is recognized in over 300 instances across the US and Canada as an indicator of quality. In some cases the journey towards accreditation is due to a mandate, which is when states require that certain types of organizations become accredited. Another motivation for seeking accreditation might be due to deemed status, which is when state licensing bodies allow service providers to provide proof of accreditation in lieu of undergoing certain parts of the licensing process. The practice of states/provinces recognizing accrediting bodies is one way that they implement regulation, oversee services, and work to increase quality of services. We recommend checking out the blog post, Help! I'm Mandated! Now What? Choosing an Accreditor to learn more about navigating this topic.
Over time standards are updated to reflect advances in the field, changes in research and practice, quality indicators, and shifts in government regulation. Throughout an organization's accreditation cycles they are able to evolve with these changes. Accreditation requires that organizations engage their stakeholders, creating an environment for services to adapt alongside the needs of the community. This relationship between accreditors, regulators, and service organizations builds a foundation for continuous quality improvement for both entities, improving outcomes for the clients served.
Conclusion
Instead of approaching government regulations as just another requirement, step back and imagine how they can assist with meeting your organization's mission. How can these directives support your long-term goals or bolster best practice? As outlined through these examples, regulation is often born out of necessity. These rules can determine a health outcome, the safety of and access to medication, and the path for a child in foster care. At times regulation might seem like another hoop to jump through but in fact it can be a valuable component to your quality assurance toolkit.
One of the most frequently asked questions we get from organizations, is what the differences are between these three entities: accrediting bodies, licensing authorities, and certification organizations. Commonly there is overlap, but sometimes there are distinct differences. Before we explore those differences, there are a few points to highlight:
Accreditation, licensing, and certification may vary by location and by the entity providing the credential. While we hope this article is helpful in providing a basic understanding, always be sure to check with your local jurisdiction to determine what is required.
There is often an interdependence between these three categories. We discuss this correlation later in the post.
Accreditation, licensing, and certification are not interchangeable terms. They each have a unique meaning and implication.
Now let's walk through the definitions and examples of each category, and then take a look at some examples of how they can overlap. There's an infographic at the end of the post that gives an overview of this discussion.
Accreditation
Accreditation is both a process and a credential
The accreditation process is voluntary
Only organizations, agencies, or programs can be accredited
If an organization is accredited this means they conducted a thorough self-assessment and compared themselves to recognized standards of best practice. Accreditation means that the organization, agency, or program was able to demonstrate evidence of implementation to all of the relevant standards. It is a rigorous process conducted by a third party organization.
The process is voluntary; however regulating bodies often require accreditation in order to be licensed or certified. The accreditation process typically repeats every 2-4 years, depending on the accrediting body. Normally, individuals or private practices are not able to become accredited; however, some exceptions may exist.
Example:
The Council on Accreditation (COA) develops standards and guidelines for the accreditation of services delivered by behavioral health and social service agencies. The accreditation process is designed to assist agencies in implementing organizational structures (i.e. financial management), and processes of care (i.e. case-management) that will help them achieve better results in all areas, and ultimately improve the well-being of their clients. Organizations use their accredited status to demonstrate accountability to clients, funders and donors.
Accreditors of human and social services
The most common accreditors of human and social services are as follows:
Council on Accreditation (COA)
CARF
Joint Commission
Here's a comparison between the above accrediting bodies.
Licensing
Licensing exists primarily for public safety and the well-being of consumers
Typically, licensing is involuntary
Individuals, facilities, programs, organizations or agencies can be licensed
Individuals are often licensed by their respective state to practice counseling, social work, or nursing. Organizations may need to be licensed in order to provide a specific service such as services for substance use disorders or residential treatment. Practitioners and programs are required to be licensed or face penalties, including suspension or closing of agency.
Examples:
Under New York State law, no organization may operate an adult group home without a license.
In most states, including New York, individual social workers must have a clinical license in order to provide psychotherapy without supervision.
Certification
Certification demonstrates the capability to provide a specialized service or particular program
Typically, certification is voluntary, but sometimes regulatory bodies require certification in order to provide a specific service
Individuals, facilities, programs, organizations or agencies can obtain certification
Certifications at the organizational level can definitely vary, including the terminology. Some structured evidence-based models require certification. In these cases, the certification can be called "authorized provider" or "approved site."
Example:
We also often see certifications for individuals. Many schools of social work have certificate programs. For example, Tulane University in New Orleans, Louisiana offers a certificate in Family Practice. This is an opportunity for students to get a specialized education and accrue experience in this specialized area which they can include on their resumes.
Understanding the correlation between accreditation, licensing and certification
More and more, regulating bodies are requiring that organizations become accredited or certified in order to be a licensed provider in their respective state.
Examples:
Effective January 1, 2017 in California foster care providers must be accredited or in the process of being accredited to qualify as a licensed provider. We call this a recognition, the state is recognizing the value of accreditation and using it to identify credible and accountable organizations who have implemented best practices.
In Nebraska, organizations must be certified in Functional Family Therapy (FFT LLC) to be a licensed provider. In this example, the state is relying on a certification to ensure that specific models are implemented and relying on FFT LLC to track the fidelity of the program model.
Final takeaways
Always pay attention when you see the words "license," "certification," and "accreditation." Whether you are applying for a grant or soliciting funds from a donor, be sure to use the appropriate terms and understand what the entity is requesting.
Don't be afraid to ask about what the terms mean. With so many different regulating bodies out there, you want to be sure that you are all on the same page.
Never make false claims about your credentials; you will always need documentation to support your status. Not that organizations would intentionally make a false claim, but accidentally using the wrong terminology can lead to problems.
Stay on top of the changes and requirements of your regulating or accrediting bodies. This can be a challenge in our ever-evolving field. When there's transition, licensing, certifying, and accrediting bodies must adjust as well. A great way to bolster your risk prevention activities is to have an internal process that regularly reviews changes in requirements. Subscribe to COA's newsletter for standards updates.
We hope you now have a better understanding of these terms, or at least with recognizing when you need to ask more questions to ensure that your organization remains in good standing with all entities that have a stake.

Here's an infographic summarizing what we went over in this post, feel free to share it!