So, you've been designated by your organization as the Primary Contact—the point person for communicating with the Council on Accreditation (COA) and spearheading the accreditation process. Maybe you're feeling a little overwhelmed; you might not be sure about the best way to get the job done. Fear not! We're here to help with tips on how to make the process as smooth as possible, whether this is your first time managing the accreditation process or your fifth.
1) Get organized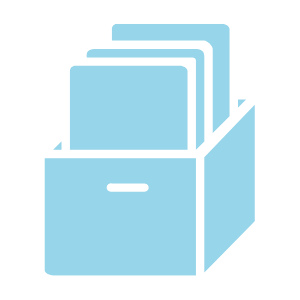 If we were to create a job description for the Primary Contact role, strong organizational skills would be first on the list of required traits. You need to be able to organize, prioritize, and project manage. This includes assessing the scope of the work, identifying available/necessary resources, and planning for the completion of tasks while working towards deadlines.
There are a lot of moving parts during the accreditation process, so it is critical to stay on top of due dates and important notifications from COA. You also need to make sure that these are communicated within your organization, and that you clearly outline expectations regarding the workload and workplan for other staff to maintain efficiency.
Sound like a lot? Don't worry! We have some resources that can help those efforts. Here are a few to get you started:
2) Communicate clearly and often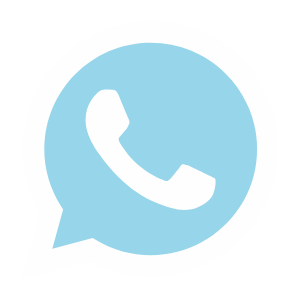 The accreditation process centers around good internal and external communication.
From an external standpoint, as the Primary Contact you are responsible for overseeing all communications between your organization and COA. Whether it is over the phone or email, it is essential to keep your Accreditation Coordinator in the loop about any significant program updates or organizational changes.
From an internal standpoint, it is important to have staff, management, and your governing body appropriately informed of the process. This will not only help everyone work together to get things done, but also ensure that accreditation's benefits are felt organization-wide.
Pro tip: Maximize your relationship with your Accreditation Coordinator
COA partners with organizations throughout the accreditation process. A key component of that partnership is the relationship between the Accreditation Coordinator and you, the Primary Contact. Here are a few suggestions on how to capitalize on this unique benefit.
Schedule – and really use to your advantage! – a monthly call, especially if it's your first time going through the process. Having the time carved out on your calendar ensures that you have time specifically dedicated to accreditation each month. (Ex: "I have my call with my Coordinator next week and I haven't looked at the FPS standards yet – let me get on that now!") We understand that everyone has a million things going on in addition to accreditation, so blocking off time for checking in and asking questions is one way to stay on top of things.
Check out our extensive accreditation resources first before bringing any additional/clarifying questions onto your call. This will make sure that you're using your time with your Accreditation Coordinator as productively as possible.
Involve other staff members in the monthly calls. Not only can this be a more efficient way to get everyone on the same page, but it also makes the process more team-driven and rewarding. This allows other staff members to "get to know" the COA voice on the other end of the phone to experience the partnership firsthand.
Whether for scheduled calls or when staying in contact in general, it is helpful for Accreditation Coordinators when Primary Contacts gather and send questions all at once, especially very specific standards questions. This is particularly beneficial when it comes to monthly check-in calls. If questions are sent over (in one email) a few days before the call, it gives the Accreditation Coordinator time to prepare and touch base with their team/the Standards Development Department as needed, which maximizes your time and makes for a productive conversation.
3) Be transparent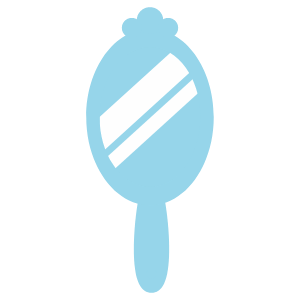 Transparency is another critical factor to your success as a Primary Contact. This goes hand in hand with being a good communicator.
We often say that the Self-Study process is like holding a mirror up to your organization. This works best for everyone when the mirror is a clear one! Your Accreditation Coordinator is there to provide technical assistance and targeted support, but they can only do so if you communicate honestly about your struggles so that they can help you navigate your pain points. Identify your organization's needs and be eager to ask questions.
This advice applies when communicating within your organization as well. Often, we find that one staff member doesn't always hold all the knowledge/documents that are necessary to complete the accreditation process; therefore, it is important that you approach other staff and pull them in as a resource when needed.
4) Get involved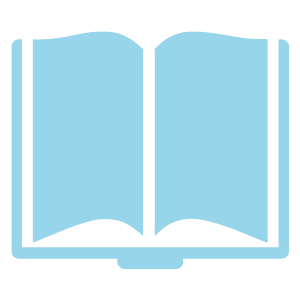 We've already highlighted the importance of working with your Accreditation Coordinator – they are there to answer questions, interpret the standards, and guide you through the process. But don't forget about all our other resources that are there for you to tap into!
If it's feasible time- and budget-wise, attending our live Intensive Accreditation and Performance and Quality Improvement trainings can be very impactful, particularly if you or your organization are new to the accreditation process. We hold these trainings a few times a year. They are a great resource not only for taking a deeper dive into managing accreditation and learning strategies to enhance your PQI system, but also for networking with (and learning from!) colleagues that are in the same boat as you. Attending these is not a prerequisite for being a stellar Primary Contact, of course, but they are helpful if you can make it to them.
COA also has a plethora of self-paced trainings, tip sheets, tool kits, and more. Your MyCOA Portal will offer suggestions of which of these will work best for you at different points in the accreditation process. Be sure to use it! You will find everything that you need there to successfully navigate the process. The portal is secure, customized and will always include the specific information that is relevant to your organization.
Digging into these resources will provide you with a good overview of 1) how COA is going to review your organization, and 2) all the major milestones you need to hit along the way. This will help you to grasp the amount of work needed and the different deadlines that your organization is going to approach. Knowing these will help you guide others in your organization toward success.
Pro tip: Find your tribe
COA lists all our accredited organizations on our public website. Use the Who is Accredited Search to find peer organizations by location or service area. This practice can help you create a network and empower you and other Primary Contacts to access resources, share information, and ultimately make the most out of the accreditation process.
5) Be an accreditation cheerleader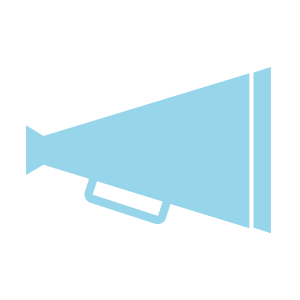 Getting through the accreditation process is all about creating and maintaining momentum with your team. COA's review is very comprehensive, and so it includes many potential ways for different staff to participate. Establishing and championing those opportunities can contribute to making accreditation more fun, rewarding, and successful.
We encourage Primary Contacts to tap into their creative side. Try developing a game that incorporates COA's accreditation standards or creating a fun visual that tracks your progress. Your job is all about being a good motivator, so celebrate the victories both big and small. With as hard as you're working, you all deserve it!
---
Though being a Primary Contact can feel like a lot of responsibility, rest assured that accreditation is by no means a one-person job. The process–from pulling together Self-Study evidence to preparing for the Site Visit–should be a team effort. Your role, then, is of a team captain. With these tips, we hope you can get out there and lead your crew to success!
Further reading
If you want to do a deeper dive, we've pulled together some additional resources below. Don't forget to also check out those linked directly in your MyCOA portal.
Accreditation is a journey. One with a clear destination, but a less defined path. There are mile markers along the way; however, there isn't necessarily one straight, easy road to the finish line. Is there a recommended route? Are there any anticipated hurdles? If you are tasked with leading the accreditation process for your organization, you may not know where to start. This is where COA's Accreditation Coordinators come in.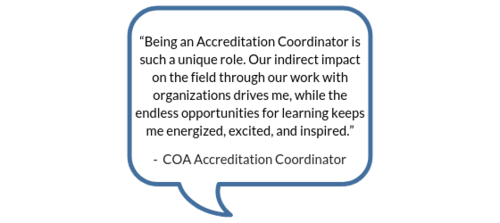 Every organization seeking COA accreditation is assigned an Accreditation Coordinator, a COA staff member that serves as a single point-of-contact throughout the accreditation journey. The role of the Accreditation Coordinator is unique to COA's facilitative accreditation process. They work closely with the organization's designated single point-of-contact, which COA refers to as the Primary Contact. Through this partnership, an organization obtains the support they need to navigate the road ahead.
Roles and responsibilities
Accreditation Coordinator
An Accreditation Coordinator works concurrently with a number of organizations. Their caseload can vary as well as the needs of each organization. The coordinators can also specialize in distinct accreditation programs or service types (Financial Education and Counseling, Employee Assistance Programs, Opioid Treatment Providers, etc.). Communication is a key element to this role. They're responsible for answering questions, providing feedback on submitted documentation, and referring organizations to training and resources. Whether it's to discuss specific documentation, standards, practices, or policies, they're available on a daily basis to address inquiries from organizations. And because each organization comes with unique questions and circumstances, researching program models and administrative practices is also part of the work.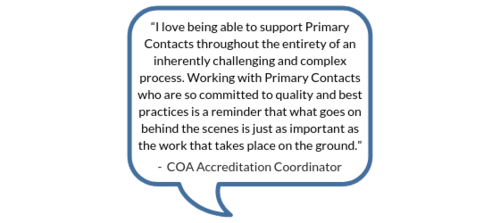 While the day-to-day routine of an Accreditation Coordinator involves providing tailored support to organizations, it is also valuable to note the role's limitations. Accreditation Coordinators are not consultants and do not provide consultation to organizations. They can help Primary Contacts interpret the standards and answer questions, but are unable to dictate how implementation will look on the ground. Organizations are responsible for the application of the standards. And while they review and provide feedback on select pieces of evidence, specifically six key documents referred to as the Preliminary Self-Study (PSS), it is not within their role to review the entire Self-Study (aka all of the evidence that is required based on the assigned standards). The Site Review Team assesses the Self-Study prior to the Site Visit and will provide the ratings after conducting the on-site review.
Primary Contact
The Primary Contact is COA's champion at the organization level and is in charge of spearheading the accreditation process. In this role, they're responsible for engaging organization staff in all things COA. While the Primary Contact is the single point-of-contact, accreditation is by no means a one-person job. Accreditation is a huge team effort, from pulling together Self-Study evidence to preparing for the Site Visit, and the Primary Contact is the team captain. It's no coincidence that we have repeatedly heard the role compared to "herding cats"!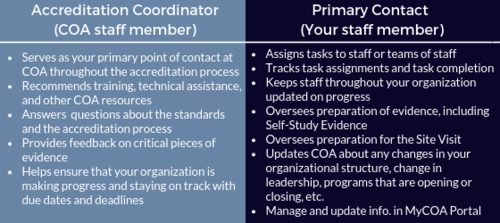 Exploring the relationship between the Accreditation Coordinator and the Primary Contact 
COA's mission is to partner with human service organizations worldwide to improve service delivery outcomes by developing, applying, and promoting accreditation standards. The relationship between the Accreditation Coordinator and the Primary Contact brings that partnership to life. The two work together throughout the accreditation process, from start (the intake call) to finish (the notification of accreditation). They're there to kick off the expedition, advise you of the twists and turns, help navigate roadblocks, and ultimately make sure your organization hits all the necessary milestones en route to the final destination. Along the way, Primary Contacts should provide the Accreditation Coordinator with updates on their progress, highlighting successes and challenges. That information helps COA gauge the organization's strengths and needs and informs the provision of targeted supports.
Learning about the challenges of navigating the process is vital to COA. We want to know about the unexpected obstacles in order to assist with readjusting your approach and preventing you from spiraling off course. For example, Performance and Quality Improvement (PQI) can be one major hurdle for organizations. As the Primary Contact it can feel daunting to try to implement a culture of PQI, especially if your organization doesn't have the framework in place. As an Accreditation Coordinator, some of my favorite moments working with Primary Contacts have come from discussing the evolution of PQI. It could be talking through the development of a PQI committee ("Who should be on it?" "How often should they meet?") or figuring out performance and outcome measures ("Can you explain outputs and outcomes again?" "What are some examples of operations and management performance measures?"). Standards and technical assistance inevitability guide the conversation, but it's through this exchange that we learn how an organization goes about creating change. And isn't that what it's really all about? PQI helps an organization become stronger to better serve their clients and community.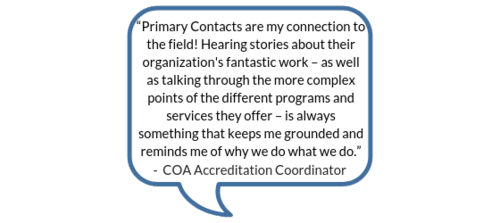 The relationship between the Accreditation Coordinator and Primary Contact is not one-size-fits-all. We are there to support in whatever capacity is most beneficial for the organization. For some this may take the form of structured monthly check-in calls, while others prefer Q&A exchanges over email. We recommend that organizations new to the accreditation process or new to the role of Primary Contact have more regular communication with their Accreditation Coordinator. Seasoned individuals may not need to rely on their coordinator as much; they remember the journey and have their path mapped out. Regardless of the frequency of contact, the door for communication is always open.
Tips for Primary Contacts
We know that serving as the Primary Contact is not an easy task. Often the work of accreditation is piled onto an already full plate. Here are some tips and tricks from COA's team of Accreditation Coordinators:
Training and resources
Want to know how to create a policy? We have a tip sheet for that! Want to know how to develop a strategic plan? We have a template (along with a self-paced training and blog post) for that! We've included just a few of the many resources that can help organizations on the road to achieving COA accreditation. We recommend exploring the full breadth of resources by accessing the tool search in the MyCOA Portal.
You are not alone
Many of us at COA have a social work (or social work adjacent) background, and the work we do to support Primary Contacts in their efforts to create change in their organizations, mirrors the work organizations do with their clients. We conduct an assessment. We create a service plan. We deliver supports and linkages to necessary resources. The makeup of our caseloads may be different, but we are all working towards a common goal – positive client outcomes and high quality services.
And as you learn from us, we learn from you. You are the change makers, advocating for those that you serve and making an impact on your communities. For many of us, the stories that you share and the work that you do are why we walk through the doors at COA. You are our direct connection to the field. Our collaboration allows us to gain a better understanding of service delivery and program models, as well as how the implementation of best practice looks on the ground for organizations of all shapes and sizes.
At the end of the day, an organization is ultimately responsible for their accreditation process, however, you are not alone on the journey. COA's Accreditation Coordinators are there to support you and your team.