Community
Donated Laundry Equipment Brings Access and Increased Dignity to Community Members
Every day, community members across the country miss out on educational, employment, and social opportunities simply because they do not have access to clean clothes. The laundry services children, youth, young adults, families, and older adults receive through community-based organizations in the Social Current network play an important role in helping them manage through a challenging moment in their lives.
To help respond to this critically important need for clean clothes, Social Current collaborates with CSC ServiceWorks Inc. (CSC), the industry leader in laundry solutions, by participating in its national effort to donate commercial-grade washer and dryer equipment and in-kind maintenance services in 40 communities throughout the U.S. They seek to lighten the load of community members around the country.
"We're thrilled about the impact our partnership with CSC ServiceWorks is having on community-based organizations and people across the country. Their unwavering belief that laundry is an essential service has helped to improve people's lives and strengthen the infrastructure and operations of organizations within the Social Current network." said Jody Levison-Johnson, president and CEO of Social Current.
In 2021, CSC ServiceWorks donated hundreds of washers and dryers as well as ongoing maintenance services to provide reliable laundering operations for organizations and their beneficiaries. This year, the partnership will continue to expand into new markets and offer additional services such as air vending and ongoing machine maintenance.
"When our teams were made aware of the challenges that neighbors face in accessing laundry services and community centers have in maintaining washers and dryers, we jumped into action," said Rick Martella, executive vice president at CSC ServiceWorks. "We are honored to partner with Social Current to bring laundry services closer to home and show our neighbors we care about their success. This is part of CSC's ongoing mission to provide critical services that enable people to succeed."
Through its CommunityWorks initiative, CSC ServiceWorks helps people be ready for school, work, and life. The company applies its resources, and skills to spotlight this mostly hidden laundry challenge and rally others to take action.
The impact of these donations is being felt far and wide. One participating organization, PB&J Services in Albuquerque, New Mexico, is using its new commercial laundry machines in its pre-K class and community center. "We now have access to reliable laundry equipment that can be used to clean masks, children's dirty clothing, towels, and other supplies. We also are providing clean clothing for clients, which removes a barrier to confidently accessing employment, education, and community services and improving overall self-image and well-being," said Tashi Swierkosz, development & communications manager at PB&J Services. She went on to share, "The CSC employees made the installation process as smooth as possible. They were very responsive, compassionate, and enthusiastic about supporting PB&J and our families."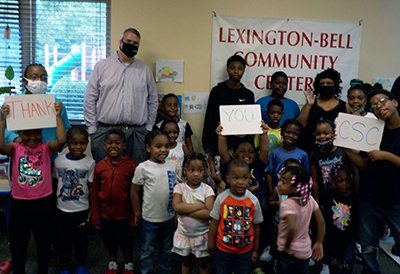 PB&J is one of 20 organizations that have received equipment in 2021. A few other beneficiaries include:
Casa Central Social Services Corporation in Chicago, helps families experiencing homelessness by providing interim housing, case management and support services. This donation has enabled families to do their own private laundry and have access to clean clothes.
Ruth Ellis Center Kofi House program serves low-income LGBTQ youth in Detroit. Thanks to this donation, clients do not have to decide between clean clothes or food on the table.
Shiloh House in Littleton, Colorado, provides therapeutic care and a home-like environment for foster youth who have experienced abuse and neglect. The new equipment allows young people the opportunity to do their own laundry and gain autonomy and responsibility.
To facilitate this laundry initiative, Social Current connects local CSC teams with community-based organizations to assess laundry operation needs and install new equipment. If your organization is interested in exploring a potential relationship with CSC ServiceWorks for donated commercial laundry equipment and service, air vending service and volunteer engagement in 2022 please contact Emily Merritt, corporate relations manager at Social Current, to determine your eligibility.
About CSC ServiceWorks
CSC is the leading consumer services platform company in North America that delivers technology-enabled laundry services in the multifamily, academic, and hospitality markets and tire inflation services in the convenience store and gas station space. We work to make life easier by providing seamless experiences and world-class service to millions of consumers, property managers, and owners every day. Our engaged team members continue to innovate and lead our industry as we find new ways to deliver value to our customers and the communities we serve.