Public Policy
Social Current Recognizes Corporate Partners Volunteer Efforts this Global Service Month
The important work in our communities cannot be achieved without the support of diverse community-based partnerships. Global Service Month provides a great opportunity to acknowledge and celebrate partners that donate time, resources, and expertise to make a difference in our communities.
Social Current is grateful for three of its corporate partnerships, helping our network drive impact through the engagement of corporate volunteers and generous donations of resources.
Aramark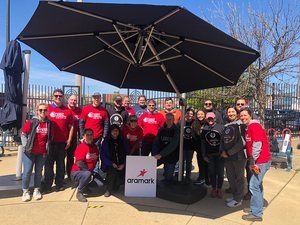 Rooted in service and united by purpose, Aramark strives to do great things for its employees, partners, communities, and planet. Their global volunteer program, Aramark Building Community, launched in 2008 and engages the talents and passions of employees to develop solutions that address challenges caused by lack of access to healthy food and proper nutrition, financial insecurity, and inequitable environments. The program drives stronger communities, creates employee volunteer opportunities, and encourages employees to give back to their local communities.
Throughout the year, and during the annual Aramark Building Community Day, thousands of Aramark employee volunteers work to build vibrant, sustainable communities for all. They also offer complimentary resources to nonprofit organizations that equip families and individuals with the skills, knowledge, and confidence to discover, choose, and prepare healthy food. This is often in conjunction with volunteer activities like food drives, cooking demos, and meal prep workshops. Last year alone, nearly 200 community-based organizations were provided regrants by Social Current, while dozens more strengthened community health and well-being through Healthy for Life® resources, thanks to Aramark's tremendous support.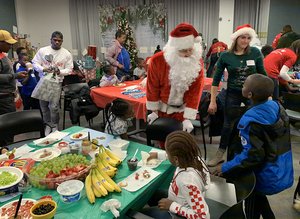 Aramark Partner Spotlight: The Aramark Chicago Star Team, lead by Angila Faison, works in partnership with Social Current client UCAN. UCAN Director of Corporate and Foundation Grants Lauren Birchlove shared, "Many of our program participants have young children for whom they struggle to provide healthy food, school supplies, and holiday gifts. Our participants were grateful to receive funds through the Aramark Building Community holiday grant program, in partnership with Angila, to purchase healthy food, gift cards, and toys, creating a special holiday for their children." Lauren went on to praise, "Aramark volunteers are top notch. They are serious about completing projects, which means that they do high quality and efficient work. We can't wait to welcome Aramark volunteers back in-person soon."
CSC ServiceWorks
CSC ServiceWorks is the leading provider of laundry solutions and air vending services throughout the United States, Canada, and Europe. Through their CSC CommunityWorks Signature Services initiative, they are helping to enhance lives by working with community centers to provide reliable access to clean laundry and basic supports. They believe access to clean laundry is essential to helping people be successful in school and work and maintain healthy lifestyles. CSC teams support work within the communities they operate by lending their expertise, providing washer/dryer and air/vacuum equipment to community organizations, ongoing service for these machines, as well as volunteer support. Through their donations of washers, dryers, and ongoing equipment maintenance, CSC helps strengthen the capacity of our partners who are providing these essential services. In 2021, CSC ServiceWorks donated hundreds of washers and dryers, at a value of approximately $125,000, as well as ongoing maintenance services to provide reliable laundering operations for nearly 30 Social Current network partners.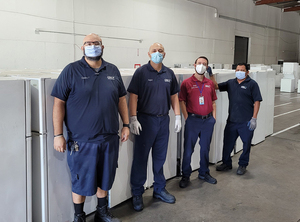 CSC ServiceWorks Partner Spotlight: Michigan-based CSC ServiceWorks employee Paul Martin worked with Social Current client Ruth Ellis Center to install a donated washer and dryer to support their Kofi House program serving low-income LBGTQ youth. Program Director Kathie Griffin-Futch shared "Clients are able to wash up to two loads of laundry every week. Because of this donation, clients don't have to decide between clean clothes or food on the table. All CSC employees were very caring and professional. This was the most amazing experience and a beautiful gift to the community."
Bank of America
Bank of America offers Better Money Habits, a free financial education platform, that builds know-how around topics like budgeting, saving, credit, homeownership, retirement, and more. Community-based organizations can leverage these resources in a variety of current programs by engaging staff in train-the-trainer or direct-to-community-member Better Money Habits sessions.
Bank of America Partner Spotlight: Social Current client Northwestern University Settlement House in Chicago worked with Mary Bovalis, Better Money Habits Champions Lead and Treasury Product Manager with Bank of America, to train its staff on these financial literacy education tools. "The Better Money Habits website and tools were really easy to access and use," said Katie Taylor, director of development at Northwestern University Settlement. "Our program staff are able to easily pull what's needed for our different populations and specific needs."
Additionally, in honor of National Financial Capability Month, Bovalis hosted a 30-minute demonstration of the Better Money Habit's platform for all Social Current community-based organization partners.
Social Current celebrates and thanks all of its corporate volunteers, working in partnership with our network of organizations and helping us implement equitable solutions to society's toughest challenges. For questions about Social Current's corporate partnerships, please contact Emily Merritt, network and corporate engagement manager.