Social Current and the American Public Human Services Association (APHSA) are excited to share progress on our effort to create a leadership framework for community-based and public sector human services leaders that will change the way we work together.
There is a need for a new operating paradigm that puts people at the center of the work, unlocking the power of community-led solutions. A change in how sector leaders work is foundational to advancing equitable, community-led outcomes.
Through focus groups, story gathering, a literature review, and the leadership experiences of both Social Current and APHSA, we have collected and synthesized a rich set of insights and impactful practices. From this collective input, we have been able to map the next generation of leadership competencies for human service leaders. By working from the traditional competencies that we seek to shift or amplify, we began to define/describe leadership competencies that are centered in people, community, and help make them actionable through specific examples.
We invite you and your community members with lived experience to participate in a virtual focus group in November or December. The sessions start Nov. 16. You can sign up here.
Initiative Update and Focus Groups for CEOs and Senior Leaders
Please join us to continue the dialogue. The focus groups will be 60 minutes long. During the session, facilitators will share an overview of the work and how the leadership competencies emerged. For the remainder of the session, participants will discuss how the competencies resonate with them; share their experiences, strategies, and innovations working in the human services sector; and identify how opportunities for improving services can be incorporated in the leadership behaviors or action.
View full details for CEOs and senior leaders and register here. Use this flier to share this opportunity with your team.
Focus Groups Community Members with Lived Experience
Please invite individuals in your communities to participate in these focus groups. We look to hear their perspectives around what makes them feel valued and heard, how to co-create practices and policies, how to improve service access, and how to address racial disparities. We will provide a stipend to individuals participating in these focus groups.
View full details for community members and register here. Use this flier to share this opportunity with your community.
Space is limited, so please register in advance. Only those who have registered in advance and received confirmation can attend.
If you have questions or need further details, contact Trinka Landry-Bourne of APHSA or Robena Spangler of Social Current.
Social Current, in partnership with the Hathaway Center for Excellence, is proud to offer the first in a series of APA and CAMFT continuing education eligible courses for practitioners working in and with the child welfare and therapeutic systems. The course is now available for on-demand registration and completion: Working with LGBTQ Youth and Young Adults.
This self-guided course is designed for front-line staff who are working with LGBTQ youth and young adults in community or residential settings. It focuses on how to:
Intervene and reduce barriers to improve health outcomes
Understand coming out experiences and the impact of rejecting and accepting behaviors
The course is eligible for 1 CE, as the Hathaway Center for Excellence is a continuing education vendor of the American Psychological Association (APA), or 1 CE, as the Hathaway Center for Excellence is a continuing education vendor of the California Association of Marriage and Family Therapists. Course participants receive their CE after completing all quizzes, post-tests, and evaluations associated with the course.
The cost is $75 per person. Organizations who are interested in sending five or more staff to this training should contact the Social Current Organizational Learning Team.
Enroll in this course online, or browse the Social Current learning catalog.
About the Hathaway Center for Excellence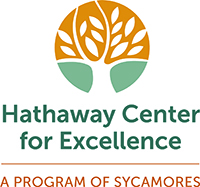 The Hathaway Center for Excellence (HCFE) is the esteemed research and training program of Sycamores. HCFE enables Sycamores to collect and share evidence-based research discoveries to clinical professionals across the U.S. and beyond, ensuring findings help to inspire informed care to all consumers in the therapeutic field.
Contact HCFE with questions about the content of this course.
About the Social Current Learning Exchange
Organizations that have developed courses related to social sector topics can gain exposure and revenue by sharing them through the Social Current Learning Exchange.
Social Current can assist you in converting your training to an online, on-demand course and offer it publicly through our learning catalog. We also can assist in promoting your course to our national network of social sector professionals.
If your organization is interested in making learning available via the Social Current Learning Exchange, contact the Social Current Organizational Learning Team.
Social Current is excited to introduce SPARK Exchanges as a benefit of its Engagement Packages. Previously offered through Alliance for Strong Families and Communities membership as Alliance Peer Exchange (APEX) groups, they are still the very best way to leverage the network's expertise.
The SPARK Exchanges unite social sector professionals around functional roles and key issue areas to collaborate, share and/or access resources, discuss emerging trends, and receive policy updates and action opportunities. Join these groups to ask questions, offer recommendations and resources, and build solutions with other professionals.
Engagement Packages allows multiple staff to participate in any of our groups.
The full list of SPARK Exchanges includes:
Advancing Equity
Advancing Financial Sustainability
CEO
Educational Success
Fundraising, Marketing, and Communications
Health and Mental Well-Being
Human Resources
Performance Excellence
Transforming Child Welfare
Coming soon, participants will be able to access their groups through the Social Current Hub, our dynamic online portal designed to help network professionals get the support they need, connect with colleagues and resources, and take advantage of all that we offer.
Learn More in SPARK Exchanges Webinar
On Demand
This webinar introduced Social Current's SPARK Exchanges. Watch this on-demand webinar to learn more about the groups, hear from participants, and see a demo of the Social Current Hub.
As we welcome the new year, and the 22nd month of the pandemic, a critical question likely keeps many leaders awake at night: How do we continue to adapt to the ever-changing landscape and strive to thrive in the face of unrelenting challenges? One answer stands out to me: Partner with staff to build workforce resilience.
Our workforce, the most precious organizational resource, has suffered greatly from COVID-19's impact, which has only added to existing pressures and difficulties that often affect human services professionals. Despite increased efforts to support staff since March 2020, evidence reveals staff morale and satisfaction have suffered. The O.C. Tanner Institute Global Culture Report indicates a decline in their annual core measurements of workplace culture, including a 14% decrease in sense of purpose and a 15% decrease in sense of appreciation. Health care and human service workers have also experienced a sharp increase in burnout, and workforce shortages are impacting delivery of services.
The good news is we are learning how to respond to these alarming trends. Living and working during a global pandemic has taught us to move from pre-pandemic, top-down employee recognition and self-care initiatives to partnerships with staff that promote brain-based interventions, psychological safety, positive workforce culture, and increased connections.
How to Build Workforce Resilience
Advance Understanding of a Brain Aware Perspective and How to Stay Regulated
To be well at work, we need to know about basic brain functioning. Our brain mediates our thoughts, feelings, and behaviors. Dr. Bruce Perry, principal of the Neurosequential Network and senior fellow of The ChildTrauma Academy, notes, "A brain aware perspective helps me when I'm trying to understand people," (in What Happened to You?: Conversations on Trauma, Resilience, and Healing). With this knowledge, we can prevent and mitigate the impact of toxic stress on our brains and bodies. We can embrace regulation—the basic strategy for calming our lower brain—and integrate it into everyday work. Dr. Perry's sequence of engagement: regulate, relate, reason (3 R's) is grounded in brain science and applicable in every human interaction. It readies us for effective interpersonal communication. Achieving the workforce outcomes we strive for, like increased trust, stronger relationships, candid conversations, and more accountability, all depend on practicing brain-based interventions such as the 3 R's.
Foster Psychological Safety
Popularized by Amy Edmonson in her book, The Fearless Organization: Creating Psychological Safety in the Workplace for Learning, Innovation, and Growth, psychological safety is the belief that the work environment is safe for interpersonal risk taking. It leads to authentic conversations that are critical to equity, diversity, and inclusion (EDI) initiatives. It promotes problem solving, innovation, connection, and growth. This practice is built into the culture over time and requires leaders to respond to staff challenges by modeling authenticity, accountability, and compassion, and by creating space for sharing and listening. Google's Project Aristotle, a two-year study on what makes effective teams, found that the thing that most predicted success in their company is psychological safety.
Increase Connection
Recent research from the O.C. Tanner Institute notes that 45% of employees say the number of individuals they regularly interact with at work has decreased significantly over the past year, and one in three employees feel disconnected from their supervisor. They also report an organization is 12 times more likely to thrive when employees feel connected. Practices such as having frequent check-ins, supporting peer mentorship, normalizing discussions around mental health and EDI, and finding shared purpose all build meaningful connections, even in our virtual and hybrid settings.
Prioritize Positive Workplace Culture
Resilience at work is highly dependent on a positive culture that reflects the organization's stated values and beliefs. A resilient organization has a shared agreement with its employees that we collectively bring to life our stated values by realizing them in our behaviors, customs, and practices. Together we build increased equity and connection for all staff. Together we create realistic and healthy boundaries and expectations. And together we learn to ask for help, hold ourselves and others accountable, achieve excellence, and celebrate successes.
Create a 2022 Action Plan
Social Current is committed to partnering with leaders at any level to advance these practices, most of which are not fast and easy, but all of which are doable and highly merit the investment of time and resources. Our experts on trauma-informed, resilient-oriented approaches and leadership excellence can share the latest findings around understanding and responding to stress, distress, and trauma in the workforce.
Learn more about our approach to workforce resilience with the Feb. 3 webinar, Building Workforce Resilience to Thrive During Challenging Times. And stay tuned for opportunities to dig deeper through our Spring 2022 offerings: Workforce Resilience SPARK Exchange and Workforce Resilience Learning Collaborative. An overview of our SPARK Exchanges and sneak peak at our Social Current Hub online portal will be held during a Feb. 8 webinar.
Renew the commitment to your staff in the new year through concrete strategies for increasing emotional regulation, self-compassion, and interpersonal connection, as well as accountability and effective communication. Don't miss the opportunity to explore the cornerstone concepts for building a resilient workforce that can adapt and thrive in times of change and challenge.
Together, we can strengthen our most valuable resource in 2022!
Upcoming Learning Opportunities
Great Resignation and Human Services: Combating Workforce Shortages in Public and Nonprofit Agencies
Webinar, Jan. 31, 2022, 2-3 p.m. ET
Join this webinar hosted by Social Current and the American Public Human Services Association (APHSA) to hear from public and nonprofit human services leaders about the collective workforce challenges, as well as promising approaches that, through partnerships, build organizational capacity to achieve our shared mission of supporting the well-being of people and communities.
Building Workforce Resilience to Thrive During Challenging Times
Webinar, Feb. 3, 2022, 2-3 p.m. ET
Kick off 2022 by exploring concepts and strategies that are foundational to building a workforce that can stay well and healthy. A positive organizational culture is critical for supporting staff as they partner authentically with community members who often experience complex challenges, systemic inequities, and personal trauma. This webinar will explore how to advance positive workforce goals such as managing conflict, nurturing relationships, embracing equity, and achieving excellence.
About the Change in Mind Institute
Learn the key strategies for infusing brain science into your organization's culture, programs, and practices through a collaborative experience where participating organizations determine their own paths for creating the transformation best suited to their unique needs. The process of embedding brain science principles will lead to improved outcomes for children and families. In addition, it will further enhance their organizational cultures and leadership ability to work collaboratively with partners to build better service systems and policies.
The Institute is led by Karen Johnson, who brings knowledge of the advancing science around resilience, brain development, adversity, toxic stress, equity, and trauma-informed approaches to the complex challenges we face. This expertise, coupled with her 27 years of experience in child welfare, behavioral health, and community services, enables her to successfully partner with leaders, staff, community members, and participants across numerous settings to promote individual and organizational resilience. Johnson is a licensed clinical social worker certified in Dr. Brené Brown's Dare to Lead and Daring Way and trained in Dr. Bruce Perry's Neurosequential Model of Therapeutics.
Learn more and consult with us on creating a transformational plan for your organization.
Social Current and Unite Us Collaborate to Address Health and Social Disparities in Communities
New York and Washington, D.C., Dec. 15, 2021–
Social Current, formally the Alliance for Strong Families and Communities, and the Council on Accreditation, today announced its collaboration with Unite Us, the nation's leading technology company connecting health and social care services, to advance health equity and improve health and social outcomes through innovation and technology. This relationship will enable Social Current and Unite Us to work collaboratively to make positive change in communities across the country.
Social Current, a national advocate that ignites change for an equitable society where all people can thrive, is a newly formed organization with roots in the nonprofit and social sectors dating back more than a century. Unite Us, an outcome-focused technology company that builds coordinated care networks of health and social service providers, is building a sustainable infrastructure for social services to not only survive, but thrive. Unite Us' end-to-end solution, specifically Unite Us Payments, can support organizations in Social Current's network by providing the technology infrastructure to permit those organizations to be paid by the private sector for the services they are providing to their communities.
Many community-based organizations across the country don't have the capacity they need to meet local needs because social care has been historically underfunded. Unite Us Payments provides the infrastructure for funding entities and community-based organizations to collaborate seamlessly—from streamlining the documentation, reporting, and billing processes, to tying social care services back to health outcomes. By demonstrating the value of social care investments, Unite Us Payments makes it easier for community-based organizations to access funding, provide social care at scale, and ensure the sustainability of social care services in the community.
Together, Social Current and Unite Us will highlight ways community-based organizations can use Unite Us Payments to sustainably increase their capacity and measurably impact health outcomes, supporting the case for value-based payment arrangements.
"Community-based organizations have extensive experience and expertise in improving the health and well-being of communities by addressing a variety of social and environmental factors. Through our collaboration with Unite Us, we will work together, leveraging technology, to accelerate the impact of community-based organizations and ensure they are compensated for the value they bring," said Michelle Hinton-Ford, Director of Practice Excellence for Health and Mental Well-being at Social Current.
"Unite Us is incredibly excited about our collaboration with Social Current. Social Current is a leading voice for change in the social sector, one that can amplify the need to enable social care funding at scale. Through our work together, we look forward to challenging the current paradigm of reactive, clinically-focused systems of care by promoting payment solutions for investment in the foundations of whole-person care," said Adrienne Sherk, Senior Director, Community-based Organization Partnerships, Unite Us.
Social Current is hosting a webinar presented by Unite Us Feb. 10 from noon-1 p.m. ET on maximizing investments in community-based services. Register now to learn how technology can play a critical role in increasingly bringing together funding streams to sustainably fund the services needed to improve community health and well-being.
About Social Current
Social Current activates the power of the social sector by bringing together a dynamic network of human/social service organizations and partners. Leveraging the collective experience of the field and research, we energize and activate the sector and drive continuous evolution and improvement. Together with our network, Social Current amplifies the work of the social sector through collaboration, innovation, policy, and practice excellence. We offer access to intellectual capital of thousands of professionals within our network through peer groups, learning opportunities, collective advocacy, individualized consultation, tools, and resources that address the sector's most critical challenges. Together, we will fuel each other's knowledge, expertise, and experience to spark a real and lasting impact.
About Unite Us
Unite Us is a technology company that builds coordinated care networks of health and social service providers. With Unite Us, providers across sectors can send and receive secure electronic referrals, track every person's total health journey, and report on tangible outcomes across a full range of services in a centralized, cohesive, and collaborative ecosystem. Unite Us' dedicated team builds authentic, lasting partnerships with local organizations to ensure their networks have a solid foundation, launch successfully, and continue to grow and thrive. This HITRUST certified social care infrastructure helps communities transform their ability to work together and measure impact at scale. Follow Unite Us on LinkedIn, Twitter, Instagram and Facebook.
Social Current has released its 2021 U.S. Human Services Workforce Trends and Compensation Study. Use this report to help your organization stay competitive and high performing, hire top candidates, and retain the best employees.
This year's report has been informed by data from more than 230 nonprofit human services organizations and features detailed salary information on the top executive, professional, direct service, and support staff positions.
The study provides compensation data for 60 positions:
Chief executive
Professional staff: 16 positions
Direct services Staff: 22 positions
Support staff: 21 positions
The 2021 survey also included a section on human services workforce trends. This information builds on data collected in 2017 and 2019. The trend report addresses topics including recruitment, retention, turnover, and advancing equity. New this year is a section on how organizations adapted to the COVID-19 pandemic.
The trend report is based on survey questions developed in consultation with human resources professionals at community-based organizations. Use this baseline data, which is designed for benchmarking and goal setting, to encourage conversations, generate ideas, identify priorities, and inspire new questions.
Key Findings of the Study
Nearly 70% of participating organizations believe that not having a formal retention plan at least somewhat hinders their organizations' progress to some degree, yet many report financial and administrative barriers to implementation.
Staff with the highest turnover levels are direct service and support level staff.
Almost 70% of responding organizations indicated they are engaged in activities focused on advancing equity, diversity, and inclusion at the staff or individual levels.
Over 90% of participating organizations plan to work in the office again (in some form) when the pandemic improves.
Download the 2021 Report
Download the 2021 U.S. Human Services Workforce Trends and Compensation Study online.
If your organization participated in this year's survey, the point of contact identified in your survey response was sent an email Nov. 16 with a coupon code for accessing the report. Contact the Evaluation and Research Team with questions.
Download the 2021/2020 Report Bundle
The 2021 report complements the 2020 U.S. Human Services Compensation Study, which focuses on executive, director, and management positions. Purchasing the 2020 and 2021 report bundle provides complete compensation data for the full range of staff at your organization. It also includes in-depth information on workforce trends.
Free Upcoming Human Resources Webinars
The State of Vaccine Mandates and Community-Based Organizations
Dec. 1 from 2-3 p.m. ET
Beyond the Great Resignation: How to Future-Proof Your Hiring
Dec. 2 from 3-4 p.m. ET
Contact the Social Current Evaluation and Research Team with questions.
On Nov. 4, the U.S. Department of Labor's Occupational Safety and Health Administration (OSHA) issued a new federal rule mandating COVID-19 vaccinations or a minimum of weekly testing for workers at U.S. companies with 100 or more employees (see the OSHA webinar recording: COVID-19 Vaccination and Testing Emergency Temporary Standard). The Biden administration also released a new rule through the Centers for Medicare and Medicaid Services (CMS) that requires workers at health care facilities participating in Medicare or Medicaid to be fully vaccinated by Jan. 4, 2022. However, most home- and community-based organizations are excluded from the definition of a "covered entity," as the rule provides an exemption for certain services. For additional details, see our Nov. 8 federal update.
Leaders of community-based organizations are finding themselves needing to determine their organizations' paths for creating and upholding vaccine policies, a topic that was covered in the Dec. 1 webinar, Critical Conversation: The State of Vaccine Mandates and Community-Based Organizations. Leaders are also finding that their community partnerships are a powerful resource for support and guidance around vaccine hesitancy that could be present in their staff and community, particularly when it comes to health equity in underserved communities.
To help community-based organizations navigate this complex issue, this list of resources breaks down key considerations and includes tools and tips to meet compliance requirements and address vaccine polarization present in many workforce environments and communities.
OSHA Emergency Temporary Standard (ETS)
COVID-19 Vaccination and Testing ETS Landing Page
United States. Dept. of Labor
Includes links to the full Federal Register rule, webinar overview, fact sheets, FAQ, social media toolkit, and sample policy templates.
CMS Emergency Regulation
Biden-Harris Administration Issues Emergency Regulation Requiring COVID-19 Vaccination for Health Care Workers
Centers for Medicare & Medicaid Services
Press release with links to the interim final rule and list of FAQs
Employer Compliance Tips
OSHA Emergency Temporary Standard: COVID-19 Vaccination and Testing Requirements for Larger Employers
National Council of Nonprofits
Summary that answers most nonprofit questions and aids nonprofit employers seeking to determine coverage and comply with the standard. It includes compliance tips, how employees are counted, who is exempt, and what the requirement means in real terms.
CMS Announces New COVID-19 Vaccination Requirements for Health Care Facilities under Medicare and Medicaid Programs
National Association of Counties
Brief summary of the eligibility, requirements, and compliance deadlines under the interim final rule.
How to Comply with OSHA's COVID-19 Vaccination Emergency Temporary Standard
SHRM
Step-by-step guide for determining employee vaccination status, testing logistics, paid time off, remote workers, written policies, communications, and reporting and record keeping.
5-Step Plan for Employers After President Biden Announces Workplace Vaccine Mandates
Fisher Phillips
Five-step action plan includes tips on developing a plan for handling accommodation requests, preparing for OSHA complaints and inspections, etc.
How Employers Can Handle Confidentiality and Privacy Concerns Related to Collecting COVID-19 Vaccine Information
Fisher Phillips
Important points to keep in mind when tracking, collecting, or disclosing an employee's vaccination status in certain circumstances.
An Employer's Guide to Navigating Third-Party Vaccine Mandates on Visitors, Vendors, and More
Fisher Phillips
Includes information about how to enforce your own COVID-19 policy on customers, contractors, and guests.
Equity
Social Current serves on the advisory board of the National Covid-19 Resiliency Network (NCRN), to mitigate the impact of COVID-19 on racial and ethnic minority, rural, and socially vulnerable populations. Stay up to date with new resources about COVID-19 by joining the network and follow them on social media.
Emphasizing Equity in COVID-19 Vaccine Requirements
Made to Save
Includes many ways to focus on equity aligned with the principles of health and safety, lived experiences of those who are affected, and information and access.
Want People to Take the COVID-19 Vaccine? Confront Racism in Health Care
The Commonwealth Fund
Shanoor Seervai talks to Rhea Boyd, M.D., a pediatrician and public health advocate, about what it takes to dismantle the historic racism that has long prevented people of color from getting the health care they need.
COVID-19 Vaccine Equity
Centers for Disease Control and Prevention
Use these resources to engage with communities that have been affected by COVID-19. Many of the resources available can be tailored for racial and ethnic minority communities.
Vaccine Hesitancy
Vaccinate with Confidence
Centers for Disease Control and Prevention
Includes links to How to Build Healthcare Personnel's Confidence in COVID-19 Vaccines, strategies for workplaces, and reports about the status of COVID-19 vaccine confidence.
Language that Works to Improve Vaccine Acceptance: Communications Cheat Sheet
de Beaumont
Recommendations derived from data in a nationwide survey of 1,400 registered voters with an oversample of 300 Black Americans and 300 Latinx Americans.
What Role Do Culture and Morale Play in Vaccine Mandates?
Starner
Insight on potential resistance from employees who are not in a protected category but refuse to be vaccinated, as well as fears of the impact of a mandate on company culture and employee morale.
Testing
Three Steps to Smart Covid-19 Testing: A Guide for Employers
Duke-Margolis Center for Health Policy
This guide is designed to help businesses and other organizations develop appropriate Covid-19 testing plans to enable safe operations during the pandemic.
The Weekly Testing Option in Biden's COVID-19 Mandate: Prepare Now for a Fast Start
Gartner
Covers what tests to accept, whether your company must pay for the tests, where to have employees tested, how to verify test results, and how to deal with non-compliance.
Do We Have to Pay for That? Part 1—COVID-19 Vaccination, Testing, and Screening Activities
National Law Review
Looks at vaccination, testing, and screening considerations during and outside of working hours.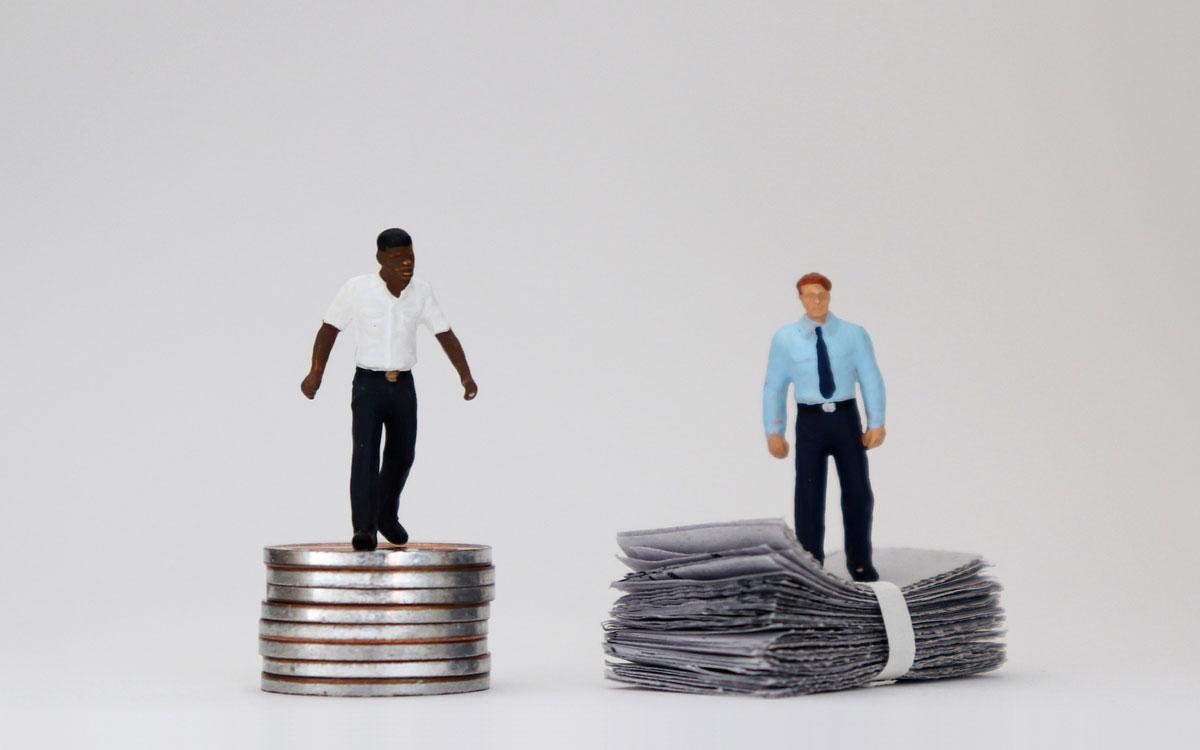 We have also come to this hallowed spot to remind America of the fierce urgency of now. This is no time to engage in the luxury of cooling off or to take the tranquilizing drug of gradualism. Now is the time to make real the promises of democracy. — Dr. Martin Luther King Jr. (more…)
A big thank you to Peer Reviewer and Executive Director of Champions for Children, Inc. Amy Haile for this guest post!
Few nonprofit organizations are prepared for the transition of executive leadership that is coming and the impact it will have on their mission.
Every time a nonprofit has a transition at the CEO level, this shift in leadership impacts the organization's financial stability, strategic direction, and employee engagement. But a 2017 survey found that only 27% of nonprofit organizations have a succession plan. Knowing the impact of executive transition on the ability of the organization to maintain a focus on delivering services to meet its mission, the Council on Accreditation (COA) requires a succession plan as evidence for its Governance 5.04 Standard: to ensure continuity during transitions in leadership, the organization maintains succession planning procedures and a succession plan.
As an Executive Director, COA Peer Reviewer, and a doctorate student of public health, I set out on a journey to seek solutions that would help nonprofit organizations bridge the gap to create and sustain their succession planning process.  For this study I interviewed 18 community-based nonprofit organization chief executives to gather insights into the barriers and solutions to succession planning.  
CEO interview results
One of the first observations emerging from the interviews was the shared belief that a nonprofit organization's current CEO has a responsibility of putting the greater good of the organization and its mission in front of the needs of the individual. For example, there was conversation regarding the need for a resigning CEO to provide extended notice of no less than six months, with a year preferable and two years ideal. It was opined that this length of notice was required to sufficiently prepare the organization for the transition and not believed to be burdensome in the event of a CEO's retirement. However, many interviewed CEOs noted this type of notice would be unlikely for a CEO seeking another position.
There was universal agreement from the interviewed CEOs that succession planning is more than planning the replacement of the CEO position. It is about other key positions and building a leadership legacy with leader development within the organization. This theme is about being intentional and the CEO creating opportunities for new leaders to emerge within the organization as well as building external relationships beyond the CEO with the community of funders, partners, donors, as well as local, state, and national organizations. Leadership development comes outside the envelope of 'management' and 'supervision.' It is about creating and encouraging employees to accept stretch assignments. Several interviewed CEOs saw these types of project-based assignments as a mechanism to create bridges for more employees to be visible within the organization as emerging leaders and an opportunity to address equity. 
A guidebook for best practices
This study culminated in the creation of a 'Guidebook to Succession Planning for Nonprofit Organizations: A quick start framework to start and sustain succession planning.'  This guidebook contains many of the suggested elements outlined in Governance 5.04, such as: 
Identifying the critical positions within the organization and their key leadership and management functions.
Describing under what conditions interim authority can be delegated for those positions, including unexpected leadership disruptions and planned departures, and the limitations of that authority.
Outlining to whom various leadership and management functions will be delegated.
Delineating the governing body and staff responsibilities as they relate to transition planning.
Creating a plan for how succession planning and leadership transitions will be communicated to the governing body, staff, and other relevant stakeholders; and
Implementing mechanics that assess readiness to assume leadership positions and for providing training, mentorship, and other leadership development opportunities to support readiness.
Reviewed by nonprofit leaders, this Guidebook describes succession planning as an iterative process and for leaders to expect the plan to mature with reflection and use. To help begin a pathway forward, the guidebook establishes a three-phase approach: start with emergency planning, adopt a framework for leader development, and establish regular conversations regarding succession planning with organization leadership- including the concept of 'legacy planning'.
The Guidebook provides a brief background with succession planning based on a thorough literature review, guiding principles based on the themes from this research project, and strategies on how to make the plan work. Woven throughout the guidebook are links and titles of other tools, further learning opportunities, and templates to ease the journey. Finally, the guidebook concludes with a sample plan.
Through a partnership with the Nonprofit Leadership Center (nlctb.org), this Guidebook is included in their Resource page and is available via a PDF downloaded file here.
---
Boardsource. (2017). Leading with intent: 2017 national index of nonprofit board practices [PDF file]. Retrieved June 22, 2019, from https://leadingwithintent.org/wp-content/uploads/2017/11/LWI-2017.pdf?&__hstc=98438528.6d8781303100e141f38fe0ae44711c9b.1561084719570.1561084719570.1561235983673.2&__hssc=98438528.1.1561235983673&__hsfp=4273204199
Froelich, K., McKee, G., & Rathge, R. (2011). Succession planning in nonprofit organizations. Nonprofit Management & Leadership, 22(1), 3–20. https://doi.org/10.1002/nml.20037'
Giambatista, R. C., Rowe, W. G., & Riaz, S. (2005). Nothing succeeds like succession: A critical review of leader succession literature since 1994. The Leadership Quarterly, 16(6), 963–991. https://doi.org/10.1016/j.leaqua.2005.09.005
Schepker, D. J., Kim, Y., Patel, P. C., Thatcher, S. M. B., & Campion, M. C. (2017). CEO succession, strategic change, and post-succession performance: A meta-analysis. The Leadership Quarterly, 28(6), 701–720. https://doi.org/10.1016/j.leaqua.2017.03.001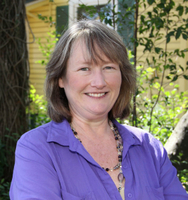 Amy Haile
Amy Haile is the Executive Director of Champions for Children, Inc., the Tampa Bay region's leading agency focused on the prevention of child abuse and neglect, which is accomplished through evidence-based family education programs that promote positive parenting and child development. Amy blends 30 years of private and public service experience and is completing a Doctor of Public Health degree from the University of South Florida, where she has focused her research on succession planning in nonprofit organizations. Her role as a Peer Reviewer allows her to witness how other family-serving organizations are innovating and implementing best practices across the country.
In 2016, COA began our 2020 strategic planning process. We talked with and surveyed our network on their reasons for seeking COA accreditation and how we could provide even more value to their experience. One recurring theme was the need for data. Our organizations employ sophisticated quality improvement systems to manage their success, but respondents noted a lack of quality external benchmark data to complement their internal data.
History
COA's pilot benchmarking program launched in the summer of 2016 as part of COA's Maintenance of Accreditation (MOA) process. It was based on two years of research and replaced our old, narrative-driven MOA process. In the old process, organizations would write an extensive overview of their PQI activities in the past 12 months, and COA would review these narratives and provide feedback. It was a time- and resource-intensive process, and at the end of the day provided little value to COA or our accredited organizations.
We wanted to create a system which had 360-degree value for our network, and this idea was the genesis of the pilot benchmarking program. By collecting, aggregating, and sharing data, we created a system which provided value to all parties:
COA can better understand our network
Organizations are monitoring basic key performance indicators to understand their performance; and
Our network, as a whole, is enriched with comparative benchmark data.
We started with five measures of organizational health and sustainability: days cash on hand, staff retention rate, management retention rate, average staff tenure, and rate of substantiated grievances. Organizations resoundingly preferred this system and, based on feedback from our network, it surfaced again and again as a priority for us during our strategic planning process for 2020. Based on feedback from our network, we're enhancing this system to collect and share back even more benchmark performance data.
Goals
We had three primary goals for refining our benchmarking program:
Universal measures: COA accredits over 60 services and works with a plethora of organizations within the human and social services space. When selecting new measures for this program, we stuck with measures of organization health and sustainability because these are applicable to human and social service organizations of any size or purpose.
Unlike any other benchmarking services available to our network: we knew we needed a unique benchmarking program which provided:

Segmentation logic. Much of the benchmark data available to our sector is not specific to human and social service organizations. Many times, data is collected from all tax-exempt entities. But, it's just not valuable for our network to be compared to animal welfare organizations, arts nonprofits, and similar entities. Our program is focused solely on human and social service organizations. In addition, we're using all of our data to create very narrow segments or clusters of organization for even more valuable comparisons. In future iterations, we hope to roll out custom segmentation for our end-users.

Improved data collection methodology: as a part of the new MOA process, we're collecting benchmark data from our network annually and associating it with a discrete fiscal year. This ensures we have a consistent and reliable flow of data to share back with our network.
New Benchmarking Program
Starting in 2020, all organizations accredited under COA's Private and Canadian organization accreditation will provide data via an Annual Report. This report is due 60 days after the start of your fiscal year and collects data on your prior fiscal year. It is part of our Maintenance of Accreditation process, and organizations must complete this report to maintain their accredited status. Here's how the process will work:
COA will notify your organization's primary contact 60 days before the Annual Report is due. This should land around the first day of your new fiscal year.

Once this notification is received, organizations can access their Annual Report cycle via their MyCOA Portal.
The MyCOA Portal has step-by-step instructions for gathering and inputting the requested data.
Step-by-step guide to completing the Annual Report
Around the start of your fiscal year, your organization's primary contact will receive an email inviting you to complete your Annual Report. It will list the due date and steps for completing the report.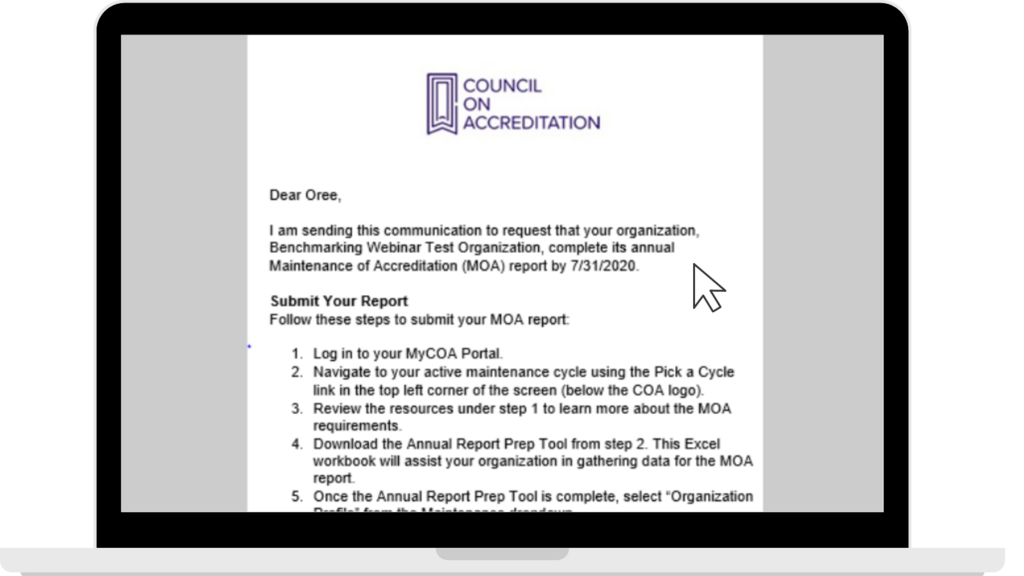 Next, log in to your MyCOA Portal. Use the Pick a Cycle link to navigate to the correct cycle. In this example, the organization's Annual Report is currently due. In addition, the organization has 2 Maintenance Fee cycles in 2020 and 2021; for these cycles, only the Maintenance Fee is due. To complete the Annual Report, select "2020 Annual Report."
On this page, the timeline will show when the Annual Report is due – in this case, on 12/31/2020. Select "Continue."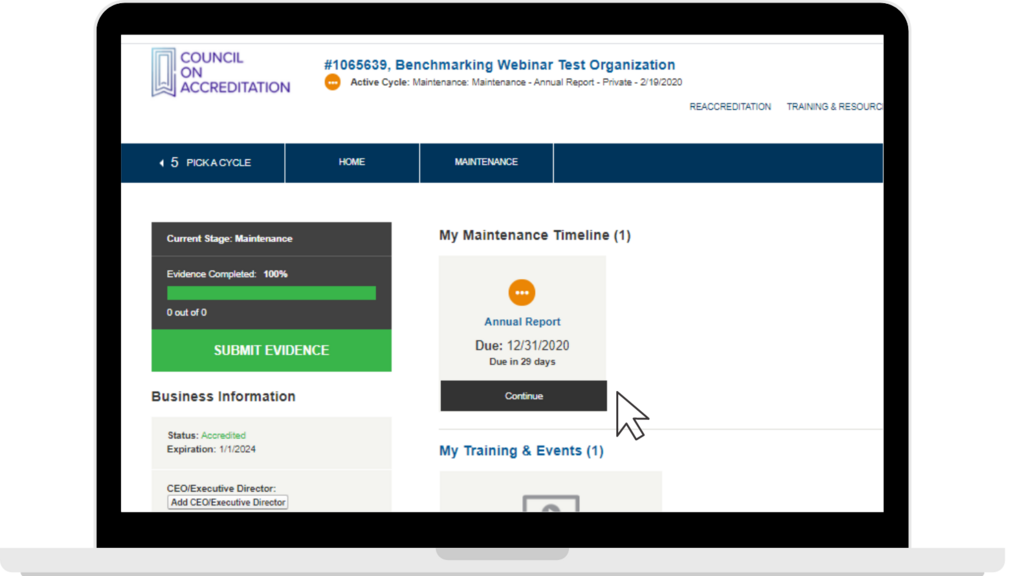 This page gives a step-by-step overview of how to complete the Annual Report.
Step 1
If you'd like, you can review the Annual Report requirements and FAQs using the links in Step 1.
Step 2
COA understands that, oftentimes, only one or two staff have access to the MyCOA Portal. So, we created the Annual Report Prep Tool to help you gather your data before inputting it into the MyCOA Portal. Click the DOWNLOAD button in step 2; COA will merge any data we may already have into this document so you're not doing duplicative work. Share the Prep Tool with relevant staff to gather your data. Please note the completion of the Prep Tool is optional. The Prep Tool is for internal records only and does not need to be submitted to COA.
Step 3
In order to complete the Annual Report, all data must be submitted electronically in your MyCOA portal. Hover over the MAINTENANCE tab in the top toolbar, and select "Annual Report from the dropdown menu.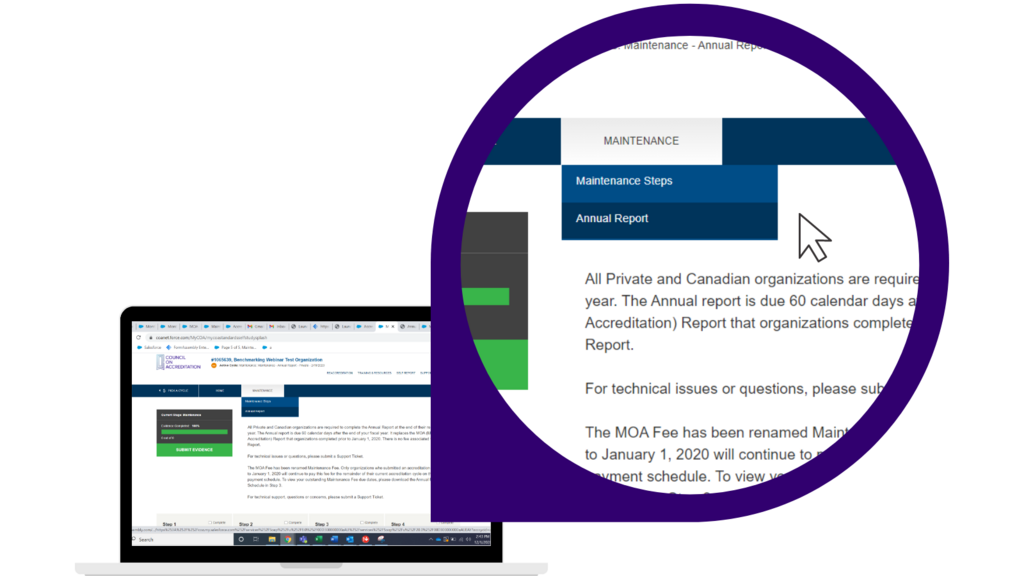 This will open the Annual Report electronic submission form.
If you used the Prep Tool, copy the information from the Prep Tool into this form. You'll notice that the questions are in the exact same order as in the Prep Tool. You can save at any time by click the "Save my progress and resume later" checkbox in the top right corner and then the Save button.
Once all information is entered, click the Submit button at the bottom of the form.
On the following page, confirm the accuracy of your data. Then, click Confirm to fully submit your data. At this point, you can also select "Print this page" to print a copy of your report for your records.
Once the data is submitted, the card on your Milestone Timeline will indicate the completion date and you are done with your submission! Please note: If you would like to make any changes to your submission, please submit a Support Ticket in the MyCOA portal.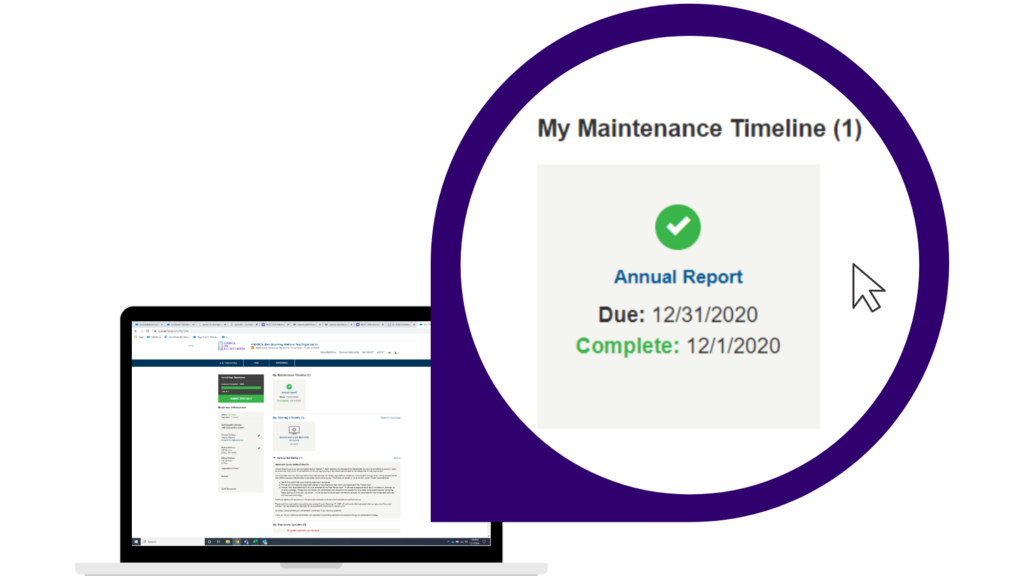 The Benchmark Report – available Q1 2021
Once COA receives all data from accredited organizations for a particular fiscal year, we'll unlock the benchmark report and allow you to access it from within your MyCOA Portal. Download a sample benchmark report here.
Segmentation Logic
The benchmark report uses segmentation logic to create a comparison group of organizations like yours; we then use this group to calculate your benchmark figures. We use data on your business type (nonprofit or forprofit), services provided, revenue, and geographic location to construct this group and ensure an apples-to-apples comparison. We want to provide you with data which has the utmost "comparison integrity" so you can be confident the benchmarks are meaningful to you.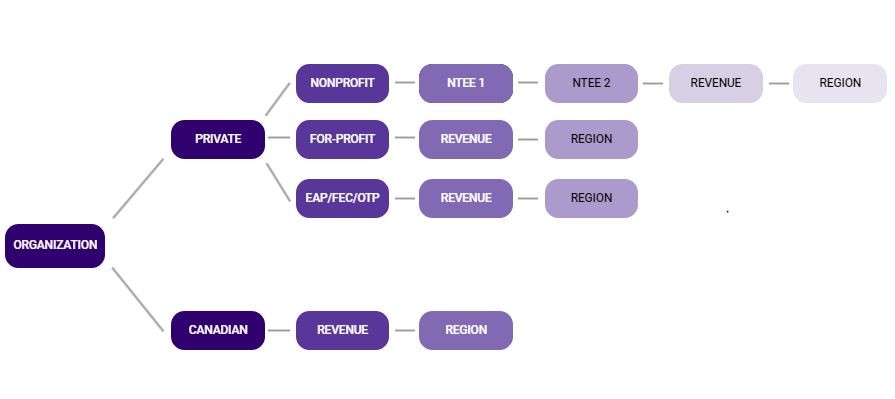 The cover page indicates the fiscal year to which the report pertains, describes the group of organizations against which your organization is compared, and lists the publication date – the date on which the report was generated.
The characteristics of your organization are used to generate the comparison group. The sample organization receiving this report is a nonprofit organization accredited under COA's Private Organization Accreditation program and provides foster care services with a revenue between $5-10M. When generating your benchmark data, then, we pulled data only from organizations which fit these characteristics. This ensures the comparisons made in this document are valuable to the sample organization.
The following pages organize all benchmark metrics into their domains. First, we have the FINANCIAL HEALTH BENCHMARKS: each metric is given a title, a description of what it is and why it is important, and a chart comparing the sample organization's data to the average value of its comparison group. In this top metric, Months of Liquid Unrestricted Net Assets or LUNA, the sample organization and its comparison group had 6 months of LUNA, so the sample organization can be confident that its liquidity – as measured by LUNA – is within normal range for their type of organization.
Each subsequent page lists measures belonging to a particular performance domain, and follows the same structure: title, description, and a chart comparing your data against your comparison group.
Scrolling down, the ADDITIONAL DATA page shows all of the sample organization's data and the comparison figures in one view. We also provide the Percent Rank for each metric. The Percent Rank locates your organization within the comparison dataset. For example, the sample organization's Months of Liquid Unrestricted Net Assets has a percent rank of 33.3%. This means that the organization's Months of LUNA was higher than a third of organizations but lower than two-thirds of organizations in the comparison dataset. Percent rank is just another way of showing you how you compare to similar organizations.
The final page lists some FAQs. As your questions come in, we'll update this page with more information for reading and understanding your benchmark report.
Additional information
We have created a custom website with further information about COA's benchmarking program at www.coameasures.org.
If you missed our benchmarking webinars, please feel free to view the recording here.
If you have any further questions about changes to the maintenance of accreditation process, please feel free to contact Ingrid Zamudio, Data Science Manager. For questions specific to your organization, please submit a support ticket in your MyCOA portal.