September 13, 2022
@
4:00 am
–
September 14, 2022
@
1:00 pm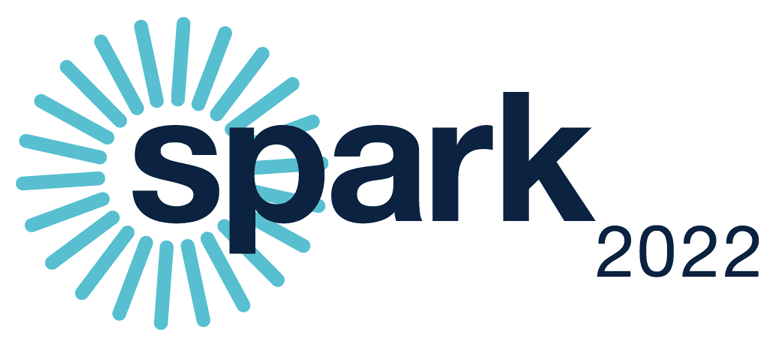 SPARK 2022 Recap!
About SPARK 2022
SPARK 2022 registration is now closed.
SPARK 2022 showcased sector insight and expertise to drive toward greater impact so all people can thrive. This in-person event convened leaders from across the human services ecosystem and focused on topics that are critical for organizational excellence and our sector's impact:
Brain Science
Equity, Diversity, and Inclusion
Organizational and Service Delivery Innovations
Workforce Resilience and Leadership
Fueled by a commitment to advance equity and improve the well-being of all people, we elevated important conversations around our most vexing challenges. Together, we shared inspiration and practical tools for implementing innovative practice, policy, and research.
The SPARK 2022 program is approved by the National Association of Social Workers for 10.5 continuing education contact hours.
Social Current has extended the early bird registration rate to Sept. 8. This is also the deadline to register for the event.
Organizations that Have an Enterprise Engagement Package and/or Achieved COA Accreditation
Early Bird Registration $550
Regular Registration $700
Other Organizations
Early Bird Registration $650
Regular Registration $800
Multiperson Registration Discount
Register five (5) full conference participants from the same organization and receive $50 off all subsequent full conference registrations from the same organization. Only one discount per person; no other discounts apply. Once all five full conference participants are registered, contact Social Current to receive the discount code for all subsequent full conference registrations.
Cancellation by Participant
All cancellation requests must be made in writing. Conference cancellations are subject to a $100 processing fee. Cancellation requests received after Sept. 1 will not be refunded. Credit toward future Social Current events is not currently possible. Participants unable to attend the conference may send an alternate participant. Exceptions to this cancellation policy may be made for those who have or suspect they have COVID-19. Notice of written cancellation or alternate participant requests must be emailed directly to Social Current.
Cancellation by Social Current
If Social Current cancels this conference, all registration fees will be refunded in full.
Social Current will require SPARK 2022 participants, including Social Current staff, to provide proof of vaccination. Anyone not providing proof of vaccination by the time of the event will be denied access. If participants have a religious or medical exemption, they can complete an attestation form when checking in at the conference.
Additionally, Social Current will implement health and safety protocols in accordance with the public health circumstances at the time of the conference and follow protocols and guidelines set forth by the CDC, the state of Maryland, the city of Baltimore, and the Hilton Hotel venue.
During registration, all participants will be asked to agree to the following:
COVID-19 Disclaimer: By checking this box, I understand that travel and gathering involves risk of illness. I (and on behalf of my guest(s)) waive and release Social Current and its sponsors and exhibitors, and their employees and agents, from and against claims, liabilities, and expenses arising from injury, sickness, or death from contraction or spread of COVID-19 or other communicable disease due to travel to or attendance at an event sponsored by Social Current. I agree to provide proof of vaccination and not attend any Social Current event if I feel ill, exhibit any symptoms, or test positive for the COVID-19 virus prior to the event. This waiver and release is binding on me and my heirs and successors.
Location
Hilton Baltimore Inner Harbor
401 West Pratt St.
Baltimore, MD 21201
Hotel Reservations
Social Current has arranged a special room rate of $220 for single or double occupancy, plus applicable taxes. Reserve your room online or by calling the hotel at 443-573-8700 by Aug. 26 and mentioning the group name Social Current SPARK 2022 to receive the discounted rate. This rate is available for stays up to three days prior to and after the conference, but it is subject to availability at the time of booking.
BWI Marshall Airport (10 mi.)
Baltimore/Washington International Thurgood Marshall Airport (BWI) offers several ground transportation options:
Light Rail: BWI Marshall Airport Light Rail Station is located immediately outside the lower level of the terminal building, adjacent to Concourse E. The Hilton Baltimore official stop is Pratt St Light Rail Station.
Uber and Lyft: Pickup is located at the terminal curbs on the Upper Level/Departures.
Monday, Sept. 12
11:30 a.m.-5:30 p.m.
Registration/Info Desk
1-5 p.m.
Pre-Conference Sessions
Tuesday, Sept. 13
7:30 a.m.-4 p.m.
Registration/Info Desk
8-9 a.m.
Breakfast with Exhibitors
9-10:30 a.m.
General Session
10:30-11 a.m.
Break with Exhibitors
11 a.m.-12:30 p.m.
Session A Workshops
12:45-1:45 p.m.
Networking Lunch
2-3:30 p.m.
Session B Workshops
4:30-5:30 p.m.
Networking Reception
Wednesday, Sept. 14
7:45 a.m.-5:30 p.m.
Registration/Info Desk
8-9 a.m.
Breakfast with Exhibitors
SPARK Exchanges Roundtable Discussions
9-10:30 a.m.
Session C Workshops
10:30-11 a.m.
Break with Exhibitors
11 a.m.-12:30 p.m.
Session D Workshops
12:45-1:45 p.m.
Networking Lunch
2-3:30 p.m.
Session E Workshops
3:45-5 p.m.
General Session
Thursday, Sept. 15
7:45-9 a.m.
Registration/Info Desk
8 a.m.-Noon
Post-Conference Sessions
Elizabeth Carey
President and CEO
Starr Commonwealth in Albion, Michigan
Joseph R. Everett
President & CEO
The Opportunity Alliance in South Portland, Maine
Louis E. GrowMiller, MSW, LSW
Senior Director, Family Services
Turning Points for Children, a PHMC affiliate in Philadelphia
Patricia Hillis-Clark, Psy.D.
Executive Director, Pennsylvania Children's Behavioral Health Services
Devereux Advanced Behavioral Health in Malvern, Pennsylvania
Lynn D. Kyle, MS, LCSW
Executive Director
Lampion Center in Evansville, Indiana
Kim Peterson, MA
Vice President of Change Management
Aviva Family and Children's Services in Los Angeles
Marlena Torres, CPA, MBA
COO
Children's Home Society of Washington in Seattle
Sponsor and Exhibit at SPARK 2022
Social Current's robust network of organizations and individuals across the country provides a unique opportunity for sponsors to reach C-suite decisionmakers in their target demographics. Simultaneously, sponsorship will allow brands to assess challenges unique to the sector, collaborate, and access network expertise.
Through our network, we can reach more than 12,000 human services professionals representing more than 1,800 organizations that serve nearly 70 million individuals.
For more information about the scale and influence of our network, as well as our sponsorship and exhibitor packages view our prospectus. Reserve your spot by emailing Joe Perrow of Social Current.
Pre-Conference Sessions
Volunteer Appreciation Reception
Sept. 12 from Noon-4 p.m. ET
Room Location: Key 9
We could not do what we do without our COA Accreditation volunteers. All active COA Accreditation volunteers are invited to join us as we gather and celebrate all that you do. Catch up with colleagues, share site visit stories from the road, and get ready for the start of SPARK 2022. There will be food, prizes, and a host of swag – so you will not want to miss this event.
Implicit Bias Workshop
Sept. 12 from 1-5 p.m. ET
Room Location: Key 10
This interactive workshop will help participants build their understanding of how implicit bias operates at the individual and organizational levels, along with a variety of strategies for addressing bias and building inclusive habits and practices.
Building Workforce Resilience: Core Concepts and Strategies to Partner with Staff
Sept. 12 from 1-5 p.m. ET
Room Location: Key 11
This pre-conference session will help leaders in all stages of their careers create positive staff cultures that promote excellence and compassion resilience. Participants will explore foundational concepts and strategies for building a workforce that can stay well and healthy while working in constantly changing environments and partnering with people who are experiencing complex challenges in their lives.
Social Current's Federal Policy Agenda: Advocacy Workshop and Opportunities for Impact
Sept. 12 from 1-5 p.m. ET
Room Location: Key 12
In this highly engaging pre-conference session, participants will discuss the powerful role that the social sector plays in the federal public policy space and engage in workshops to enhance their advocacy skills.
Post-Conference Sessions
Intensive Accreditation Training (IAT)
Sept. 15 from 8 a.m.-Noon
Room Location: Key 10
The Intensive Accreditation Training (IAT) is designed to prepare organizations to get the most out of their COA Accreditation experience. It provides an overview of the COA Accreditation process and standards, tips on how to manage the work, and advice for preparing for the site visit.
Opening Keynote
Empathy is a Verb: Lessons for Success in the Digital Age
What can we learn from the latest science on empathy? Plenty, especially in today's plugged-in world of virtual workplaces, electronic communications, and increasing personal disconnection. Michele Borba points out that we're all born hard-wired to care, but like all human qualities, empathy must be constantly activated. The habits that achieve this also make us more effective leaders, insightful managers, collaborative colleagues, and compassionate community members. Drawing from her inspiring TEDx talk, Borba will show us how to use the "Empathy Advantage" to build valuable social capital within our organizations and with clients, colleagues, and donors. Her motivating presentation will remind us that being more empathetic makes our workforce stronger, our communities more stable, our stakeholders more engaged and all of our relationships longer lasting.
Michele Borba
Educational Psychologist and Author
Dr. Michele Borba, Ed.D. is an internationally renowned educator, award-winning author, and parenting child expert recognized for her solution-based strategies to strengthen children's character, resilience, and reduce peer cruelty. A sought-after motivational speaker, she has spoken in 19 countries and five continents, and served as a consultant to hundreds of schools and corporations. Clients include Sesame Street, Harvard, U.S. Air Force Academy, 18 US Army Bases in Europe and the Asian-Pacific, H.R.H. the Crown Prince of Abu Dhabi. and a TEDx Talk: "Empathy Is a Verb." She offers realistic, research-based advice culled from a career working with over one million parents and educators worldwide.
Her awards include the National Educator Award (presented by the National Council of Self-Esteem), National Child Safety Award of 2016 by Child Safety Network, Santa Clara University's Outstanding Alumna Award, Outstanding Contribution to the Educational Profession by the Bureau of Education and Research, and a 2016 SHORTY nominee for "Best Social Media Influencer in Parenting." She was named Honorary Chairperson for Self-Esteem in Hong Kong, consultant for the Character Education and Civic Engagement for the U.S. Dept of Education, Disney Influencer, and Goodwill Ambassador for M.I.T.'s One Laptop per Child project. Board memberships include Parents, Character.org, Child Safety Network, Boys & Girls Club of America, USTA Sportsmanship Committee. Her proposal: "Ending School Violence and Bullying" (SB1667) was signed into California law in 2002.
Dr. Borba is a former classroom and special education teacher with a wide range of teaching experience, including work in a private practice with children with learning and emotional disabilities. She received a doctorate in educational psychology and counseling from the University of San Francisco, a master's in learning disabilities, a bachelor's from the University of Santa Clara, and a Life Teaching Credential from San Jose State University. She lives in Palm Springs, California, with her husband and has three grown sons.
Closing Keynote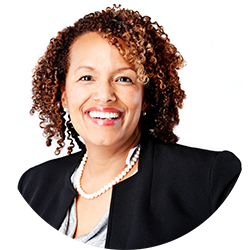 Diversity and Inclusion: How to Build a Culture of Belonging
During the closing keynote Heather Younger will draw on her personal experiences as the only child of an interfaith and interracial marriage. She'll inspire leaders to flex their empathy muscles and master the art of active listening to ensure every employee feels valued, respected, and supported.
Participants will take away:
A practical method to elicit feedback and unlock change and growth
Greater understanding of the role they play in creating belonging in the workplace
Inspiration to show up each workday as their most authentic selves
This keynote is perfect for leaders looking to build cultures of belonging at work, honor their colleagues' diverse experiences and perspectives, and educate themselves about others' challenges.
Heather R. Younger
Founder and CEO
Employee Fanatix
Heather R. Younger is the founder and CEO of Employee Fanatix, a leading employee engagement and consulting firm. She is a sought-after keynote speaker who brings revealing insights to the stage from over 25,000 employee experiences. A diversity, equity, and inclusion strategist, and the world's leading expert on listening at work, she is the host of the Leadership with Heart Podcast. Heather is a regular contributor to Forbes and Fast Company and is the best-selling author of The 7 Intuitive Laws of Employee Loyalty, which hit the top of the "Forbes Must-Read List for HR Professionals." Her latest best-selling book, The Art of Caring Leadership, teaches the radical power of caring support in leadership and in the workplace.
A former attorney who worked for years in corporate America, what is most important to know about Heather is that she brings a breadth of experience—extensive quantitative and qualitative research—and a truly deep passion for advocacy, resilience, human relations, and connection to every audience, every workshop, every consultation.
When not working, she is a mother of four and a self-proclaimed "soccer mom" who eats tons of chocolate for self-preservation.
The SPARK 2022 program is approved by the National Association of Social Workers for 10.5 continuing education contact hours.