Opening Keynote
Empathy is a Verb: Lessons for Success in the Digital Age
What can we learn from the latest science on empathy? Plenty, especially in today's plugged-in world of virtual workplaces, electronic communications, and increasing personal disconnection. Michele Borba points out that we're all born hard-wired to care, but like all human qualities, empathy must be constantly activated. The habits that achieve this also make us more effective leaders, insightful managers, collaborative colleagues, and compassionate community members. Drawing from her inspiring TEDx talk, Borba will show us how to use the "Empathy Advantage" to build valuable social capital within our organizations and with clients, colleagues, and donors. Her motivating presentation will remind us that being more empathetic makes our workforce stronger, our communities more stable, our stakeholders more engaged and all of our relationships longer lasting.
Michele Borba
Educational Psychologist and Author
Dr. Michele Borba, Ed.D. is an internationally renowned educator, award-winning author, and parenting child expert recognized for her solution-based strategies to strengthen children's character, resilience, and reduce peer cruelty. A sought-after motivational speaker, she has spoken in 19 countries and five continents, and served as a consultant to hundreds of schools and corporations. Clients include Sesame Street, Harvard, U.S. Air Force Academy, 18 US Army Bases in Europe and the Asian-Pacific, H.R.H. the Crown Prince of Abu Dhabi. and a TEDx Talk: "Empathy Is a Verb." She offers realistic, research-based advice culled from a career working with over one million parents and educators worldwide.
Her awards include the National Educator Award (presented by the National Council of Self-Esteem), National Child Safety Award of 2016 by Child Safety Network, Santa Clara University's Outstanding Alumna Award, Outstanding Contribution to the Educational Profession by the Bureau of Education and Research, and a 2016 SHORTY nominee for "Best Social Media Influencer in Parenting." She was named Honorary Chairperson for Self-Esteem in Hong Kong, consultant for the Character Education and Civic Engagement for the U.S. Dept of Education, Disney Influencer, and Goodwill Ambassador for M.I.T.'s One Laptop per Child project. Board memberships include Parents, Character.org, Child Safety Network, Boys & Girls Club of America, USTA Sportsmanship Committee. Her proposal: "Ending School Violence and Bullying" (SB1667) was signed into California law in 2002.
Dr. Borba is a former classroom and special education teacher with a wide range of teaching experience, including work in a private practice with children with learning and emotional disabilities. She received a doctorate in educational psychology and counseling from the University of San Francisco, a master's in learning disabilities, a bachelor's from the University of Santa Clara, and a Life Teaching Credential from San Jose State University. She lives in Palm Springs, California, with her husband and has three grown sons.
Closing Keynote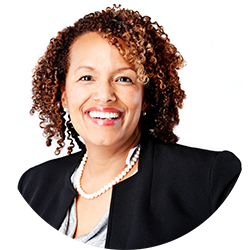 Diversity and Inclusion: How to Build a Culture of Belonging
During the closing keynote Heather Younger will draw on her personal experiences as the only child of an interfaith and interracial marriage. She'll inspire leaders to flex their empathy muscles and master the art of active listening to ensure every employee feels valued, respected, and supported.
Participants will take away:
A practical method to elicit feedback and unlock change and growth
Greater understanding of the role they play in creating belonging in the workplace
Inspiration to show up each workday as their most authentic selves
This keynote is perfect for leaders looking to build cultures of belonging at work, honor their colleagues' diverse experiences and perspectives, and educate themselves about others' challenges.
Heather R. Younger
Founder and CEO
Employee Fanatix
Heather R. Younger is the founder and CEO of Employee Fanatix, a leading employee engagement and consulting firm. She is a sought-after keynote speaker who brings revealing insights to the stage from over 25,000 employee experiences. A diversity, equity, and inclusion strategist, and the world's leading expert on listening at work, she is the host of the Leadership with Heart Podcast. Heather is a regular contributor to Forbes and Fast Company and is the best-selling author of The 7 Intuitive Laws of Employee Loyalty, which hit the top of the "Forbes Must-Read List for HR Professionals." Her latest best-selling book, The Art of Caring Leadership, teaches the radical power of caring support in leadership and in the workplace.
A former attorney who worked for years in corporate America, what is most important to know about Heather is that she brings a breadth of experience—extensive quantitative and qualitative research—and a truly deep passion for advocacy, resilience, human relations, and connection to every audience, every workshop, every consultation.
When not working, she is a mother of four and a self-proclaimed "soccer mom" who eats tons of chocolate for self-preservation.