How well does your strategic plan align with current best practices (GOV 2: Strategic and Annual Planning), while also leaving room for the agility needed to be successful in today's ever-changing world and stay true to your mission?
Please join us at SPARK 2022, Sept. 13-14 in Baltimore to gain tools and practical knowledge for implementing innovative practice, policy, and research. You won't want to miss the opportunity to hear from staff at Yellowstone Boys and Girls Ranch during their workshop, Moving from Strategic Planning to Strategic Action: Creating a Nimble and Innovative Organization, where you will:
Receive an introduction to the concepts of a Strategic Action Model
Be provided with tools and monitoring strategies which can be implemented to increase clarity and empower innovation within mission-directed parameters
Gain opportunities to practice the model using examples from the group
You'll also want to hear from staff at Child and Family Agency of Southeastern CT where they will share their model to improve staff morale and overall retention at the Build Your Bench: Investing and Retaining the Next Generation of Leaders workshop.
This conversation is critical as it's no secret that the workforce crisis has created huge challenges to meeting the needs of the most vulnerable individuals served by our sector. COA Accreditation's Training and Supervision (TS) standards focus on practices needed to ensure you have the competencies, support, and continuous learning opportunities you need to fulfill roles and meet the needs of the people you serve. The right programs and approaches to those standards can provide a proactive approach to staff retention, building positive team morale, and improved organization performance despite those ongoing barriers and challenges and ensures the needs of your community continue to be addressed.
If you're looking to get the most out of your COA Accreditation experience, be sure to attend the post-conference Intensive Accreditation Training session on Sept. 15 in Baltimore.
The 2022 edition of updates to the standards for COA Accreditation, a service of Social Current, have recently been released. These targeted enhancements to the standards are the result of our annual process and include changes based on ongoing collection and analysis of feedback received from our network, collaboration with diverse groups of subject matter experts, and a review of research and professional literature on identified trends and evolving practices.
Our collaborative update process is designed to ensure the standards remain up-to-date and field-informed, promoting improved outcomes for individuals, families, and communities.
Who's Affected
These changes impact private, public, and Canadian accredited organizations. The 2022 edition of updates will not impact organizations that are currently pursuing accreditation or re-accreditation and have already been assigned standards in the MyCOA portal.
When It's Happening
Standards will officially be released on the Social Current website on March 30.
Standards assignments for COA Accreditation begin April 4.
What's Changing in Our Standards
New Standards for Office-Based Opioid Treatment (DTX)
We have revised our standards for Day Treatment Services (DTX) to accommodate providers offering medication-assisted treatment under the Drug Addiction Treatment Act of 2000. The American Society of Addiction Medicine identifies ongoing maintenance medication with appropriate psychosocial treatment as the gold standard of care for opioid use disorder. Within the context of the opioid epidemic, this work supports improved access to quality programs offering this evidence-based treatment. The 2022 updates to DTX include:
Two new personnel standards for programs providing office-based opioid treatment
New personnel standards for peer support providers working in DTX programs
Expanded training requirements for clinical personnel providing treatment for alcohol and drug use disorders
A new Core Concept Standard, DTX 9: Office-Based Opioid Treatment
Interpretations and Examples throughout DTX to support standard implementation within the context of office-based opioid treatment programs
Additional Revisions
In response to feedback from our network, we are also releasing many minor revisions throughout the COA Accreditation standards to provide clarity and/or remain current with trends in the field. Some of the highlights include:
Clarifying the applicability of various standards through updated NAs (Not Applicable) and Notes
Updating the glossary with new and updated definitions, including a new definition for therapeutic interventions
Updated standards on several key practices including maintaining Naloxone on site (ASE 6.03) and the annual Board review of overall risk (GOV 5.05)
A full list of standards impacted by the 2022 updates can be found online.
Our Process
The 2022 COA Accreditation standards updates reflect changes made based on evolving practices, ongoing review of relevant literature, and the continuous feedback we receive from our network, including volunteer reviewers and accredited organizations. More specifically, updating the 2022 Standards involved:
Collection, in-depth review, and synthesis of prominent published research and professional literature in targeted areas
Review of standards drafts and discussion of trends in the field with Standards Advisory Panels comprised of subject matter experts, agency leaders, and service providers
Collection and review of feedback solicited from Social Current's network, including through the "Provide Feedback" button found in the MyCOA and VIP portals
Sharing drafts online for a period of field comment to solicit feedback from Social Current's network and the broader social service sector
Questions?
If you are an in-process or accredited organization, reach out to your accreditation coordinator.
If you are seeking accreditation for the first time, contact Joe Perrow.
For additional information about COA Accreditation standards, contact Melissa Dury.
The Council on Accreditation (COA) is proud to announce the publication of our 2021 Private Standards!
The new standards will affect private organizations seeking accreditation.
In response to feedback from accredited organizations, COA revised the standards update process in 2020 from ongoing/monthly updates to annual updates. The 2021 updates reflect that annual process and include changes that were made based on ongoing collection and analysis of feedback received from our organizations and volunteer reviewers, collaboration with diverse groups of subject matter experts, and a review of research and professional literature on identified trends and evolving practices.
The 2021 updates include:
New Standards for Office-Based Opioid Treatment (MHSU)
Updated Standards for Child and Youth Behavioral Health Programs (MHSU)
Updated Standards for Child and Family Development and Support (CFD)
Updated Standards for Family Preservation and Stabilization (FPS)
Updated Standards for Treatment Foster Care (FKC)
Updated Standards for Equity, Diversity, and Inclusion
Additional updates and revisions in response to the COVID-19 pandemic
You can download the detailed changes for each of the updated sections in our 2021 Update document available here or in your MyCOA portal.
Note: The 2021 Edition will not impact organizations that are currently pursuing accreditation or re-accreditation and have already been assigned standards in the MyCOA portal. If you are an in-process organization and have questions about the updates, please contact your Accreditation Coordinator.
A big thank you to Jody, our President & CEO, for this blog post.
After a successful due diligence process and Board and Member vote to merge, on January 1, 2021, the Alliance for Strong Families and Communities (Alliance) and the Council on Accreditation (COA) began its work to integrate operations and build a new organization. As the inaugural leader of the new organization, I know that there is a lot to consider and to do.
Our new organization is intended to be something distinctive, something different. While it will blend the assets of both the Alliance and COA, our intent is not to simply be "Alliance + COA." Our intent is to spark a current in the social sector—to create a dynamic, inclusive, multifaceted network that leverages the collective experience of the field, research, and each of the legacy organizations. As a new organization, we believe we can activate the power of the social sector and offer novel tools and resources to solve the social problems that plague communities and our nation.
As I said in my prior blog post on leading change, "Change is a collaborative process. Incumbent upon the authorized or designated leader of change is to inspire those around them and to make space for change to occur." Our first 30 days of operating together has repeatedly shown me the accuracy of those words. To create this new organization, we will need to engage all our staff, their various skills and talents, and our entire network and their insights and perspectives. We will also need patience.
What we are experiencing as we undertake this merger is really what leaders experience every day. We are operating on parallel paths, engaging in a concurrent process of operating, learning, and creating. Over the past month, as I have dug deeper into learning mode, I have once again been reminded that amid change there are more questions than answers. That is uncomfortable space for me, and I think it probably is for many of us.
As much as we all like to think of ourselves as being able to live in the gray, to tolerate ambiguity, it doesn't come easily. It would be easier to start throwing out fixes and solutions that would cross things off the list and put people at ease by providing clarity–even if they didn't like the answers. I go back to my clinical days though and think about all that I learned from families. Initially, it seemed far easier to try to solve the challenges families faced by throwing services at them after making assumptions instead of really learning about their needs – from their perspective. What I learned was that to do it right (or at least better), it took time and it took the building of a relationship. And in the context of that relationship over time, a true (and more accurate) sense of the right solutions emerged. These were informed by multiple perspectives and multiple sources of information, co-created. That is who we aspire to be as we move forward–unifying and purposeful; an organization that creates intrepid opportunities to disrupt the status quo and leads to more just and equitable outcomes.
As I reflect on our first thirty days of operating together, instead of being unnerved by the growing list of questions, I am learning to be energized. I am also learning to be comforted by the fact that we have a vast network of staff and of supporters that will chime in to create the answers. With patience, and the reliance on the voices of many, our new organization will have an impact. I look forward to engaging with everyone to craft our new answers and way forward.
In many ways, this last year has created a crossroads for human service organizations. The effects of the COVID-19 pandemic have placed children and families of color at greater risk, with disproportionate impact on Black communities. Demands for a reckoning on racial injustice and inequity in this country have called for fundamental and overdue changes to systems, institutions, and practices.
COA is committed to an accreditation process that supports organizations to advance equity, diversity, and inclusion. Our work to focus on racial and other inequities includes identifying where our accreditation standards can be strengthened to reflect the expertise, lived experiences, and strategies at the forefront of anti-racism work, and also highlighting areas of current practice where organizations should look to address discrimination and disparity.
In this post, we highlight some of those key areas that speak to equity, diversity and inclusion, such as community involvement and advocacy; representation in the workforce; training content; data collection and measurement; and culturally responsive service provision.
---
Community involvement and advocacy
Human service organizations do not exist in a bubble. They are shaped and often constrained by the same systemic biases and inequities that exist in legislation, policies, regulations, and funding streams. Ongoing community involvement, that includes outreach, education, and advocacy, is one way organizations can leverage available resources for the communities they serve and amplify the voices of their stakeholders. Our governance standards reflect the importance of partnership and communication within the community to effect change within organizations, communities, and in the systems of which they are a part.
GOV 3.02
The organization conducts ongoing community outreach and education to:
communicate its mission, role, functions, capacities, and scope of services;
provide information about the strengths, needs, and challenges of the individuals, families, and groups it serves;
build community support and presence and maintain effective partnerships; and
elicit feedback as to unmet needs in the community that can be addressed by the organization as its top advocacy priorities.
Examples: Examples of public outreach and education activities may include:
regular communication with the media and the general public;
informing the public of the positive impact the organization's programs are having on the community and its residents; and
fostering positive relationships with the local media.
By building relationships and deeply engaging communities, organizations can identify unmet needs and build coalitions with the capacity to advocate for legislation and policies that will positively impact children, adults, and families. Organizations connect people to services, support, resources, and neighbors. COA promotes collaboration as a way for organizations to refine and leverage their service array and stay responsive to changing community needs. The standards emphasize the importance of collaboration within the organization and community at large through sustained communication across stakeholder groups.
GOV 3.03
The organization collaborates with community members and persons served to advocate for issues of mutual concern consistent with the organization's mission, such as:
making improvements to existing services;
filling gaps in service to offer a full array of community supports;
the full and appropriate implementation of applicable laws and regulations regarding issues concerning the service population;
improved supports and accommodations for individuals with special needs;
addressing community-specific needs including cultural and linguistic diversity; and
service coordination.
Representation in the workforce
COA is intentional about communities served being represented throughout an organization, from program staff to executive leadership to the governing body. It is vital that the people served feel connected to and identify with the people and organizations with whom they are involved. A key part of assuring representation in the workforce is managing recruitment efforts that includes a diverse applicant pool. Recognizing that this process is important to an organization's workforce assessment, the human resources (HR) and service standards speak to specific recruitment criteria, such as cultural identities and relevant lived experience, along with retention support.
HR 2.01
Job descriptions and selection criteria:
state the credentials, job expectations, core competencies, essential functions, and responsibilities for each position or group of like positions;
include sensitivity to the service population's cultural and socioeconomic characteristics; and
are reviewed and updated regularly to evaluate their continued relevancy against the needs and goals of the organization's programs and persons served.
Examples: Credentials can include, for example: education, training, relevant experience, competence in required role, recommendations of peers and former employers, and any available state registration, licensing or certification for the respective discipline.
RTX 2.01
Residential counselors, youth workers, adult care, and child care workers have:
a bachelor's degree or are actively, continuously pursuing the degree;
the personal characteristics and experience to collaborate with and provide appropriate care to residents, gain their respect, guide their development, and participate in their overall treatment program;
the ability to support constructive resident-family visitation and resident involvement in community activities;
the temperament to work with, and care for, children, youth, adults, or families with special needs, as appropriate; and
the ability to work effectively with the treatment team and other internal and external stakeholders.
Training content
In the human services sector, the workforce often does not adequately reflect the people and communities served, particularly when it comes to race and ethnicity. To address this gap, it is imperative that organizations ensure that personnel have the knowledge, awareness, support, interest, and skills necessary to effectively engage people with whom they may not share the same privileges, identities, cultural practices, or other lived experiences. Our training standards reflect the belief that staff cannot serve people effectively without a comprehensive understanding of the systemic forces, including racial bias and discrimination, that continue to shape the lives of generations of individuals and families.
TS 2.04
Training for direct service personnel addresses differences within the organization's service population, as appropriate to the type of service being provided, including:
interventions that address cultural and socioeconomic factors in service delivery;
the role cultural identity plays in motivating human behavior;
procedures for working with non-English speaking persons or individuals with communication impairments;
understanding bias or discrimination;
recognizing individuals and families with special needs;
the needs of individuals and families in crisis, including recognizing and responding to a mental health crisis;
the needs of victims of violence, abuse, or neglect and their family members; and
basic health and medical needs of the service population.
Ensuring professional learning opportunities for all staff is essential to combating inequity in organizations where people from historically marginalized communities are frequently underrepresented in leadership roles and experience obstacles to advancement. COA's training standards require organizations to maintain culturally responsive personnel development plans to ensure that staff have the competencies needed not only to fulfill their existing roles, but also to advance in their field and in the organization. The standards emphasize the importance of utilizing a wide array of educational methods and evaluating training effectiveness in a way that considers varying learning styles, needs, and professional development goals.
TS 1.01
A personnel development plan:
is reviewed annually and revised in accord with an assessment of the organization's training needs;
incorporates a variety of educational methods;
is responsive to the history, cultural backgrounds, and related needs of personnel;
outlines specific competency expectations for each job category;
provides the opportunity for personnel to fulfill the continuing education requirements of their respective professions; and
provides opportunities to support advancement within the organization and profession.
Examples: Educational methods can include, but are not limited to:
interactive classroom trainings;
webinars, self-paced trainings, or other computer-assisted training models;
coaching; and
structured peer support opportunities.
Data collection and measurement
In order to recognize and better understand patterns of systemic racism in human services and formulate just solutions, organizations need to have the right tools to evaluate where and how disproportionality and disparity exist. COA's Performance and Quality Improvement (PQI) standards provide the framework for implementation of a sustainable, organization-wide PQI system that increases the organization's capacity to make data-informed decisions thatsupport achievement of performance targets, program goals, positive outcomes, and level of satisfaction experienced by the staff and people served.
Organizations can identify disproportionality and address disparity in outcomes by tracking indicators according to race/ethnicity and other demographic variables. Data analysis is key to addressing racial disparity at all levels of decision-making, from strategic and annual planning to program evaluation.
PQI 5.01
Procedures for collecting, reviewing, and aggregating data include:
cleaning data to ensure data integrity including accuracy, completeness, timeliness, uniqueness, and outliers;
quarterly aggregation of data; and
developing reports for analysis and interpretation.
PQI 5.04
The organization:
reviews PQI findings and stakeholder feedback and takes action, when indicated; and
monitors the effectiveness of actions taken and modifies implemented improvements, as needed.
Culturally responsive service provision
The damaging effects of institutional racial inequality are particularly evident in the child welfare system, where Black and brown children and families are disproportionally represented, experience service inequities, and have significantly poorer outcomes as a result. The Family Foster Care and Kinship Care (FKC) and Public Child and Family Services (CFS) standards speak directly to the necessity of culturally relevant and responsive service provision, including identifying appropriate services for birth families, assessing and training prospective resource families, and strengthening each child's support network.
FKC 19.03
Resource parents receive training and support to demonstrate competency in:
supporting and facilitating children's emotional, physical, and legal permanency;
meeting children's developmental needs across life domains, including addressing any developmental delays;
caring for a child of a different race, ethnicity, culture, religion, sexual orientation, or gender identity;
supporting children's social identity development;
supporting and facilitating family relationships, friendships, cultural ties, and community connections;
collaborating with family team members and service providers; and
managing the caregiver role, self-care, and the impact on the family.
When it has been determined to be unsafe for a child to remain with their family, prioritizing placement with relative caregivers/kin and recruiting diverse foster or resource parents are key practices for ensuring that child's connection to their communities and their cultural identities remain. Additionally, annual resource family recruitment plans should include targeted outreach activities that reflect the needs and characteristics of children in care. COA's standards emphasize the importance of providing the support, investment, and resources necessary to address the unique needs of kinship caregivers in service to the children, families, and communities that they and the organizations with whom they partner serve.
FKC 7.03
In order to ensure children are in the most family-like and familiar setting possible, the organization makes reasonable efforts to ensure children are placed:
with siblings;
with kin; and
with families that reside within reasonable proximity to their family and home community.
---
COA is committed to ending systemic racism, oppression, and discrimination, and will continue to push forward standards of best practice that are relevant; reflect our commitment to equity, diversity, and inclusion; and support human services organizations in making positive, meaningful, and lasting impact in their communities.
As we continuously assess where the accreditation standards can be strengthened and further informed by best practices in anti-racism work, we want to hear from you. Please share your experiences and feedback about advocacy, staff development, training, and collecting outcomes by race at the link below. We welcome your input.
In response to the COVID-19 pandemic, COA made adaptations to the Site Visit, a foundational part of the accreditation review. Incorporating feedback from our volunteers and organizations, the new virtual review options both allow organizations to move forward with completing their accreditation requirements and prioritize the safety and health of our Volunteers, organizations, and the individuals they serve, all while maintaining the integrity and rigor of our accreditation process. The virtual review is fundamentally designed to minimize in-person interaction amid the pandemic. Conducting interviews and reviewing onsite documents/evidence is completed remotely, through the use of HIPAA-compliant secure environment. When an in-person walkthrough of the organization is needed, assignment of local volunteers is prioritized to minimize travel (and any related concern(s)), and safety guidelines are stressed and followed.
As the pandemic continues to challenge all facets of our lives, we are tested to think differently, creatively, and with flexibility to accommodate for these unpredictable times. The move to virtual reviews required a quick turnaround from planning to implementation, and the continual feedback we have received has helped to refine the process. As a result, COA has increased different ways of communicating expectations and providing support, such as developing a checklist to clarify steps of the virtual review, establishing monthly meetings with leads of the review team, and hosting webinars on virtual reviews for organizations and Volunteers.
The collaboration between Volunteers and organizations has been instrumental in the successful implementation of the virtual review. We are pleased to relay reflections from a Volunteer for COA as she experienced her first virtual review!
COA – The virtual way
As I embarked on my July 2020 COA Zoom Site Visit journey as Team Leader, I questioned whether this was going to be the next future reality. I wondered if this was something I was comfortable doing and whether the integrity of the accreditation process was being compromised.
Also I thought…
What happened to the travel and enjoying new places? Good food? Spending time with colleagues? Meeting new people? Witnessing organizations taking care of those in their communities? Developing new programs? Learning and growing?
Retiring and giving back to the field was not supposed to be "virtual" – or was it?
We began with a team of four, and none of us had met or worked together (which make me think "great- now I have to juggle three new personalities as well as agency folks!"). We also covered a large portion of time zones, from Hawaii to mainland central time. "Oy vey!"
The team turned out to be one of the best I have ever worked with: a caring, dedicated group of professionals that were knowledgeable, patient, and flexible. We were not the most techie group, but thanks to the help of COA's IT staff, we all figured it out.
I began with contacting the POC, using my social work skills to convince her that we knew what we were doing and everything would go smoothly. We started with a team Zoom meeting a few weeks before the review. We invited the agency POC to join the Zoom meeting so everyone could become acquainted, ask questions, and feel comfortable. It was decided that each Peer would set up their own schedule with the POC, with me only having to decide on the Entrance, Pre-Exit, Exit, and team meetings and my own schedule. Wow…it worked fantastic; everyone was happy! We decided to have a dedicated person assigned to each Peer that would be their "go-to" for all aspects of the review. (I secretly prayed that no one would drop off this review as I was beginning to feel some anxiety – I was worried it was going too well to be true!). We all began working at least week ahead of the actual date for the review, reviewing the Box, conducting interviews, going on virtual ASE facility tours, and working out IT bugs. We developed a back up plan with a conference number in case of any Zoom failure.
After numerous phone calls and emails, we had our team Zoom Sunday night to touch base before the Entrance Meeting. Everyone scheduled their Zooms with POC, and she did the invites from there. Easy!
Ready, set, g… no. One Peer couldn't get Zoom fully working – maybe they would have it ready by the a.m.
Monday morning, all four Peer Reviewers were visible, and there were over 30 in attendance at the Entrance. We did the usual introductions, covered the COA process, and asked the agency CEO to give us some background and history of the organization. It was well done, and made up for some of the missed onsite interaction. The POC did an incredible job facilitating the whole process.
Zooms happened all day long without a glitch. Agency staff made sure the connections and introductions happened, and then dropped off the Zoom meeting.
Review of records and screen sharing went well, although we were not able to review as many records as we usually do. Meetings started and ended on time. Very few schedule changes were needed.
We added an additional Peer on the fly to agency to review the crisis center. No standards or ratings were assigned to her. She was just in and out and sent me a report – thank you! – which was wonderful.
Tuesday was the same. Very organized. Wednesday we Zoomed with team again before exit. We were all pretty Zoomed out and ready to be done. For the Exit Meeting, we had 76 in attendance on Zoom! Awesome!
The team did a wonderful job presenting on their standards, experiences, and sharing strengths with agency. By now it made no difference whether we were on-site or virtual. We were all connected, and the emotional impact that is often felt on site was present. The Peers presented with passion and professionalism. The CEO was grateful for the experience.
Although I, like most of my peers, am anxious to travel and be present with agencies, the COA staff have done an outstanding job figuring out how to get this done with integrity, best practices still in place, and camaraderie. Thanks!Oh, and the dietary question… the agency did send us all delicious cookies to enjoy at our home desks while working. A working snack – much appreciated. Thank you.
So my friends, "Zoom on" until it's safe!
-Maddi Noleen, COA Peer Review Volunteer
Have questions about the virtual review process? Reach out to your Accreditation Coordinator, or contact us here.
In 2016, COA began our 2020 strategic planning process. We talked with and surveyed our network on their reasons for seeking COA accreditation and how we could provide even more value to their experience. One recurring theme was the need for data. Our organizations employ sophisticated quality improvement systems to manage their success, but respondents noted a lack of quality external benchmark data to complement their internal data.
History
COA's pilot benchmarking program launched in the summer of 2016 as part of COA's Maintenance of Accreditation (MOA) process. It was based on two years of research and replaced our old, narrative-driven MOA process. In the old process, organizations would write an extensive overview of their PQI activities in the past 12 months, and COA would review these narratives and provide feedback. It was a time- and resource-intensive process, and at the end of the day provided little value to COA or our accredited organizations.
We wanted to create a system which had 360-degree value for our network, and this idea was the genesis of the pilot benchmarking program. By collecting, aggregating, and sharing data, we created a system which provided value to all parties:
COA can better understand our network
Organizations are monitoring basic key performance indicators to understand their performance; and
Our network, as a whole, is enriched with comparative benchmark data.
We started with five measures of organizational health and sustainability: days cash on hand, staff retention rate, management retention rate, average staff tenure, and rate of substantiated grievances. Organizations resoundingly preferred this system and, based on feedback from our network, it surfaced again and again as a priority for us during our strategic planning process for 2020. Based on feedback from our network, we're enhancing this system to collect and share back even more benchmark performance data.
Goals
We had three primary goals for refining our benchmarking program:
Universal measures: COA accredits over 60 services and works with a plethora of organizations within the human and social services space. When selecting new measures for this program, we stuck with measures of organization health and sustainability because these are applicable to human and social service organizations of any size or purpose.
Unlike any other benchmarking services available to our network: we knew we needed a unique benchmarking program which provided:

Segmentation logic. Much of the benchmark data available to our sector is not specific to human and social service organizations. Many times, data is collected from all tax-exempt entities. But, it's just not valuable for our network to be compared to animal welfare organizations, arts nonprofits, and similar entities. Our program is focused solely on human and social service organizations. In addition, we're using all of our data to create very narrow segments or clusters of organization for even more valuable comparisons. In future iterations, we hope to roll out custom segmentation for our end-users.

Improved data collection methodology: as a part of the new MOA process, we're collecting benchmark data from our network annually and associating it with a discrete fiscal year. This ensures we have a consistent and reliable flow of data to share back with our network.
New Benchmarking Program
Starting in 2020, all organizations accredited under COA's Private and Canadian organization accreditation will provide data via an Annual Report. This report is due 60 days after the start of your fiscal year and collects data on your prior fiscal year. It is part of our Maintenance of Accreditation process, and organizations must complete this report to maintain their accredited status. Here's how the process will work:
COA will notify your organization's primary contact 60 days before the Annual Report is due. This should land around the first day of your new fiscal year.

Once this notification is received, organizations can access their Annual Report cycle via their MyCOA Portal.
The MyCOA Portal has step-by-step instructions for gathering and inputting the requested data.
Step-by-step guide to completing the Annual Report
Around the start of your fiscal year, your organization's primary contact will receive an email inviting you to complete your Annual Report. It will list the due date and steps for completing the report.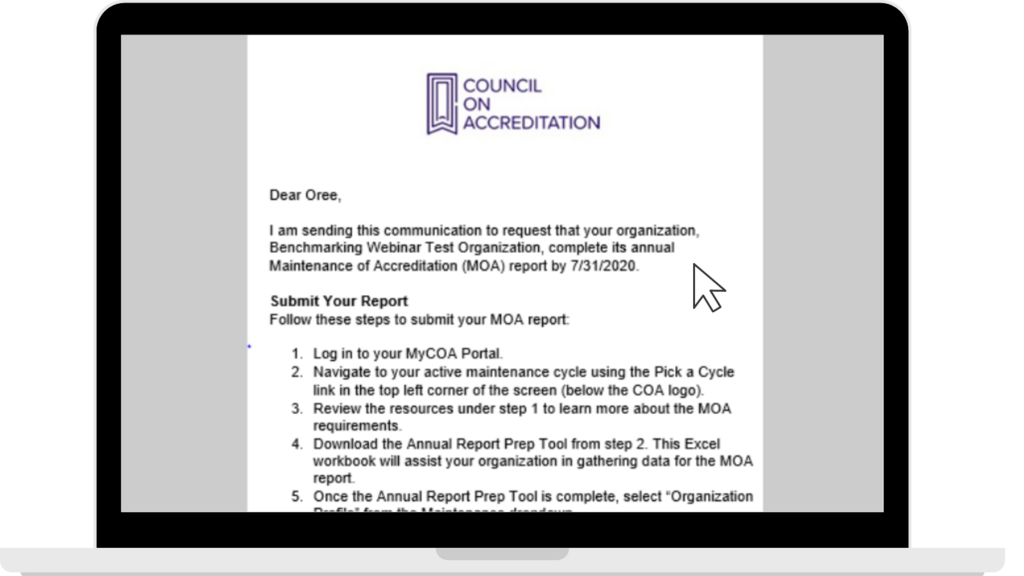 Next, log in to your MyCOA Portal. Use the Pick a Cycle link to navigate to the correct cycle. In this example, the organization's Annual Report is currently due. In addition, the organization has 2 Maintenance Fee cycles in 2020 and 2021; for these cycles, only the Maintenance Fee is due. To complete the Annual Report, select "2020 Annual Report."
On this page, the timeline will show when the Annual Report is due – in this case, on 12/31/2020. Select "Continue."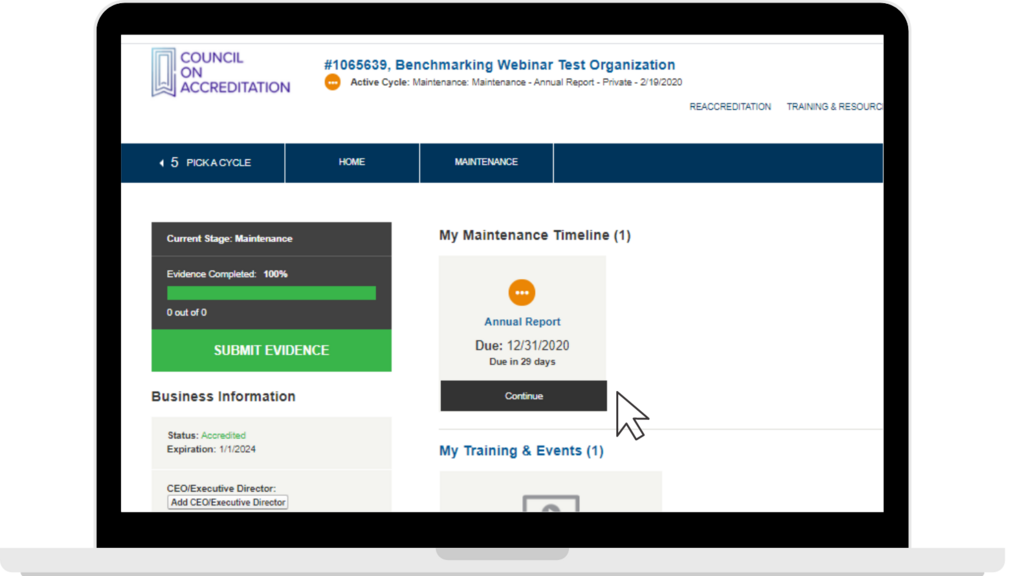 This page gives a step-by-step overview of how to complete the Annual Report.
Step 1
If you'd like, you can review the Annual Report requirements and FAQs using the links in Step 1.
Step 2
COA understands that, oftentimes, only one or two staff have access to the MyCOA Portal. So, we created the Annual Report Prep Tool to help you gather your data before inputting it into the MyCOA Portal. Click the DOWNLOAD button in step 2; COA will merge any data we may already have into this document so you're not doing duplicative work. Share the Prep Tool with relevant staff to gather your data. Please note the completion of the Prep Tool is optional. The Prep Tool is for internal records only and does not need to be submitted to COA.
Step 3
In order to complete the Annual Report, all data must be submitted electronically in your MyCOA portal. Hover over the MAINTENANCE tab in the top toolbar, and select "Annual Report from the dropdown menu.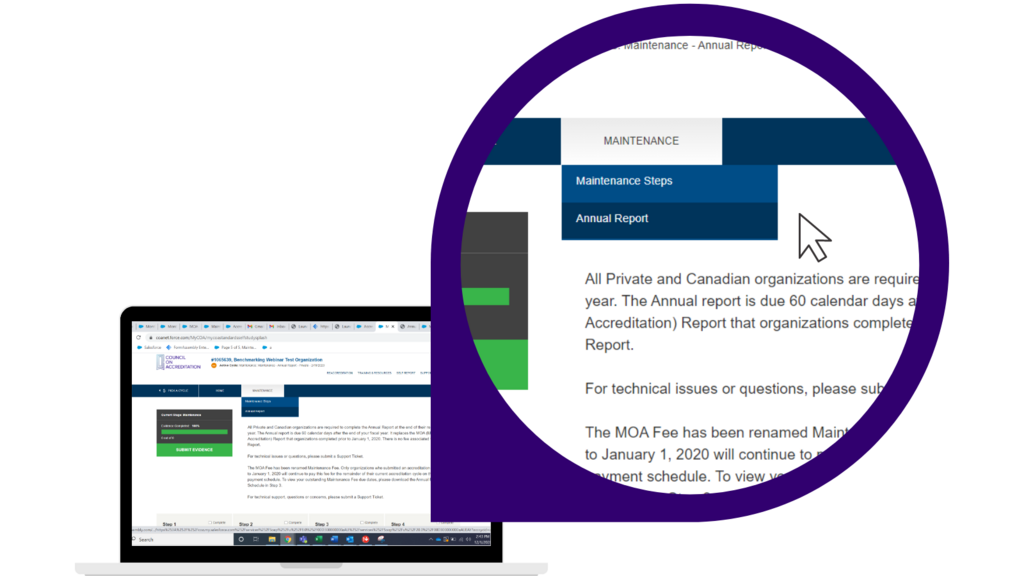 This will open the Annual Report electronic submission form.
If you used the Prep Tool, copy the information from the Prep Tool into this form. You'll notice that the questions are in the exact same order as in the Prep Tool. You can save at any time by click the "Save my progress and resume later" checkbox in the top right corner and then the Save button.
Once all information is entered, click the Submit button at the bottom of the form.
On the following page, confirm the accuracy of your data. Then, click Confirm to fully submit your data. At this point, you can also select "Print this page" to print a copy of your report for your records.
Once the data is submitted, the card on your Milestone Timeline will indicate the completion date and you are done with your submission! Please note: If you would like to make any changes to your submission, please submit a Support Ticket in the MyCOA portal.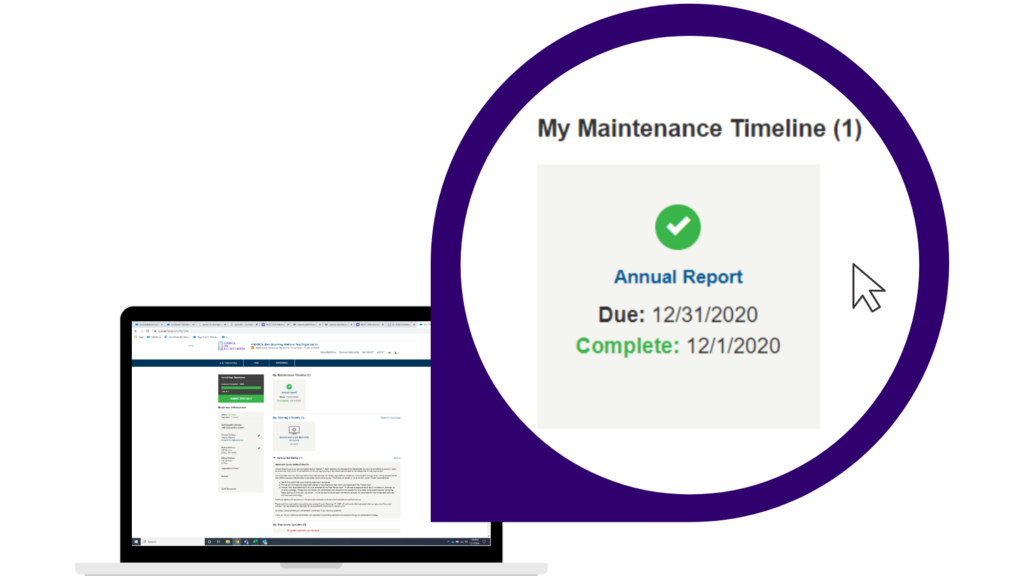 The Benchmark Report – available Q1 2021
Once COA receives all data from accredited organizations for a particular fiscal year, we'll unlock the benchmark report and allow you to access it from within your MyCOA Portal. Download a sample benchmark report here.
Segmentation Logic
The benchmark report uses segmentation logic to create a comparison group of organizations like yours; we then use this group to calculate your benchmark figures. We use data on your business type (nonprofit or forprofit), services provided, revenue, and geographic location to construct this group and ensure an apples-to-apples comparison. We want to provide you with data which has the utmost "comparison integrity" so you can be confident the benchmarks are meaningful to you.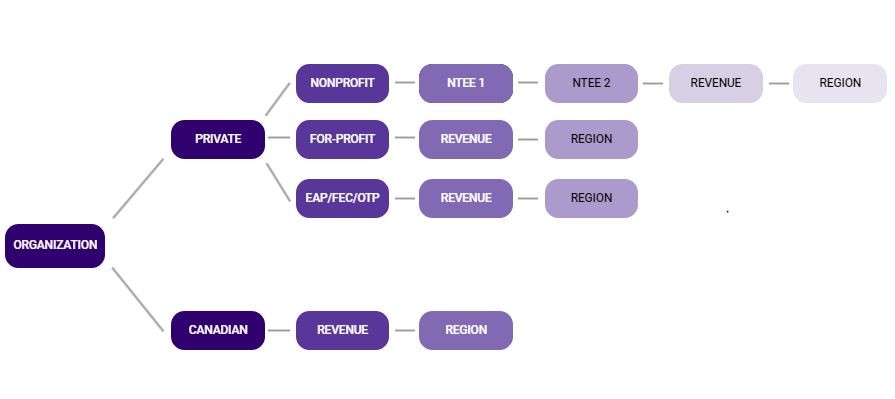 The cover page indicates the fiscal year to which the report pertains, describes the group of organizations against which your organization is compared, and lists the publication date – the date on which the report was generated.
The characteristics of your organization are used to generate the comparison group. The sample organization receiving this report is a nonprofit organization accredited under COA's Private Organization Accreditation program and provides foster care services with a revenue between $5-10M. When generating your benchmark data, then, we pulled data only from organizations which fit these characteristics. This ensures the comparisons made in this document are valuable to the sample organization.
The following pages organize all benchmark metrics into their domains. First, we have the FINANCIAL HEALTH BENCHMARKS: each metric is given a title, a description of what it is and why it is important, and a chart comparing the sample organization's data to the average value of its comparison group. In this top metric, Months of Liquid Unrestricted Net Assets or LUNA, the sample organization and its comparison group had 6 months of LUNA, so the sample organization can be confident that its liquidity – as measured by LUNA – is within normal range for their type of organization.
Each subsequent page lists measures belonging to a particular performance domain, and follows the same structure: title, description, and a chart comparing your data against your comparison group.
Scrolling down, the ADDITIONAL DATA page shows all of the sample organization's data and the comparison figures in one view. We also provide the Percent Rank for each metric. The Percent Rank locates your organization within the comparison dataset. For example, the sample organization's Months of Liquid Unrestricted Net Assets has a percent rank of 33.3%. This means that the organization's Months of LUNA was higher than a third of organizations but lower than two-thirds of organizations in the comparison dataset. Percent rank is just another way of showing you how you compare to similar organizations.
The final page lists some FAQs. As your questions come in, we'll update this page with more information for reading and understanding your benchmark report.
Additional information
We have created a custom website with further information about COA's benchmarking program at www.coameasures.org.
If you missed our benchmarking webinars, please feel free to view the recording here.
If you have any further questions about changes to the maintenance of accreditation process, please feel free to contact Alex Tereshonkova, Manager of Business Intelligence & Analytics. For questions specific to your organization, please submit a support ticket in your MyCOA portal.
Note: This post was originally published in 2017. Now that it's 2020, we decided to give it an update. The core information remains the same.
Social service agencies across the world have voluntarily risen to the challenge of achieving accreditation. Whether their original goal was to focus on administrative functions or service delivery quality, the accreditation process (particularly with a whole-organization accreditation approach) provides these agencies with a blueprint to refine practices simultaneously across every area of the organization. The performance of these agencies has caught the eye of oversight entities and consumers alike, prompting accreditation to be used has a regulatory tool through mandates.  
The word 'mandate', particularly in a government context, is notorious for creating concern across service providing agencies, often because of the cost associated with those requirements. COA believes all mandates function best when paired with the funding required to meet those mandates. We encourage all regulatory entities to consider the financial impact of any imposed mandate, as it can make or break the success of these initiatives.
Though the financial concerns of these agencies are absolutely valid, we can't ignore the positives that can come with an accreditation requirement. Through accreditation, agencies are given a path to meet a base-level of quality across administrative and service delivery functions. Accreditation sets clear service expectations for service recipients and the taxpayers that fund these programs alike. It also fosters a culture of continuous improvement that can ensure the sustainability of an agency's services. We cannot ignore the importance of these tenets in growing and maintaining a strong social service system that meets the needs of our communities.
To hopefully make this all a little easier on your organization, we've creating this guide to support your agency in navigating a mandate. Our goal is to help you gather important details, understand what is required, determine milestones, and know how to compare and contrast accreditors. 
Note: Our best advice is don't delay! Expect that it will take up to six months to determine an accreditor and then 12-18 months to pursue and achieve accreditation. 
Questions for the entity that mandated your accreditation
What accrediting bodies are accepted?
Usually a mandate will include a list of accepted accreditors.  If this isn't included, reach out to the payer to find out what accreditors are accepted. If your preferred accrediting body isn't recognized, we encourage you to reach out to that accrediting body and let them know. We can only speak for COA, but we are always willing to work with you and regulating entities to have COA accreditation be accepted under a mandate. 
What service(s) is/are mandated?
Does the mandate apply to one service? Many services? The entire organization?  Is there a document that crosswalks which services are mandated and what standards need to be applied by the accreditors? COA Accreditation Coordinators often know which service standard assignments are required for a mandate, but we always think it's best for you yourself reach out to your regulatory entity to determine what is exactly required for your agency and the services you are providing.  
What is due and when?
Mandates often come with specific timelines and may even have multiple milestone requirements. In these instances, regulating entities will designate a deadline for achievement of accreditation. To ensure organizations are on track to meet a deadline, regulating entities will designate milestone deadlines on the way to an accreditation award – a date by which organizations must engage with an accreditor, a date by which organizations must have their Site Visit, and then a date by which an award must be received. 
What type of accreditation award is needed?
It's important to clarify what type of accreditation award is due and when.  Some accreditors offer provisional or temporary accreditation. Accreditors and regulatory entities will work with your organization to determine the type of accreditation award that is required under your mandate. 
Evaluating accreditors — features to consider 
Once you know which of your programs needs to be accredited, by when, and by whom, reach out to all the approved accreditors and get an understanding the features of each. Regulatory entities and some membership groups will often facilitate panels with all recognized accreditors to help providers select the accreditor that is best for their agency. Here are some questions you'll want to ask:   
How much does your accreditation process cost?  
Ask about application fees, accreditation fees, Site Visit fees (scheduled and unscheduled), and maintenance fees.  Is there a fee to purchase the standards?  If so, how many copies will you need and how often will updates be published in the future?  Make sure to ask about required fees and optional fees.  For example, trainings might be required and have associated fees.  
What is awarded and how long is it valid?
Each accrediting body will have a different length of accreditation award. This is referred to as an 'accreditation cycle', which will let you know how long your award is valid and how often you can expect to go through the accreditation process. Some mandates require a specific award length, in these cases the approved accreditors have worked with your oversight entity to meet this regulatory requirement. It's important to keep all of this in mind when evaluating cost – how many accreditation cycles will your organization undergo over time (including provisional cycles)? 
What is included in the accreditation review?
Will the accreditor require all programs to pursue accreditation, or can you isolate individual programs? Will the administration and management areas of the organization be reviewed? Will every site be visited in the review (important to keep in mind when considering cost!)? Does the approach of the accreditor fit your organizational culture? Does the accreditation cover all of the desired service areas (current and future growth plans)?
We encourage all agencies to look toward future mandates as well. We have often seen additional services mandated, and agencies that utilized an accreditor with a whole-organization approach are most prepared for any mandate that comes their way.
How long does it take?
Most accreditation processes take 12-18 months from deciding to pursue to decision. However, the right time to sign up might vary with each accreditor.  For example, some accreditors want to hear from you when you're ready for your Site Visit within 4-6 months. Other accreditors want you to apply before your self-assessment period so that they can work alongside your organization in preparation for the Site Visit. 
How is my organization supported throughout the process?  
Are you assigned a point person to work with from the accrediting body? Does the accreditor offer trainings? How and when can you ask questions?  Does the accreditor provide templates and other tools to support you? Is there an online management system to assist with managing the process? Though every accreditor provides different tools to support agencies in meeting their mandate, it's important to assess how much guidance and assistance will help your agency thrive in this process. 
What is required to maintain our accreditation status?
Once accredited, what is your responsibility for self-reporting changes at your organization? What is the process when your organization adds a new program or a new site? Are there annual reporting requirements and fees? What is your responsibility when it comes to implementation when standards change? 
Seek recommendations 
Ask peer organizations
Contact a few peer agencies that are already accredited. Think about the characteristics you should consider when identifying a peer – is it population they serve? Their size?  Location? Mission? Ask your peers about their satisfaction with the accreditation process, how they managed the work, and when appropriate, if they'd be willing to be a resource while you pursue accreditation.  

Ask internally – staff, board members, and volunteers
Start a discussion about their accreditation experiences and what they liked or disliked about the process. This is also an opportunity to gauge interest to see who would be willing to be part of the accreditation team or even lead the accreditation effort within your organization.
Ask your membership associations
If you belong to an association, ask if they support accreditation. Some associations have relationships with accreditors which might make your organization eligible for a discount when pursuing the process. Some offer technical assistance, and many are willing to facilitate dialogue around accreditation. 
---
Hopefully, this information will assist your organization with mapping out your journey towards seeking accreditation.
Here are some related resources we have available.
Please feel free to share other resources you've found helpful while navigating this topic in the comments below!
Welcome to the Council on Accreditation (COA) blog post series Profiles in Accreditation!
The organizations that COA accredits are diverse in both the communities they serve and their reasons for seeking accreditation (or reaccreditation).  Profiles in Accreditation will explore the accreditation experience through the perspective of these organizations. Through them, we can discover the value of accreditation, best practices, lessons learned, and recommendations.
---
Organization profile
Name:  Presbyterian Home for Children (PHFC)
Location: Talladega, Alabama; Hoover, Alabama
First accredited: July 2020
Snapshot: The Presbyterian Home for Children is a 152-year-old ministry of the Presbyterian Churches of Alabama which provides a faith-based safe haven for children, adolescents, young adults, and families through programs which nurture, educate, and equip individuals to become the fully functioning persons God created them to be.
---
Interview with Presbyterian Home for Children
For this Profiles in Accreditation post, we asked Doug Marshall, President and CEO of the Presbyterian Home for Children, to share his experience at an organization undergoing the COA accreditation process for the first time. Doug shared how he and his team navigated the workload in spite of a sudden upending of staff, and highlighted how accreditation has been a great source of validation for his agency. 
COA: Why was seeking accreditation important for your organization?
DM: The Presbyterian Home for Children is a ministry to children, youth, adolescents, young adults, and families. Our faith-based non-profit is in its 152nd year of service. We have longed to obtain accreditation recognized at the national level that comprehensively represented the programs and services offered by our agency.  We chose the Council on Accreditation (COA) because COA is one of the most highly respected national accrediting bodies.
In addition, COA is an approved accreditor for Qualified Residential Treatment Program (QRTP), relative to the Family First Prevention Services Act. As a faith-based agency with multiple service programs, we have an expressed need in our Moderate Residential Care Treatment Program to be a QRTP.
COA: What about COA made you decide to partner with us?
DM: As a long-standing member of the Alabama Association of Child Care Agencies (AACCA), our membership is filled with agencies who have obtained various accreditations. COA was specifically identified as the best national accrediting body for our agency's needs. COA was the best fit for us due to our holistic programmatic structure and service type.
COA: What was your biggest worry coming into the accreditation process? How did that worry bear out?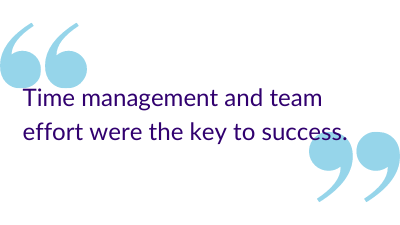 DM: We had been advised that accreditation by COA was extremely challenging and a tremendous amount of work. The greatest concern was balancing the workload of COA with the daily workload of program operations.
At times, the workload was arduous. It was quickly learned that one had to be disciplined and organized in order to meet proposed deadlines. Hence, time management and team effort were the key to success.
COA: What did your workplan and timeline for the Self Study and PQI process look like? How did it work out on a daily, weekly, and monthly basis?
DM: We had a hiccup at the start. In the first quarter of our work with COA, our Director of Resource Development and two additional members of our Leadership Team–one in Finance and one in HR/ Accreditation–made career changes and left their positions at PHFC.  As a result, we requested and received an extension from COA.  Thus although we started in October 2018 upon acceptance of our application, our Self-Study was delayed. Matters were further complicated by the fact that those positions had to be filled while all program management duties and the process to document achievement of work plan goals had to be maintained.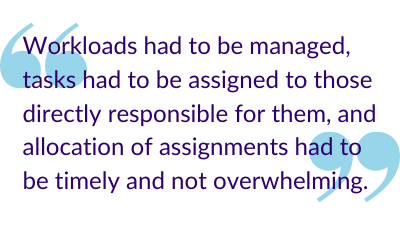 We established a PQI Committee that consisted of our Leadership Team. Throughout the process, the PQI Committee met on a bi-weekly basis to discuss assignments, progress, and concerns. As a result of the PQI Committee's work, we were able to submit our Self-Study on July 31, 2020. The COA Lead and the Manager of Accreditation communicated frequently, and they diligently worked together to ensure that work assignments were completed in a timely manner to maintain motivation of the team members. It became apparent that some departments excelled in productivity, while others required more support from the COA Lead and the Manager of Accreditation. Workloads had to be managed, tasks had to be assigned to those directly responsible for them, and allocation of assignments had to be timely and not overwhelming.
COA: How did you engage and communicate with entire organization during the accreditation process?
DM: We managed engagement and communication through staff meetings, Leadership Team meetings, and PQI Committee meetings, as well as through email. That way, our team had important information in multiple formats.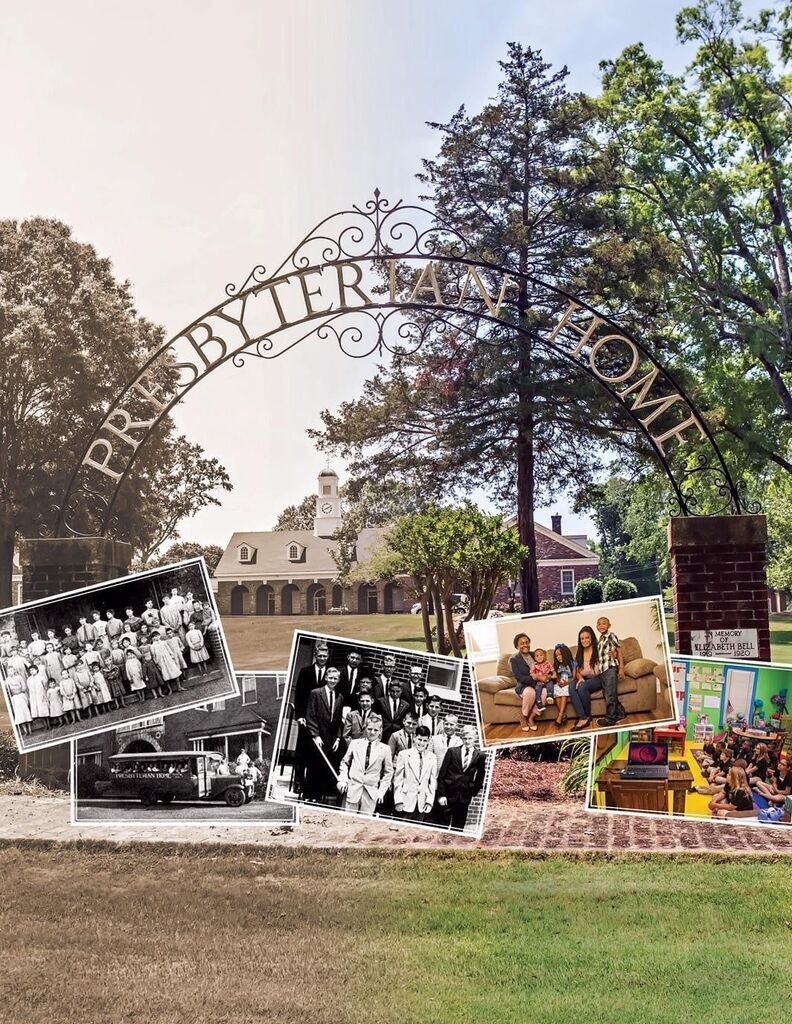 COA: What did you like most about the process? What did you find to be most helpful/beneficial to your organization?
DM: The end results! The most helpful benefits were:
We have a method by which we can assess the quality of our programs,
We have an annual report which demonstrates growth, strengths, and challenges, and
Overall and most importantly, we have a process through which we can effect change.
COA: What was the biggest challenge?
DM: The biggest challenge was the unknown. This was a process that we desired but were fearful of at the same time, because we did not want to fail. Both our financial resources and our reputation was on the line, and we wanted to be good stewards of both.
COA: Were there any unexpected results after completing the Self-Study?
DM: There were not any unexpected results. We had strong processes in place–we just needed to document and demonstrate implementation of those processes, which took additional time.
COA: What do you see as the main benefit of COA accreditation?
DM: The main benefit is that COA validates our agency as a high-quality, non-profit faith-based organization at the national level.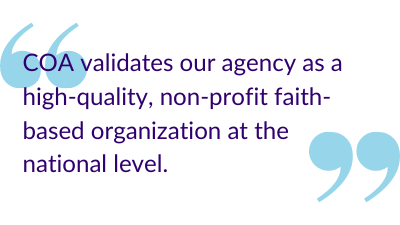 COA: How has COA (re)accreditation impacted operational success?
DM: Through our COA accreditation, we have a set of organized, cohesive standards for our faith-based non-profit ministry, which will guide our daily operations.
COA: What are the top three pieces of advice or tips that you would give to an organization considering or currently undertaking the accreditation process for the first time?
DM:
Use the COA Tool Kit and DO ALL OF THE VIDEO TRAINING!!
Stay organized and follow the timeline.
Involve your entire organization in the accreditation process.  Include your Board of Trustees, your staff members, clients/consumers, and your stakeholders.   These are your team members who must buy in and take ownership of the entire accreditation process. It has to be a team effort.
COA: Are there any other learnings or insights that you'd like to share?
DM: Talk to your peer organizations who have completed the process. They have valuable wisdom and knowledge to help you along the way.
---
Thank you, Presbyterian Home for Children!
We would like to thank Doug for his illumination of the accreditation process through an organization impacted by the Family First Prevention Services Act, and acknowledge the entire Presbyterian Home for Children board and team for embracing accreditation and collectively contributing to the promotion of best practices. Thank you, all!
Do you have an accreditation story to tell? Click here to share it. You could be the next organization we feature!
Self-Study [n]. The collection of evidence that COA-accredited organizations put together prior to their Site Visit that shows how they are implementing best practice standards.
We at COA know that generating the Self-Study is a both a challenging and enlightening process for organizations, and we regularly hear from about the value that it brings even after achieving accreditation. That got us thinking; we wanted to dig deeper to find out how organizations were continuing to leverage their Self-Studies after the accreditation process was complete.
In March 2020, we put out a call for organizations to share all the ways that the Self-Study lives and continues to impact their organization beyond accreditation. We partnered with the Alliance for Strong Families and Communities (the Alliance), one of our founding Sponsoring Organizations, who maintain a library of Self-Studies that are accessible to their members. It was wonderful to see the second lives that Self-Studies take on, helping organizations to continue grow and thrive by informing a wide range of functions. And no, using the Self-Study (which can be quite a large collection of evidence) as a doorstop or flyswatter was not mentioned.
The Alliance Self-Study Library
The Alliance Self-Study Library is a valuable resource for member organizations, providing a wealth of information and documentation. The library contains approximately 3,500 COA Self-Study documents and 66 Self-Studies from member organizations, with confidential information removed before archiving. All materials are digitally archived, and documents can be pulled for member requests.
The Self-Study Library can be helpful for Alliance members completing their own Self-Studies, or for developing policies and procedures for their own organizations. Organizations have also used the information for creating job descriptions, developing strategic or fundraising plans, and board books – giving members insights into how other organizations have strategized or used resources in innovative ways. If you are a member of the Alliance, please e-mail the library with any questions or to submit your Self-Study documentation.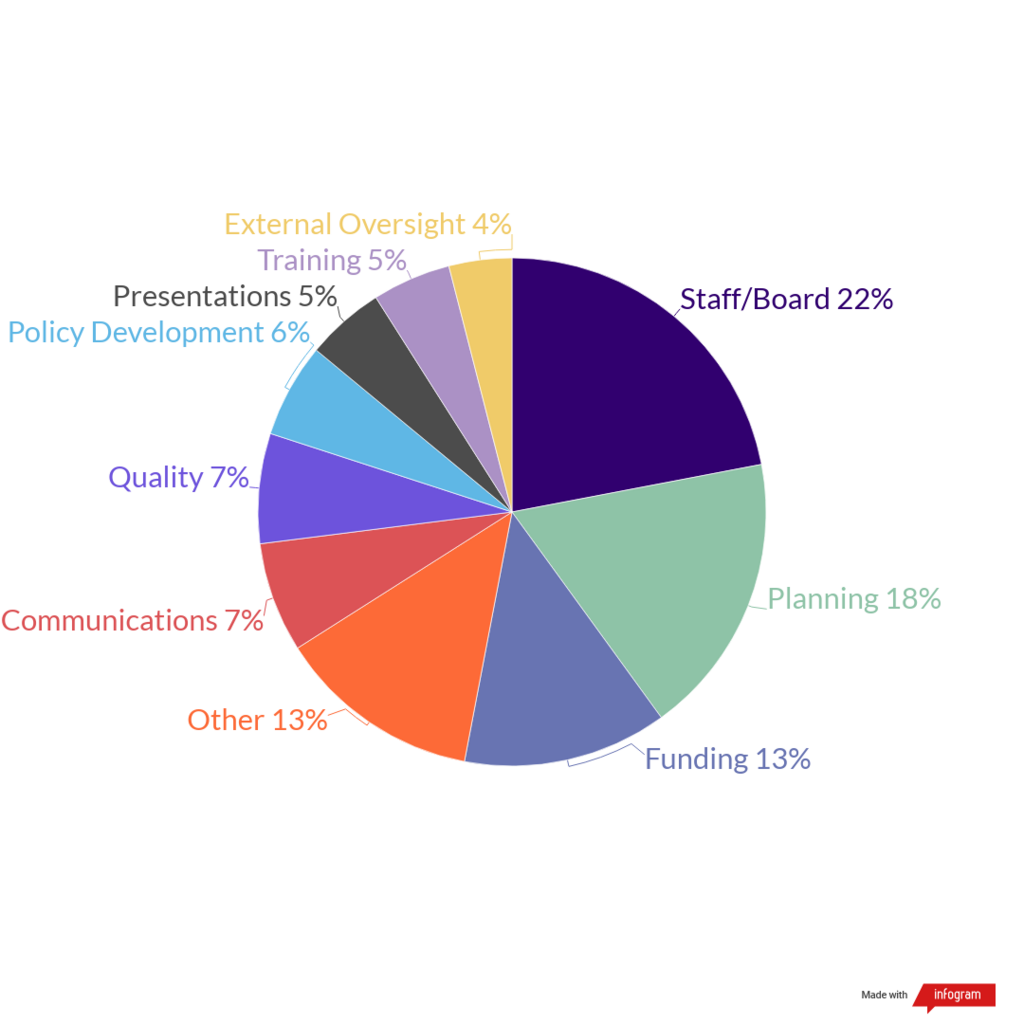 Now on to our survey results…
How organizations reuse their Self-Study
We received more than 50 individual uses of the Self-Study from COA-accredited organizations in the United States and Canada. 22% were focused on providing information to internal staff and board members. More specifically, organizations use them for orientations and manuals/resource development. A couple of organizations even use them as trivia fodder when preparing for Site Visits – or during team building or staff activities – to showcase how well employees know the organization. The Self-Study has been described as the go-to document that many people look for when starting at a new organization, because it provides a comprehensive look into the organization itself and gets them up to speed quickly.
"There is nothing that should be outside the accreditation process, as the accreditation process encompasses everything we do."
-Survey respondent
On the planning-side, 18% of responses focused on the Self-Study as a planning resource. In particular, organizations use it for strategic plan development, including providing it to planning consultants when working with external partners.
13% of responses focused on funding-related uses for the Self-Study. Organizations noted that it helps to open up funding opportunities, since it documents the high standards of services that they are providing. The Self-Study information also helps to facilitate the completion of grant applications and informs reporting to large funders.
"It's a great reference tool for grant applications. Sometimes I'll recall something I wrote in the Self-Study that perfectly fits a question in a grant application."
-Survey respondent
The Other section (13%) provided some very interesting ideas for Self-Study uses we hadn't thought of. This included using them in social work-focused higher education, where an anthology of Self-Study documents could be analyzed for a leadership or organizational structure class. For organizations that are considering accreditation, it helps them to become more familiar with the process and the importance of looking at the whole organizational structure. Outside of accreditation, reviewing the Self-Study of an established organization can also serve as a reference guide for newly formed organizations as it helps to inform best practices. Accreditation Site Visits are not the only visits, audits, or other reviews that organizations are faced with, and the Self-Study can help to prepare for these.
"[The Self-Study] is a great way to keep the organization accountable to administrative areas that may fall through the cracks otherwise (especially in HR and PQI)."
-Survey respondent
The use of the Self-Study to inform communication strategies (7%) and outreach was another interesting way organizations leverage the Self-Study information. Organizations use their Self-Study to inform their website content, external marketing materials (in particular the narratives), their newsletters, and materials distributed to their volunteers. It is also a useful tool for communicating with government officials about how their decisions inform the work that organizations conduct.
The Self-Study also plays a role when it comes to quality improvement. 7% of organizations use it to help program directors begin to identify areas for improvement, learn more about best practices, and improve upon an agency's policies and procedures. These organizations recommend that it should be shared with both internal and external stakeholder to demonstrate continuous quality improvement.
"The Self-Study document should be a living document that is part of a continuous quality improvement process."
-Survey respondent
To round out the uses, policy development was cited as a Self-Study use by 6% of organizations. This applies both internally and when developing policies with community partners. 5% of organizations use the Self-Study for both presentations and training. Presentations included those for stakeholders, donors, and other audiences that desire data-focused content. Trainings focused more on using the Self-Study information for internal staff trainings. Lastly, 4% of organizations noted using the Self-Study to support external oversight or licensing visits, as was alluded to in the "other" section.
"We've used our Self-Study during agency audits and monitoring site visits. It's a great 'vault' of information on our governance and organizational structure, quality improvement activities and risk management practices."
-Survey respondent
Conclusion
As you can see, the Self-Study's usefulness does not end after an accreditation decision. It is the informational heart of an organization, one that can provide easy access to key information to help with everything from staff and board engagement to strategic planning and securing funding.
Thank you to all of you who took the time to share your own experiences. If you did not get a chance, please feel free to add a comment below and let us know how you use yours!